The best time to visit Acadia National Park is from September to October, during the late summer and early fall when the weather is nice and the sceneies are stunning with the autumn colors.
September to October
The summer crowds thin out as the high temperatures fall to the brisk 40s and 50s, but the absence of tourists makes a fall visit even more pleasurable.
Mid-October marks the start of the leaf-peeping season, which is when the scenery is at its most spectacular because of the vibrant colors. A thorough foliage report can be found on the Maine Department of Agriculture, Conservation, and Forestry website.
What's on :
November to February
Since most of Bar Harbor's eateries and budget hotels are closed during the off-season, finding food and lodging might be challenging.
The park also transitions to its winter hours in December, locking down the Park Loop Road and its main hiking trails. But if you enjoy winter sports, you're in for a treat because some of the most beautiful cross-country skiing in the nation is still possible on the carriage roads, which are still kept accessible.
In Bar Harbor, you may rent skis, snowshoes, and other winter sports gear.
March to May
The first few spring weeks are still considered the off-season, even if the snow has disappeared. Until mid-April, most park amenities are only open during limited hours.
However, there aren't many people around, so if you don't mind muddy mornings, the mid-20s to mid-50s temperatures, and sparse crowds, springtime might be a good time to come.
What's on :
June to August
Summer is a lovely time to visit with mild temperatures ranging from the 50s to the upper 70s, so there is an increase in tourists during this period.
Remember that Park Loop Road and the route to the peak of Cadillac Mountain can become quite congested, and that last-minute lodging is difficult.
Reserve your campsite for the winter before. Also, remember to bring a sweater because Canadian Arctic winds can keep it cool at night, even in the summer.
What's on :
Best time for good weather
The best time for good weather in Acadia National Park is in the summer months of June to August.
That being said, coastal Maine can experience drastic changes in temperatures throughout the day, even in the summer. This is particularly true if you venture away from Bar Harbor and into some of the more remote or higher elevation areas of the park.
Also, keep in mind that the water temperature will be substantially warmer by the end of August than it is in June. So, swimming and other water-related activities are usually best in the late summer.
The best time for camping in Acadia National Park is in the summer months between Memorial Day and Labor Day.
At this time, nearly all of the campgrounds in and around the park are fully operational. As you can imagine, these campgrounds are all very popular, especially on the weekend. If you're looking for free campgrounds, there are many of them outside the national park's boundaries.
The great weather conditions that normally occur between Memorial Day and Labor Day make camping particularly fun. Although it can be hot during this time, many of Acadia's campgrounds have well-shaded sites to pitch your tent or park your RV.
Read More : Tips for Camping at Acadia National Park
The best time for hiking in Acadia National Park is in the summer, but August is especially great for outdoor adventure.
In general, summer brings the best weather within Acadia. With this nice weather, however, comes a whole lot of blackflies and mosquitoes, particularly in May and June.
By mid-July and August, these biting bugs are substantially less ferocious, making your time on the trail much more enjoyable. Additionally, any lingering snow is almost always gone by August, and many of the park's wildflowers are in full bloom.
Read More : Best Hiking Trails in Acadia National Park
Best time to avoid crowds
The best time to avoid crowds in Acadia National Park is during the winter and spring months between November and April.
By the end of October, most visitors have left Acadia, paving the way for a serene outdoor experience. Of course, colder weather and snow also come along with winter and spring months in this region, so don't forget your warm clothing and boots.
Also, it's worth noting that nearly every campground in the region is closed during this month, as are most of the visitors centers and other regular summertime amenities. So, plan to stay at a hotel or lodge in town and foray into the park during the day.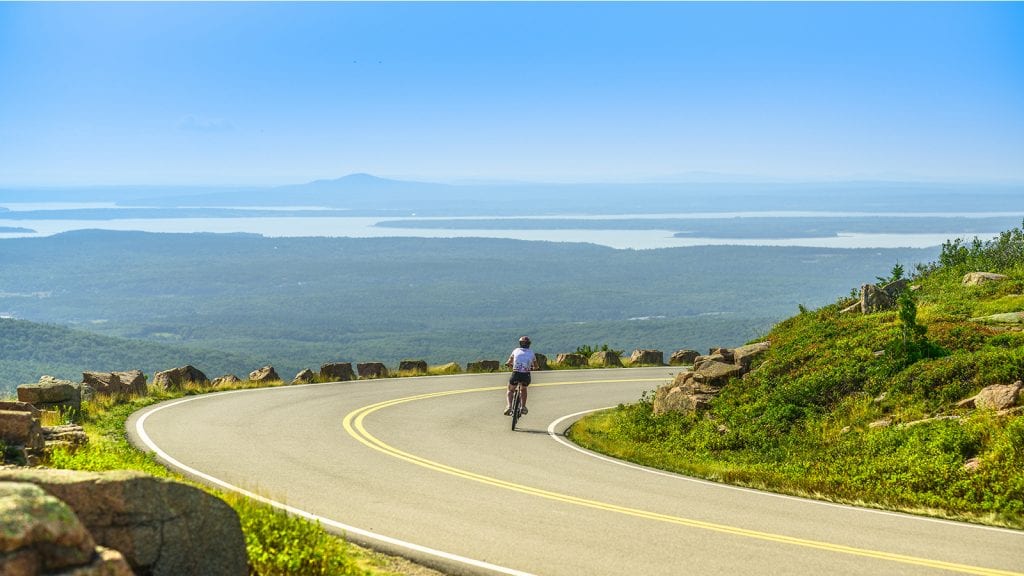 The best time for biking in Acadia is between June and October when the park roads and carriage roads are clear of snow.
Keep in mind that these are the busiest times of year in the park, so biking on Park Loop Road can be a challenge between 10am to 4pm. Consider biking earlier in the morning or later in the day during the summer to beat the traffic. Or, opt to bike on the carriage roads for a car-free experience.
The best time for fishing in Acadia is between April and September while the best ice fishing is from January to March.
Freshwater and ocean fishing in the park is great throughout the spring, summer, and early fall. But, the season dates are managed by the Maine Department of Inland Fisheries & Wildlife and are subject to change.
Ice fishing, on the other hand, is best from January to March, when the ice on local ponds has thickened up enough to support human weight. Always be cautious when venturing out onto frozen ponds during this time, especially after a period of warm weather.
Best time for horseback riding
The best time for horseback riding in Acadia National Park is between July and October.
Since horseback riding is only allowed on the park's carriage roads and on unpaved roads, the late spring, summer, and fall months are all reasonable times of year to see Acadia on horseback.
The months between July and October are especially great for horseback riding because they tend to bring nice weather and fewer bugs, providing a better riding experience.
Best time for leaf peeping
The best time for leaf peeping in Acadia National Park is in mid-October.
By this time, fall foliage in the park is normally at its peak. While the peak dates can vary from year to year, you can expect the best fall colors to happen between October 5 to 18.
Keep in mind that this is a very popular time of year to visit the park. Additionally, some campgrounds stop operations before October, so your options may be limited. Plan ahead and book your accommodation as soon as possible to avoid disappointment during the fall months.
Best time for tide pooling
The best time for tide pooling in Acadia is between 1.5 hours before and 1.5 hours after each low tide of the day.
There are 2 high tides and 2 low tides each day throughout Acadia, but the specific times vary from day to day. Moreover, low water times differ from one part of Acadia to the next, so check the tide charts for Bar Island, Wonderland and Ship Harbors, and Schoodic Peninsula the night before for more guidance.
Gaby Pilson
Gaby is a professional mountain guide with a master's degree in outdoor education. She works primarily in the polar regions as an expedition guide, though she can be found hiking, climbing, skiing, sailing, or paddling in some of the world's most amazing places when not at work.