Acadia National Park in Maine sits at around the 45º N latitude. It's halfway between the Equator and the North Pole, putting it at the mercy of the hot, humid air of the tropics (south) and the cold, dry air of the Arctic (north).
Nevertheless, Acadia is still a fantastic national park to visit all year long. Each season brings its own unique flair to this uber-popular national park in Maine.
Average monthly temperature and precipitation
During the summer months, Acadia National Park has a daily high between 68 to 77ºF ( 20 to 25ºC). At night time, the temperature ranges between 49 to 57ºF (9 to 14ºC).
During the winter months, the daily high ranges between 33 to 37ºF (0.5 to 3ºC), and 14 to 19ºF (-7 to -10ºC).
Seasons in Acadia National Park
Summer (21 June to 22 September)
Summer is by and large the most popular time of year to visit Acadia National Park. Not only do most schools in the region have vacation between June and August, but these months also bring the best weather.
Nearly all services in and near the park are up and running by mid-May and the season is truly in full swing by June. Hiking, climbing, camping, and all other traditional summertime activities are accessible within the park between June and August.
But, June and July tend to also bring their fair share of bugs, so be prepared with a head net and some bug spray before you head out!
Read More : Summer Camping Checklist
Fall (23 September to 20 December)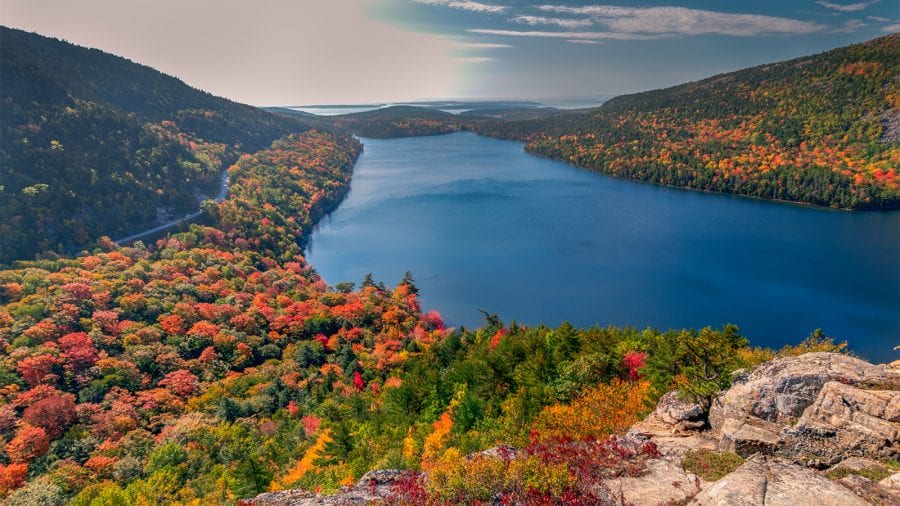 While the peak foliage date changes from year to year, you can generally expect Acadia's fall colors to be at their best during the middle of October.
It's truly hard to beat fall in the northeastern United States, and Acadia is a prime place to check out some beautiful autumn colors.
While summer is the most popular time to visit the park, the middle of October is a close second. The campsites, parking areas, and trails all tend to be quite crowded at this time of year as many people flock to Acadia to see these fantastic colors firsthand.
Most summertime activities are still feasible by mid-October, though you can expect colder conditions and potentially some frost in the early morning. Trails may be slippery or icy after cold nights, but, overall, fall in Acadia is hard to beat.
Winter (21 December to 19 March)
While the vast majority of the park's facilities, including all of the campgrounds and visitors centers, close down for the winter months between November and April, there are lodging options available in Bar Harbor for those willing to brave the cold.
During the winter, visitors to Acadia can enjoy cross-country skiing and snowshoe on all 45 miles of the park's carriage roads, some of which are even groomed with tracks when conditions permit. Meanwhile, snowmobiles can zoom around on Park Loop Road, which is closed and unmaintained during the winter.
Other highly popular winter adventures include ice fishing, hiking, and searching for snowy owls. Keep in mind that the trails in the park are very icy and are often covered with many feet of snow. Therefore, proper warm clothing, winter hiking boots, and trekking poles are a must.
The cold, snowy days of winter are the perfect time to visit Acadia if you love solitude in the mountains.
Read More : Winter Camping Checklist
Spring (20 March to 20 June)
The early spring months of March and April in Acadia National Park are known for their fickle weather, but May is often the start of great weather in the area.
During early spring, you can expect a wide range of temperatures, including everything from below-freezing conditions to t-shirt weather. Most campgrounds and facilities in the park stay closed until the end of April, though the town of Bar Harbor is more than happy to cater to visitors.
Although the weather gets warmer and drier by May in Acadia, you should expect lots of mud on the trails, as well as plenty of melting snow. However, if you want to visit the park and experience reasonably warm days without all the crowds, late spring is hard to beat.
Gaby Pilson
Gaby is a professional mountain guide with a master's degree in outdoor education. She works primarily in the polar regions as an expedition guide, though she can be found hiking, climbing, skiing, sailing, or paddling in some of the world's most amazing places when not at work.