Our top picks for 4 person tents
Floor Dimension : 85" x 96"
Floor Area : 57ft²
Weight : 11lbs / 5kg
Designed for budget-conscious campers that crave a comfortable place to sleep at night, the Kelty Tallboy 4 is a simple, yet functional home in the outdoors.
This tent boasts silicone-treated 68D polyester in both the floor and the fly, as well as a sturdy 40D layer of no-see-um mesh to ensure ample durability for years to come. Its fiberglass pole construction also allows for good performance without adding too much weight to the whole set-up.
Featuring an open-plan interior with a single large door, what really sets the Kelty Tallboy 4 tent apart from other budget-friendly tents is its high ceiling height. 
Although not quite high enough for most adults to stand fully upright, its 70" (178cm) ceiling height is unique among affordable dome-style tents and it ensures that everyone has enough headroom while relaxing at night.
Budget-friendly. Affordable price point without sacrificing quality.
Durable materials. High denier fabrics in the floor and fly.
High ceiling center height is comfortable enough for relaxing.
One door design makes entry and exit less convenient.
Waterproofing limitations. Rainfly doesn't provide full coverage.
Floor Dimension : 90" x 90"
Floor Area : 57ft²
Weight : 8.6lbs / 3.9kg
Affordable without sacrificing livability, the Big Agnes Dog House 4 tent is a shelter for groups that want a lot of value for a reasonable price point. This tent keeps things simple with its single-wall design that speeds up the tent pitching process to save you time.
Thanks to its straight-sided walls and its 60" (152cm) ceiling height, this tent offers plenty of interior living space and headroom for four people. It also comes with a large dry-entry door and an overhanging awning over the entryway to prevent water from entering your living space.
To ensure adequate airflow on your camping trip, the Big Agnes Dog House 4 includes two vents. It also comes with an oversized window at the back of the tent that can be opened for more ventilation or zipped closed to keep you dry in foul weather.
Simple single wall design minimizes hassle during setup.
Straight walls provide plenty of interior space and headroom.
Ventilated. Large windows and vents ensure airflow.
One door design makes entry and exit more difficult.
Floor Dimension : 96" x 84"
Floor Area : 56ft²
Weight : 6.9lbs / 3.1kg
The Mountainsmith Genesee 4 tent is a versatile and reliable shelter for outdoor enthusiasts that enjoy both car camping and backpacking.
Featuring two large doors it's easy to get in and out of this tent without having to crawl all over your fellow campers. Each door is also covered by a spacious vestibule, which offers enough storage room for everyone's gear.
To help keep you dry in the rain, Mountainsmith designed this tent with a sturdy bathtub floor that boasts fully taped seams. The fly also has taped seams and is made from a durable treated ripstop polyester for added waterproofing.
Finally, to ensure setup is snag-free, the Mountainsmith Genesee 4 has a color-coded tab system and quick clips to speed up the tent pitching process.
Gear storage. Two large vestibules for added storage space.
Waterproof. Fully taped seams, plus treated fly and floor fabrics.
Easy setup. Color-coded system to simplify the process.
Bulky. Packs in two sizable stuff sacks for transport.
Floor Dimension : 100" x 86"
Floor Area : 60ft²
Weight : 14.1lbs / 6.4kg
Crafted for campers that prioritize comfort, the REI Co-op Grand Hut 4 is a mini cabin-like abode for outdoor adventures. With an impressive 75" (190.5cm) of ceiling height, this tent is tall enough for most campers to stand completely upright in, a rarity among shelters of this size.
Thanks to its freestanding design and near-vertical walls, this tent maximizes its indoor living space. It's single hubbed-pole design and snap-on clips also make it easy to set up in just a few minutes.
Moreover, the REI Co-op Grand Hut 4 offers a good combination of waterproofing, thanks to its silicone-coated rainfly, and breathability, courtesy of its micromesh canopy. For added ventilation it has an integrated ventilation system that allows air to circulate inside without exposing your gear to moisture on rainy days.
Livable. High ceiling height for maximum comfort.
Spacious. Hubbed poles and near-vertical walls provide plenty of legroom.
Breathable. Integrated ventilation system and micromesh bug net canopy.
Heavy. On the heavy side for a 4 person tent.
Floor Dimension : 96" x 88"
Floor Area : 59ft²
Weight : 6.9lbs / 3.1kg
For campers that don't like the hassle of pitching a tent, The North Face Kaiju 4 Tent is a great option. With a three-pole easy pitch design that uses color-coded tabs and quick clips, this tent offers a hassle-free setup process to save you time after arriving in camp.
Inside the tent, you get a roomy ceiling with a 68" (173cm) peak height, which is tall enough to accommodate many campers as they stand upright. There are also interior hanger loops and 6 pockets within the tent body to allow you to stay organized while camping.
Boasting two large doors, The North Face Kaiju 4 also provides easy entry and exit for your entire group. Each door is covered by its own vestibule, which can easily be converted into a sunshade awning for a functional outdoor living space.
Color-coded system to simplify the set-up process
Gear organizers. Hanger loops and pockets for organization inside.
Convertible vestibules can be changed into awnings for extra shade.
Wind concerns. High roof design is vulnerable in the wind.
Floor Dimension : 96" x 96"
Floor Area : 64ft²
Weight : 19.75lbs / 8.9kg
A veritable palace in the mountains, the Eureka Desert Canyon 4 is a shelter for small families and camping getaways where comfort is key. Designed for car camping in designated campgrounds, this tent boasts a spacious 64ft² interior and near-vertical walls for added livability.
Perhaps the most striking part of this tent is its high ceiling height. With an 84" (213cm) peak height, nearly every camper can stand fully upright inside this cabin-like tent.
Within the Eureka Desert Canyon 4, there are two large windows with roll-up screens for weather protection, should it start to rain. There is also a central overhead gear caddy system and multiple storage pockets to help you stay organized with all of your gear.
High peak height allows nearly all campers to stand upright.
Organization features. Gear caddy and storage pockets are built-in.
Large windows provide ample ventilation on hot evenings.
No vestibules. Rainfly doesn't provide full coverage or gear storage.
Floor Dimension : 94" x 85"
Floor Area : 56ft²
Weight : 6.9lbs / 3.1kg
The Kelty Dirt Motel 4 is a backcountry adventure shelter that's ready for remote expeditions. Thanks to its reasonable weight and decent amount of interior space, this tent is a good home on the trail for campers that need a comfortable place to relax while backpacking.
It has a 2-door, 2-vestibule design that provides ample gear storage space, as well as convenient entry and exit. The doors on this tent are also oversized to make it easier for you to slip out if you need to answer nature's call in the middle of the night.
As far as waterproofing goes, the Kelty Dirt Motel 4 is made with a 40D siliconized ripstop nylon rainfly to keep you dry. The fly on this shelter can even be rolled back from the inside of the tent to provide unobstructed views of the starry night sky above, without the need to get out of bed.
Reasonable weight. Perfect for backcountry adventures.
Two vestibules provides ample gear storage and easy entry.
Stargazing rainfly. Can be rolled back for nighttime views.
Un-taped seams. Fly and floor fabrics don't have taped seams.
Floor Dimension : 88" x 88"
Floor Area : 54ft²
Weight : 9.5lbs / 4.3kg
When durability is your top priority, the MSR Elixir 4 might be your answer. Manufactured by an industry-leading gear company, this tent is built with only the best materials, such as Aluminum 7000 series poles and burly ripstop nylon and polyester.
It has a unique pole design that helps to optimize the amount of headroom inside the tent without sacrificing stability in high winds. Additionally, these poles allow for easy set-up, thanks to the tent's freestanding design and color-coded system.
The MSR Elixir 4 is also a good choice for campers that want to keep their pack weight to a minimum. It can be set up with just the fly, poles, and a footprint at a weight of just 5.8lbs (2.6kg) for light and fast missions in the mountains.
Durable. Made with the best materials.
Stable. Pole geometry provides headroom and stability in high winds
Versatile. Light and fast setup options for weight savings.
Small doors make entry and exit less convenient.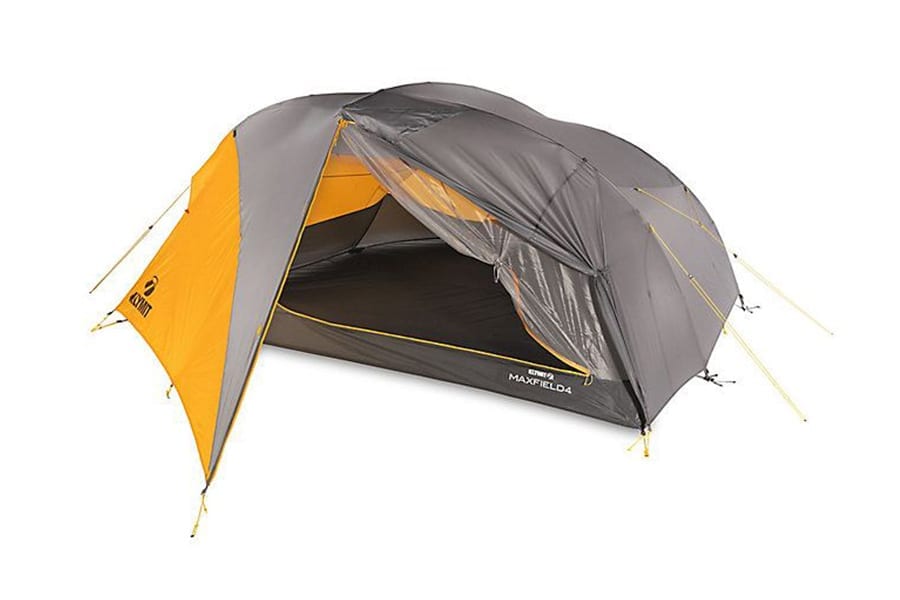 Floor Dimension : 86" x 50"
Floor Area : 53ft²
Weight : 4.2lbs / 1.9kg
The Klymit Maxfield 4 is a distinctive model in our 4 person tent line up. With its tapered design and rectangular shape, this tent provides a good mix of living space and gear storage at a surprisingly lightweight.
Thanks to its tapered design, this shelter has a massive front vestibule that provides ample shelter from the elements for both you and your gear. Inside the tent, there's also access to a rear vestibule, though there's no door exiting from the back of the rainfly.
Plus, the Klymit Maxfield 4 tent boasts three ventilation ports that allow for plentiful airflow on muggy days. The door on the front vestibule can also be rolled open and fastened in place within seconds to provide a nice breeze on sunny days in the mountain.
Large vestibules provide plenty of gear storage.
Ventilated. Three vent ports allow for air flow.
Lightweight. Surprisingly light for the amount of floor area.
Only one door for entry and exit.
Mountain Hardwear Trango 4
Floor Dimension : 96" x 94"
Floor Area : 57ft²
Weight : 12.8lbs / 5.8kg
Built for when the temperatures drop, the Mountain Hardwear Trango 4 Tent is a four-season shelter that excels in cold winter conditions. This award-winning tent features a new take on the traditional geodesic dome design.
Crafted with industry-leading DAC Featherlight NSL poles, this tent is designed to stay upright even in the windiest of conditions.It also has a durable nylon floor and fly that resists tearing under heavy snow loads.
To provide you with better performance in cold, wet conditions, the Mountain Hardwear Trango 4 has a fully waterproof construction, as well as built-in snowflaps on the front vestibule to help seal out blowing snow. 
Should you get soaked on your mountain adventures, it also has an internal guyline system that allows you to hang up a clothesline within the tent, as well as multiple pockets for gear storage.
Waterproof. Fully waterproof construction with taped seams.
Burly construction. Designed to stay upright in the wind.
Gear organization. Can set up a clothesline inside the tent.
Very expensive. High-quality materials mean a high sticker price.
4 Person Tents Buying Guide
Buying a 4 person tent isn't easy. With so many options to choose from, it's critical that you understand the key features of a tent before you commit to one model.
Here are 6 important things to keep in mind as you shop for a 4 person tent.
In general, 4 person tents feature a somewhat squarish shape, with average dimensions of about 90" x 90". This differentiates them from 6 person tents, which tend to be a bit more rectangular in shape.
However, there are some exceptions to this rule. The Klymit Maxfield 4 has an off-set shape, much like a rectangle. This allows it to have a much larger entryway and vestibule without negatively affecting the sturdiness of the tent.
Averages 55 to 65ft² floor area
The majority of 4 person camping tents have a floor space that measures between 55 and 65ft², such as the Mountainsmith Genesee 4, which has a 56ft² living space. 
Within this range, campers usually have enough space to sleep side by side with everyone's heads at one side of the tent.
Some manufacturers do make tents below this range, such as the MSR Elixir 4 and the Klymit Maxfield 4. 
Between about 53 to 55ft², most campers are generally still able to sleep side by side without feeling too cramped.
However, any tents below 53ft² generally require that campers sleep head-to-toe to ensure that everyone has enough space at night.
Tent height directly impacts comfort, particularly if you like to stand upright in your tent. While most 2 person backpacking tents are not designed for campers to stand in, many 4 person tents are.
With that in mind, tent height and shape are linked.
Cabin-style tents, like the Eureka Desert Canyon 4 have ceiling heights between 70" to 80"+.
Geodesic-style tents, such as The North Face Kaiju 4 usually are a bit shorter, at 60" to 70" in height.
Dome tents, like the MSR Elixir 4, are usually the shortest of the bunch, with peak heights between 40" to 60".
So, if being able to stand upright in your tent is a priority for you, a cabin-style model is the way to go.
Weighs between 9 to 11lbs
While most 4 person tents weigh between 9 to 11lbs (4.1 to 4.9kg), whether or not the weight of your 4 person tent is critical for you depends on what you plan to use it for.
For backpacking purposes, weight is of the utmost importance as you will need to carry all your gear on your back. Some tents, like the Kelty Dirt Motel 4, are well under 8lbs, which make them ideal for more remote trips.
Alternatively, some heavier tents, like the 12.8lbs (5.8kg) Mountain Hardwear Trango 4, while above average in weight, are still made for backcountry use. This is because these burly 4 season tents are made with extra-strong materials that allow them to resist breaking in heavy snow or harsh winds.
That being said, unless a tent is purposely built for four-season use, like the Trango, anything above 11lbs (4.9kg) is a bit unwieldy for most longer backpacking trips.
So, larger, more spacious tents like the REI Co-op Grand Hut 4 are best for car camping situations where weight, while important, is not a deal-breaker.
Doors, windows and vestibules
Four people in one tent can feel pretty tight at times, particularly when people have a lot of gear they need to store or when you're cooped up inside on a muggy evening. It can also seem a bit cramped when you have multiple people scrambling to get out of the tent.
Thus, doors, windows, and vestibules are all of the utmost importance in a 4 person tent. 
Here's what you need to know.
Number of doors
Both the number and size of doors that a 4 person tent has makes a big difference. In general, tents with multiple doors are preferred, as they make it easier for campers to get in and out of the tent without having to step over their friends.
With that in mind, even tents with just one door, such as the Kelty Tallboy 4, can be great options if this door is very large. 
Thus, while having two doors is still preferred for a 4 person tent, one very large door can be a suitable alternative for some campers.
Number of windows
In a 4 person tent, windows are very helpful for increasing airflow within the shelter. Ventilation is critical in a tent this size because it helps to ward off that not-so-sweet smell of camping and because it helps to reduce the amount of condensation in the tent body at night.
Models like the Big Agnes Dog House 4, which have a large window that can be zippered up in a rainstorm, provide a good mix of ventilation and offer great views of your surroundings.
Large vestibules
Vestibules are a fan-favorite in 4 person tents because they allow campers to store their gear outside the shelter for increased interior living space. 
So, models, such as the Klymit Maxfield 4, which have massive front vestibules, are popular for backpackers that bring a lot of gear on their adventures.
Gaby Pilson
Gaby is a professional mountain guide with a master's degree in outdoor education. She works primarily in the polar regions as an expedition guide, though she can be found hiking, climbing, skiing, sailing, or paddling in some of the world's most amazing places when not at work.