Our top bivy sacks and bug bivy picks
For the Budget Minded : REI Co-op Bug Out Bivy
"A solid choice for campers that want a no-frills shelter for outdoor adventures."
Best for the Money : REI Co-op Superlight Bivy
"Has an integrated bug mesh panel that provides great views of the night sky."
Best for Backpacking : MSR Pro Bivy
"An award winning shelter option for harsh weather conditions"
Best Lightweight : Black Diamond Twilight Bivy
"Made for minimalist trips into the mountains."
Best Bug Protection : Outdoor Research Bug Bivy
"Provides quality protection from mosquitoes and biting flies."
Best Waterproof : Outdoor Research Alpine Bivy
"For outdoor adventurers that need complete protection from the elements."
Best for Tall People : The North Face Assault Bivy
"A great all-around choice for taller hikers and for those that like a bit of extra wiggle room at night."
Best for Harsh Conditions : Rab Alpine Bivi
"Crafted with the stormiest of mountain conditions in mind."
Size : 87" x 27"
Weight : 14oz / 397g
Budget-friendly, yet versatile, the REI Co-op Bug Out Bivy is a solid choice for campers that want a no-frills shelter for outdoor adventures.
This bivy sack features a burly abrasion-resistant nylon floor for waterproofing and durability. It also has a no-see-um mesh netting that helps to keep the bugs away as you snooze.
For added convenience, REI designed this shelter with a single overhead pole, which provides plenty of extra headroom and comfort. It also has a set of internal straps so you can stop your sleeping pad from sliding around at night.
The REI Co-op Bug Out Bivy even has four corner guyouts, which increase the bag's interior space for a more comfortable sleeping experience.
Overhead Pole. Keeps the bug net away from your face.
Waterproof floor is abrasion-resistant for durability.
Lots of sleeping space thanks to integrated corner guyouts..
Tricky access due to rainbow-style zipper.
REI Co-op Superlight Bivy
Size : 87" x 27"
Weight : 24oz / 680g
Offering complete protection from the elements without breaking the bank, the REI Co-op Superlight Bivy is a budget-friendly option for campers that need one shelter that can do it all.
This fully-featured bivy sack has a Pertex nylon top shell. Thanks to this shell, the shelter is completely waterproof and highly abrasion-resistant. The entire bivy sack is also seam taped for maximum protection from the elements.
For nights that aren't rainy and damp, the REI Co-op Superlight Bivy also has an integrated bug mesh panel that provides great views of the night sky without exposing you to the mosquitos.
Additionally, it comes with a single hoop-style pole for comfort with a built-in storm flap that helps block out wind and rain as you enter and exit the shelter.
Fully waterproof Pertex shell that's seam-taped.
Mesh bug net for extra breathability on nice evenings.
Hoop-style pole provides ample headspace.
Bulky stuff sack size is difficult to pack.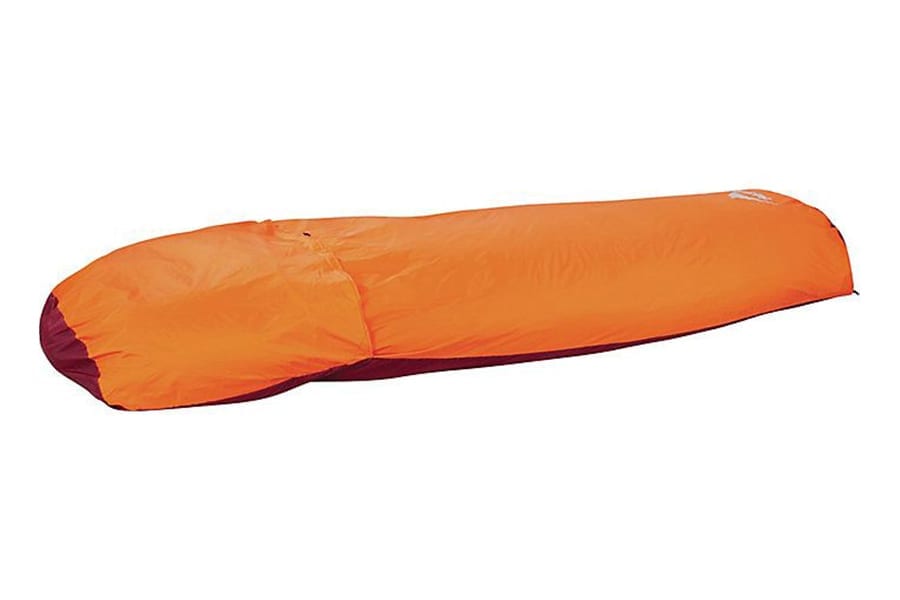 Size : 88" x 36"
Weight : 10oz / 280g
Made by professional adventurers specifically for remote hiking trips, the MSR Pro Bivy is an award-winning shelter option for harsh weather conditions.
This bivy sack boasts a lightweight, yet fully waterproof fabric that keeps you dry, even when the mountains decide to rain on your parade. MSR also gave this shelter their proprietary Xtreme Shield durable waterproof coating, which works for up to 3 times longer than traditional DWRs.
To ensure that your pack stays light and nimble on the trail, the MSR Pro Bivy weighs an impressive 10oz (28g), which is very low for a waterproof bivy. It also packs down into a tiny 8"x4" stuff sack to make packing and transport a whole lot easier.
Very lightweight for a fully waterproof shelter.
Completely waterproof design for alpine trips.
Quick set-up saves time in camp.
No Center Pole. Can feel claustrophobic.
Black Diamond Twilight Bivy
Size : 82" x 33"
Weight : 11oz / 302g
When weight savings are the utmost priority, the Black Diamond Twilight Bivy is a top choice.
Made for minimalist trips into the mountains, this lightweight shelter packs down into a minuscule 3" x 5" stuff sack that's easy to toss into your pack. It achieves this tiny size and weight savings thanks to its high-end NanoShield single-wall fabric, which is water-resistant and exceptionally breathable.
Thanks to its compact size and simple design, this bivy is an ideal option for emergency use or as a cover for a sleeping bag.
The Black Diamond Twilight Bivy is also a nice choice for climbers and mountaineers that need a durable, lightweight shelter that they can sleep upright in on portaledges and in alpine bivy spots. However, it's not fully waterproof, so it should be used in conjunction with a tarp whenever the conditions aren't cooperating.
Wide layout provides ample shoulder room.
Lightweight design is perfect for alpine trips.
Highly breathable NanoShield fabric reduces condensation.
Not waterproof. Use with a tarp in wet conditions.
Minimal headroom due to lack of integrated pole.
Outdoor Research Bug Bivy
Size : 89" x 26"
Weight : 16oz / 454g
When conditions are really buggy, but you don't want to pack a tent, the Outdoor Research Bug Bivy is a great solution. Boasting a full covering of no-see-um mesh, this bivy sack provides quality protection from mosquitoes and biting flies.
It also has a Delrin Single-Pole System, which helps to keep the mesh netting off your face for added comfort and bug protection. To help you make the most of your interior space within your shelter, Outdoor Research also designed this model with an internal mesh pocket to organize your gear and sleeping pad straps to keep you centered throughout the night.
Although the Outdoor Research Bug Bivy isn't fully waterproof due to its mesh net canopy, it does have a Hydroseal nylon taffeta floor which is completely seam-taped for maximum waterproofing.
Robust floor is seam-taped and fully waterproof.
Interior storage pockets for gear organization.
Delrin Pole System. Keeps canopy off your face at night.
Awkward access zipper at the head of the shelter.
Outdoor Research Alpine Bivy
Size : 82" x 26"
Weight : 20oz / 564g
The Outdoor Research Alpine Bivy is for outdoor adventurers that need complete protection from the elements that doesn't weigh a ton.
With a full shell of 3 layer Gore-Tex Respiration Positive fabric, this bivy provides ample rain protection. Meanwhile, a mesh netting around the opening allows for enough breability to stop the bivvy from turning into a mobile sauna on warm evenings.
All the seams in this shelter also come factory taped to stop water from eeking its way in. The large clamshell-style zipper on this bivvy even has a storm flap to prevent water seepage.
For added versatility, the Outdoor Research Alpine Bivy is designed to be used with or without the included hoop-style pole. That way, you can save weight on longer trips without compromising performance.
Lightweight for a waterproof bivy sack.
Versatile pole system allows you to save weight.
Mesh netting provides ample breathability and nighttime views.
Small size provides less interior space.
Pricey. One of the more expensive bivy sacks.
The North Face Assault Bivy
Size : 104" x 34"
Weight : 15oz / 425g
Boasting some of the largest square footage of any lightweight bivy sack on the market, The North Face Assault Bivy is a great all-around choice for taller hikers and for those that like a bit of extra wiggle room at night.
Made from 50D FutureLight 3 layer laminate fabric, this bivy provides a nice mix of both waterproofness and breathability. Additionally, a full waterproof closure system keeps rain off your face in wet weather while a mesh screen protects you from the bugs on starry nights.
The North Face Assault Bivy also has a unique design with a square-cut head and foot box that allows for ample gear storage space. It also has a Delrin-reinforced center, which provides the upper fabric with just enough stiffness that it stays upright and won't rest on your face.
Highly livable design with plenty of gear storage space.
Waterproof and breathable fabric for additional comfort.
Center zipper access makes entry and exit tricky.
Size :

92" x 32"

Weight :

16.5oz / 470g
Crafted with the stormiest of mountain conditions in mind, the Rab Alpine Bivi is a minimalistic shelter that's designed to be completely weatherproof.
It features a eVent 3-layer fabric, which is completely waterproof and among the most breathable in the industry. Additionally, this shelter boasts a 70D nylon bathtub floor for added durability on rugged ground.
To help save weight without sacrificing livability, the Rab Alpine Bivi also has a mummy-style shape that's specifically built to fit technical sleeping bags.
It also has a single entrance at the head with an integrated storm flap that helps to keep your sleeping bag and gear dry, even if you have to leave your shelter to answer nature's call in the middle of a snowstorm.
Waterproof eVent fabric for use in stormy conditions.
Mummy shape cuts weight without sacrificing livability.
Storm flaps keep your gear dry at all times.
Expensive when compared to similarly waterproof alternatives.
Bivy sacks are complex pieces of gear, which can make choosing just one a difficult process.
Here are 5 things to keep in mind about bivy sacks as you shop.
There are three main types of bivy sacks out there that you should know about before you buy one for your camping trips.
Here's how they perform in the mountains :
Traditional sacks. Traditional bivy sacks are simply durable pieces of fabric that are designed to completely cover you and your sleeping bag. These models, such as the Black Diamond Twilight Bivy, tend to be the lightest and most compact because they have a minimalist design with no added frills or features. However, they can feel quite claustrophobic, especially in the rain, because the bivy sack fabric rests directly on your face.
Face lifters. To counter the claustrophobic feeling that many people feel when using a bivy sack, some companies started creating face lifter models. Face lifters, like the REI Co-op Superlight Bivy, have a single hooped pole that goes around your head to keep the fabric off your face. While this adds a bit of weight and bulk to your pack, it basically turns your bivy sack into a tiny 1 person tent, which is much more comfortable than a traditional model.
Bug nets. Alternatively, some bivy sacks, such as the Outdoor Research Bug Bivy, are designed only to protect you from bugs. These bug net-style bivy sacks have a face lifter pole design but are made with mesh bug nets instead of waterproof fabrics. While you'll need to use them with a tarp for protection from the rain, these bivy sacks are fantastic for camping in dry environments.
When compared to a regular tent, sleeping in a bivy sack can feel a bit odd, especially if you're not used to having a minimal amount of free space.
Here are some space-related considerations to keep in mind as you shop for bivy sacks:
Length & size
In order to save weight, most bivy sacks are designed to be just large enough to comfortably fit an adult human and their sleeping bag. However, not all bivy bags are the same size.
Some, like the Outdoor Research Alpine Bivy, are actually quite small, with just 26" of shoulder space and 82" of leg room. Meanwhile, others, like The North Face Assault Bivy, are fairly spacious (relatively speaking), with 34" of shoulder space and 104" of leg room.
Since there's such a big disparity between the sizes of bivy sacks, it's best to measure yourself and your sleeping bag to see what works best for you.
Consider adding at least 6" to your height and shoulder width when looking for bivy sacks to ensure that you have enough space to sleep comfortably at night.
Headspace and height
Bivy sacks aren't exactly known for having a lot of headroom, but some certainly provide more headspace than others.
Traditional bivy sacks, like the MSR Pro Bivi, offer little in the way of headspace, but this is how they're designed. With these bivy sacks, you can expect the top fabric to rest directly on your face as you sleep. If this is annoying to you, wearing a baseball hat, or something else with a long brim, can help keep the fabric off your face.
Alternatively, face lift and bug net style bivy bags, like the REI Co-op Bug Out Bivy, offer upwards of 24" of headspace. While this isn't enough to sit fully upright, it does make sleeping a lot more comfortable. However, all this extra headspace usually adds weight to your pack.
Bivy sacks are made using a wide range of different materials. Here are some of the most common fabrics you might see in your new shelter:
Inner layers
Interestingly, most bivy sacks are made from just one piece of fabric. This makes them different from regular tents, which often have an inner body and an outer rainfly.
However, some bivy sacks, particularly face lift models like The North Face Assault Bivy, will have an inner layer of no-see-um mesh around the opening. This allows you to open up the bivy sack's zipper on nice evenings for ventilation without exposing yourself to an onslaught of biting insects.
Outer layers
When it comes to outer layers on a bivy sack, you have three main types of fabrics:
Mesh. Mesh fabric is generally only used as an outer layer on bug net bivy bags, like the Outdoor Research Bug Bivy. While mesh is lightweight and breathable, it offers no protection from the rain or wind.
Softshells. Softshell fabrics, such as those found on the Black Diamond Twilight Bivy, are highly breathable and are fairly water-resistant. They tend to be quite lightweight, but are not fully waterproof.
Hardshells. Hardshell fabrics include Gore-Tex (found on the Outdoor Research Alpine Bivy), Pertex (found on the REI Co-op Superlight Bivy), and eVent (found on the Rab Alpine Bivi). People will argue all day about which of these high-end fabrics is better, but they basically all do the same thing; keep you dry in the rain. These fabrics are also considered to be breathable because they have tiny little holes that are big enough for water vapor to evaporate through to cool you down but are not large enough to let liquid water in to get you wet. However, they'll never be as breathable as mesh or a softshell.
The final material you'll find on a bivy sack isn't a material, per se, but rather a coating applied to materials.
DWR, or durable water repellent, is a chemical treatment added to the surface of fabrics to help encourage water to bead off instead of soaking through. This has to be replaced frequently (every few months or so) for it to stay effective.
Bivy sacks are designed to be lightweight and portable alternatives to tents.
As you can imagine, however, there's quite a range of different sizes and weights in the world of bivy sacks.
For use as an emergency shelter or for trips into the mountains where compactness is key, a highly packable option, like the Black Diamond Twilight Bivy, is a good choice. In general, anything with a packed size of 8"x10" or less would be considered fairly compact for a bivy sack.
As far as weight goes, anything under 32oz (907g) is acceptable for a bivy sack, but lightweight options, like the fully waterproof The North Face Assault Bivy, which are under 16oz (453g) are ideal for longer trips in the mountains.
The location of a bivy sack zipper might not seem important, but it affects how easy it is to get in and out of your shelter at night. Side zippers are generally seen as the gold standard for convenience in bivy sacks, but they add a decent amount of weight to your pack.
Rainbow zippers, like those on the REI Co-op Bug Out Bivy, are located at the head of the bag, which makes them a bit trickier to get in and out of than a side zipper. Chest zippers, such as those found on The North Face Assault Bivy, are the lightest option, but are also the most difficult to use, especially in stormy conditions.
Will I feel claustrophobic sleeping in a bivy sack?
You might feel claustrophobic if you've never slept in a bivy sack before. In fact, we recommend sleeping in your bivy sack at least once while at home so you get used to it before your first trip.
How do I minimize condensation in my bivy sack?
To minimize condensation, try to sleep with the bivy sack unzipped as much as possible. Also, ensure that your sleeping bag isn't too warm for the conditions, as this will cause you to sweat and build-up condensation within the bivy sack.
Are bivy sacks waterproof?
Some bivy sacks (e.g., those built with Gore-Tex or eVent) are waterproof, but most are not. If your bivy sack isn't waterproof, it's best to sleep under a tarp to protect yourself from the elements.
Gaby Pilson
Gaby is a professional mountain guide with a master's degree in outdoor education. She works primarily in the polar regions as an expedition guide, though she can be found hiking, climbing, skiing, sailing, or paddling in some of the world's most amazing places when not at work.