Our top camping coffee maker picks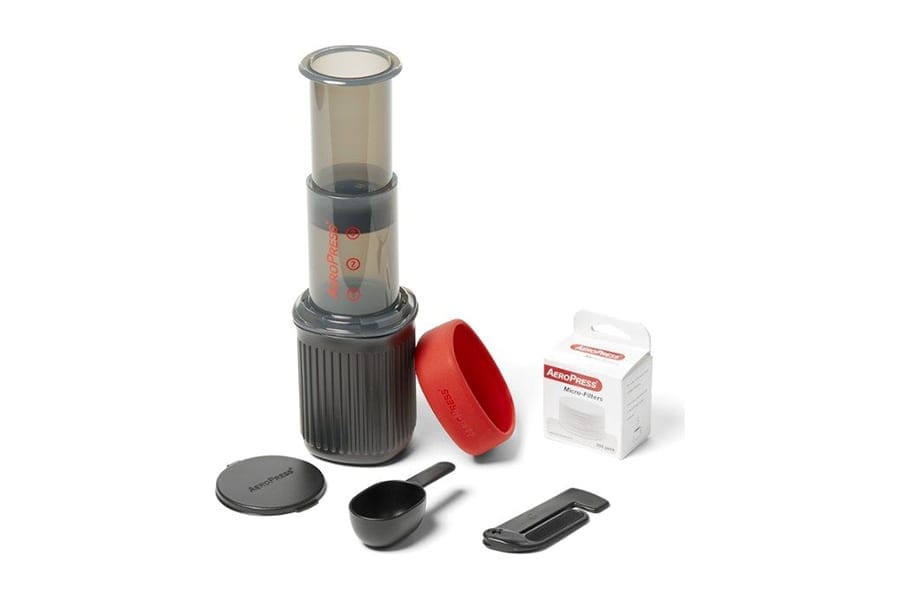 Type : Aeropress
Weight : 11.5oz / 454g
AeroPress allows you to brew delicious American style, espresso, or cold brew coffee. Pack it down quickly with a mug that conveniently doubles as a carrying case to a total of 5.3" x 3.9" x 3.9".
This AeroPress allows you to brew rich, smooth coffee sans bitterness and acidity. It uses micro-filters, coming with 350 and holding 20 at a time.
Even though it is small, it is still capable of brewing one to three cups of hot coffee in around one minute. If you want cold brew coffee, it takes closer to two minutes. The AeroPress Go Travel Coffee Press cleans up quickly by thoroughly rinsing it out.
The extremely compact design allows it all to fit easily in a pack.
Lightweight makes it easy to carry for backpackers.
Brews quickly in one to two minutes for one to three cups.
Extra filters add weight or take up space.
Stanley Classic French Press
Type : French Press
Weight : 2.5lbs / 1.1kg
Stanley has been an excellent make for campers that need a quality thermos or mug. Now you can take a quality thermos that doubles as a french press coffee maker into the backwoods.
It is a steel coffee maker that uses a double-wall vacuum to insulate the liquid inside and an insulated steel lid to keep it hot. The entire thing is made with 18/8 stainless steel construction, making it more durable. All the materials are BPA-free.
Once you have brewed your perfect cuppa, pour it out into a mug with the ergonomic handle. After the brew, clean the removable filter by hand or slide it into the dishwasher. It is a heavier coffee maker since it is over two pounds. The Stanley Classic Vacuum French Press packs down to a total of 7.1" x 4.9" x 9.5".
Large capacity with 48 fl. oz.
Double-wall vacuum and insulated lid maintains the liquid temperature.
The ergonomic handle allows easy pour.
Heavier weight makes it a poor choice for backpackers.
GSI Outdoors Coffee Rocket
Type : Drip
Weight : 2oz / 60g
The GSI Outdoors Coffee Rocket is designed for people who are on the go. Use the Coffee Rocket to make a cup of quality coffee.
This coffee maker only brews one cup of coffee at a time with a capacity of 8 fl. oz. It is designed to nest inside your travel mug, collapsing down to a small size of 3.3" x 3.8". It is created from nylon and clear polypropylene.
Conveniently, you can make your cuppa in one minute or less. GSI Outdoors Coffee Rocket is also easy to clean with a quick rinse and no extra filter garbage.
The reusable filter is cleaner and more sustainable.
Quick brew time of a minute or less.
Packs down small for ease of use no matter where you hike.
Only brews for one person with 8 fl. oz.
Type : Drip
Weight : 1.8lbs / 822g
Save as much space in your pack as possible with Sea to Summit's X-Brew Coffee Dripper. It is made to be collapsible, so when you are ready, it simply pops up. It comes with a reusable mesh filter, cutting down on coffee's environmental impact.
To use it, pop it up and scoop in your preferred amount of coffee grounds. Then, pour hot water over it and let it drip through to your mug waiting underneath.
Sea to Summit X-Brew is made with food-grade silicone and is extremely durable. Rinse it out after use for a convenient clean.
Collapsible design for easy packing.
Accompanying metal filter reduces environmental impact.
Brews two cups of coffee quickly.
Only fits best with the related product line.
Type : Drip
Weight : 14oz / 400g
Cafflano makes their Klassic coffee maker with a focus on sustainability and packability. It appears at first to be a thermal mug. It does double as a mug, but also allows you to brew a stellar cup of coffee.
Grind your coffee beans by hand with the included grinder. Then, use the stainless steel filter to load up the coffee grounds. From there, use the included drip kettle to pour in hot water.
There are no filters required, no cups, no measuring cups, or scales throughout the entire process. Cafflano Klassic is innovative in its small design, packing down to 3.9" x 3.9" x 8.7".
Sustainably-minded without the need for filters.
All-in-One design means no other material to pack.
Packs down small for an easy pack.
Only prepares small serving sizes each round.
Coleman Grill-Top Coffeemaker
Type : Drip
Weight : 7.6lbs / 3.4kg
Coleman uses an innovative design to allow you to make coffee on a grill top. It doesn't only make coffee, either. You can use it to heat up some hot cocoa, make hot cider, or craft an instant soup.
Open the top to scoop in the coffee grounds. Let its steel base fit over the camp stove burners and pour in enough water for the coffee grounds. When it begins to boil, it moves from the reservoir into the filter and brews into the awaiting glass decanter.
Coleman's Grill-Top Coffeemaker makes ten cups of coffee at a time. It works similarly to your coffeemaker at home, simply over a camp burner.
Grill top design makes it work like your kitchen model.
Brews large batches for ten people.
Very heavy design makes it work best for car campers and RV scenarios.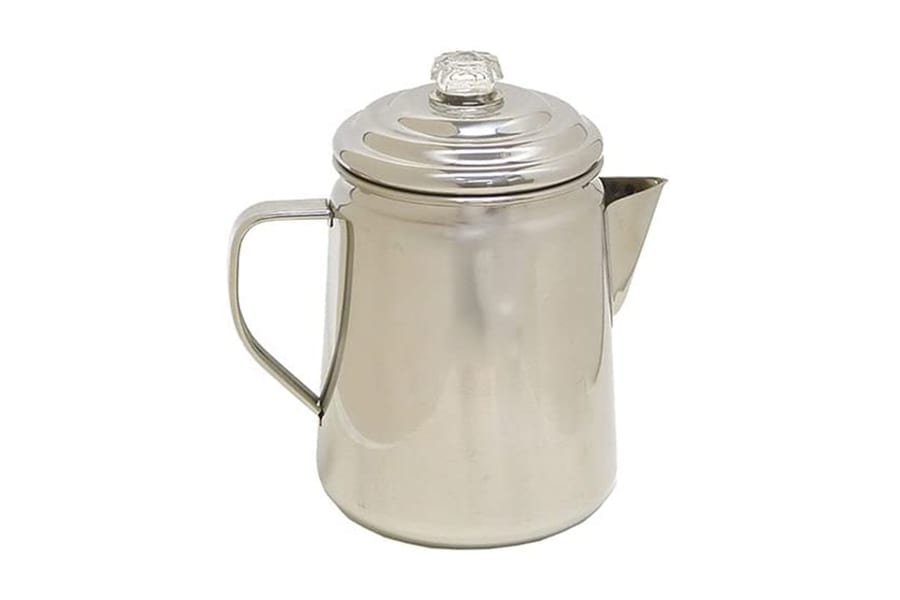 Type : Percolator
Weight : 2.2lbs / 1kg
Coleman is a relatively well-known budget brand for campers who need to stock up but keep it easy on their wallet. A positive about this stainless steel percolator is that it has the capacity to brew enough coffee for a whole camp. It can make up to 12 cups of coffee at a time.
On a camping trip, you need a pot that will last the long haul. The stainless steel base, tube, basket, and lid all fit the bill. However, the knob at the top of the lid is made with glass. For some hardcore adventurers, it wasn't heavy-duty enough to last.
When you finish brewing the coffee, pour it out using the side handle. Wipe the Coleman Percolator down quickly and check that morning job off the list.
Brews large batches for an entire group.
Overall durable build from stainless steel.
Glass knob can shatter with heavy-duty trip usage.
GSI Outdoors 8-Cup Percolator
Type : Percolator
Weight : 1.3lbs / 604g
GSI has another product on the table when it comes to coffee makers. If you need a bigger brew than their single-serve option gives you above, consider the 8-Cup Percolator. Even the classic design and exterior make it appealing.
Blend in some coffee grounds with the old-fashioned charm of the percolator. The maximum amount of coffee you can brew equals eight cups of 5 fl. oz. each.
Heavy-gauge steel makes up the bulk of the percolator. It has a speckled enamel finish that has been kiln-hardened twice for extra durability. GSI Outdoors 8-Cup Percolator includes an aluminum coffee basket but also has a less than durable glass knob.
Brews large batches of eight cups of coffee at a time.
3-ply wall construction makes for even heat distribution.
Extra durable enamel and steel build for heat and scratch resistance.
Less robust glass knob can break more easily.
Heavier weight makes it a poor trekker option.
Stanley Adventure 6-Cup Percolator
Type : Percolator
Weight : 1.8lbs / 819g
Percolators are the best options when you need a large batch brew. Stanley recognizes this by offering one of their own, the Adventure 6-Cup Percolator.
They craft their version of a camping percolator with a hardcore 18/8 stainless steel and a sturdy handle. It has a removable silicone grip to protect your hand when exposed over an open flame.
Stanley's Adventure 6-Cup Percolator makes coffee with approximately 5 fl. oz. in each cup. It is dishwasher safe for a convenient clean when you return home. It is larger at 8.5" x 8.1" x 4.6".
18/8 stainless steel is a durable build.
Silicone grip protects your hands from heat.
Brews for large groups with a capacity of 30 fl. oz.
Heavy and large features decrease packability.
Snow Peak Coffee Percolator
Type : Percolator
Weight : 1.8lbs / 819g
Snow Peak manufactures its Stainless Coffee Percolator in Niigata, Japan. Its design is meant to serve groups of campers, giving six people approximately 5 fl. oz. of coffee each. It is made from stainless steel, aluminum, chromed steel, and features a glass knob.
An art form has been made close to perfect with this little percolator. However, this is also reflected in the price. Use it by adding at least four scoops of coffee, and then fill it with water until it reaches just below the metal basket. You can pair this with more of their products for an increasingly streamlined use.
Overall, the Snow Peak Stainless Percolator is better-suited to car camping, or RV stays. It is not durable enough to withstand longer camping trips or being packed tightly into a bag.
Beautiful design as a camper's percolator.
Easy to use for quick, large brews.
Not rugged and best for use in RV scenarios.
GSI Outdoors Gourmet Pourover Java Set
Type : Pour over
Weight : 13oz / 369g
Another option from GSI, the Outdoors Gourmet Pourover Java Set, is great for camping trips. It doesn't all come in one piece like some of the other products on the list. Instead, it is a set that includes the Collapsible JavaDrip pour-over coffee maker. It pops up into #4 drip cone and folds to be only 1" high.
The set also includes a conical burr coffee grinder that allows the user to obtain the best bean flavor. It is made with an aluminum alloy that nests into place and locks for easy packing. It fits into the top of the cup to cleanly capture falling grinds.
A silicone bellows and drip cone pack down tightly. When working on brewing coffee, GSI Outdoors Gourmet Pourover Java Set can make 1 to 12 cups at a time.
Set style means you have everything you need from start to finish.
Long-lasting material makes the products durable.
Brews large batches for a variety of usage.
Requires filters for best use, decreasing packing functionality and sustainability.
MSR MugMate Coffee & Tea Filter
Type : Filter
Weight : 1.1oz / 28g
The MSR MugMate Coffee/Tea Filter is about as condensed as you can get when it comes to brewing a fresh cup of coffee. It is a nylon filter built to fit on top of a mug. To do this, there are tabs that stick out from the top.
To use the filter, put the appropriate amount of coffee grounds inside the filter. Prop it inside of a mug by using the side tabs settled on the rim. Pour water over the grounds, so they steep through. If you want it to be stronger, simply fit the lid on top and sit.
When storing the coffee filter, place it inside of almost any mug. The MSR MugMate Coffee/Tea Filter is low profile and weighs so little you won't even notice it.
Ergonomic design allows you to brew anywhere.
The quick brew and steep method gives you a strong cup of coffee.
Low profile design allows increased packability.
Only brews single batches in one mug at a time.
Camping Coffee Makers Buying Guide
Picking the right kind of coffee maker can mean not having to pack extra gear, getting the best flavor, and serving the appropriate amount of people. Read on to pinpoint which product is going to best satisfy your caffeine cravings.
These are 5 things to be aware of before you purchase a coffee maker for camping.
There are five primary types of coffee makers, including when it comes to camping. Nowadays, almost any kind of coffee has a portable maker to brew in the woods.
Pour over
The pour over is simple and obvious when you consider the name. Simply scoop in the coffee grinds to the conical top with a flat bottom and pour hot water over them.
Many camping varieties of a pour over coffee maker only include the top. This design allows you to place it over a mug or container of choice instead of adding more weight. Some come in complete sets, such as the GSI Outdoors Gourmet Pourover Java Set.
Since pour overs do not need an entire contraption, and some can even be collapsible. Use these if you are a multi-day camper or trekker and only need to make coffee for one to three people at a time.
Press
A press coffee maker involves you filling it with coffee grounds and manually compressing the grounds into the water. It is almost as if you were squeezing the flavor out of the grounds.
There are two common methods of brewing a press-style coffee, with a press and an aeropress.
To use this kind of press, scoop the coffee grounds in the bottom, pour the water on top, stir it around gently, and then place the top on. Allow the grounds to steep for several minutes and then press slowly down on the nob and rod. It should trap all the grounds at the bottom.
The Stanley Classic French Press is featured on our list for its ease of use and versatility.
The other option is an Aeropress like the number one option, the AeroPress Go Travel. It is smaller than a typical french press and brews less coffee. It works in much the same way but uses mini circular filters instead of having a built-in filter.
Percolator
A percolator is the most common form of coffee maker used for camping groups. They have a much higher capacity, upwards of 1L, instead of being small and tailored for individual use.
You start by pouring water into the lower piece for as much water as you need. Then, you place the following layer in that holds the coffee. The water is forced upwards through the coffee instead of flowing downwards pulled by gravity. As the water gets hotter, the coffee absorbs it.
The Coleman Stainless Steel Percolator is a prime example of a camping coffee maker made for large groups. It ends up being one of the heavier types, but it gets the job done for a collection of coffee lovers.
Drip
Drip coffee is a common way of preparing coffee in your home. The water is heated in its reservoir and as it boils, it shoots up into the valve. This water is then spread over the coffee grounds in a filter or aluminum basket and soaks through until it begins to drip into the container below.
The GSI Coffee Rocket and Sea to Summit X-Brew are both product examples of this kind of coffee maker. If you have an electric drip coffee maker at home, it might be easiest to continue using one in the backcountry, albeit, without a cord.
Filter
Filter coffee makers are the final kind. They are even simpler than the options before, it is only the filter.
Products like the MSR MugMate Coffee/Tea Filter are highly packable since they involve only one small piece. It is more difficult to tailor the taste of your coffee since it is just steeped in the water like tea. However, if basic is what you need, then it should be satisfying.
For most campers and backpackers, weight reigns supreme on your priority list. Developing a comprehensive coffee kit that is easy to pack into a small area and weighs next to nothing is the goal.
Sometimes, kits like the Cafflano Klassic achieves this by including everything you could need in one neat package. Other times, you want to personalize your setup since maybe all your beans are already ground and a grinder would be superfluous.
Think about the number of people accompanying you on the trip. If you are car camping, making coffee for the whole family doesn't have to mean a heavier pack. Coffee makers can serve anywhere from one person if 8 fl. oz. is a serving, to 12 people, if 5 fl. oz. is a serving. In the middle
Stanley Adventure 6-Cup Percolator falls in the middle, as most of them do. It is a happy medium to the weight and size conundrum with an increased group serving capacity.
Anything you use outside gets special wear and tear that it might otherwise avoid. You need something that is durable while still fulfilling its purpose.
Investing in expensive equipment doesn't necessarily mean it is longer-lasting either, as is the case with the elegant yet more fragile Snow Peak Coffee Percolator. Delicate glass nobs have no place on a trail, unfortunately.
Then, you have products like the GSI Outdoors 8-Cup Percolator. It is a classic look that goes beyond a simple metal exterior, but it is hardened and robust. Others can be from a silicone plastic that is BPA-free and still others, such as simple filters, from nylon.
Finally, you have to consider its overall ease of use. Take the Coleman Grill-Top Coffeemaker for example. It is used almost the same as many countertop coffee makers are. This similarity is endearing.
Find out how easy it is to clean each product and to assemble and dissemble it. If you need to pack up and go quickly in the morning to make your miles, you don't want to be messing around with a coffee maker.
Do I need to bring along a coffee grinder?
If your coffee beans are not already ground, you have to use a grinder to make coffee. Conveniently, there are some sets and makers that come with a grinder in the bundles. These are lightweight and easy to pack down with the remainder of the bundle.
How long do I need to percolate coffee on the camping stove?
Using a percolator on a camping stove is a quick way to make coffee, although not the fastest. To thoroughly run water through the machine, allow it to percolate for at least five minutes on a camping stove. Longer is necessary for larger percolators that serve six or more people.
Amanda Williams
Amanda Williams is a writer, plant-nerd, and outdoor enthusiast. She has traveled extensively, around the U.S., throughout Asia, Europe, and Latin America. Everywhere she treks, she takes time to enjoy the outdoors. John Muir is her hero. She aspires to inspire people to live better as he did.