Our top camping fan picks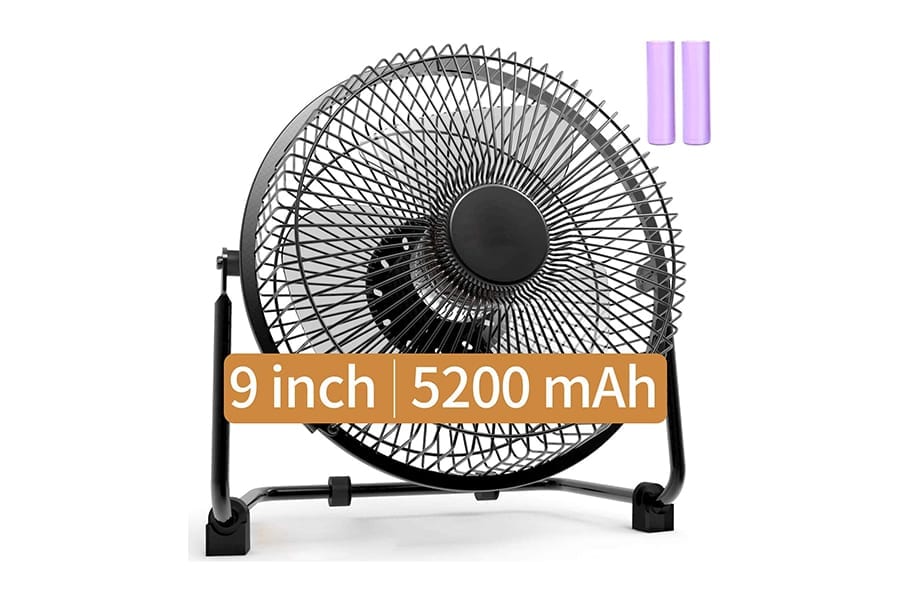 Priced competitively, the small-but-mighty Gazeled Camping Fan works as well in the tent at your campsite as it does in your stuffy office during the week.
The ultra-quiet fan only runs on 18650 batteries, which is included with the product. You'll love the 360-degree rotation, which allows you to choose the perfect angle and wind direction, ensuring a solid sleep on even the hottest of nights.
It's important to know that while this Gazeled fan features a great battery, that battery actually takes a long time to charge, so plan accordingly. The good news is that this Gazeled fan can charge via USB, so most power banks will suffice.
Long battery life that can run on low through an entire night.
Quiet. Very low noise
Slow charging. It can take a long time to fully charge.
If you're looking for an ultra-portable handheld fan, look no further than the Opolar Mini Handheld Fan. With three speeds, including the most powerful at 3,200 rotations per minute, you can easily cool off on the hottest of days.
The battery technology in this fan is what's most impressive. On a low setting, you can squeeze 18 hours of run time on a single charge. When you're not at the camping site, it's also a handy fan in a hot bedroom during the summer months.
The one downside of Opolar's camping fan is that it doesn't include any kind of light.
Cheap. The lowest-priced fan on this list.
Portable. You can take this fan anywhere with you.
Versatile battery. Powered by a detachable battery pack you can use to charge your smartphone.
No LED lights included unlike its competition.
Coleman Zephyr Ceiling Fan
The Coleman Zephyr Ceiling Fan is a no-nonsense camping fan that's super-easy to install using its magnetic plate system. You might find yourself packing an extra set of D-cell batteries, which aren't light, but the fan is capable of running for several hours.
If you camp with little kids who may not like a pitch-black tent, the LED light can turn into a soft, amber light to run through the night. This Coleman fan features foam blades, which are great for curious kids who may want to stick their fingers into the fan, but sometimes not the best for air flow.
LED lights included so you can see your way around the tent at night.
Easy installation. The magnetic attachment system makes for a quick setup
Foam blades. This material can't move air as well as plastic or steel.
Non rechargeable battery. Battery runs on D-cells.
Odoland Camping Ceiling Fan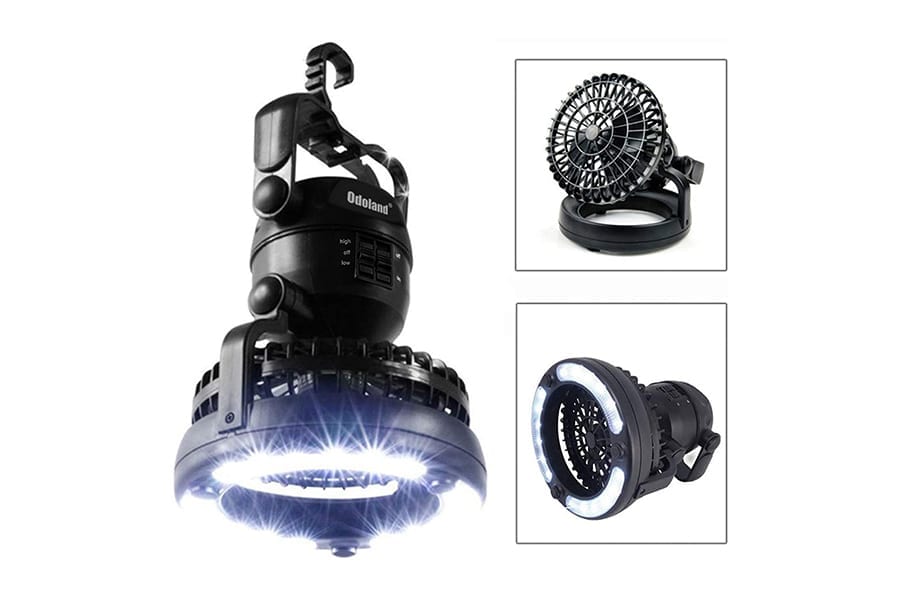 The Odoland Camping Ceiling Fan can keep air flowing through your tent and provide excellent brightness with its powerful array of LED lights. The lights are the real selling point and can work well as an emergency light while out backing in the wilderness.
It's important to note that one Odoland ceiling fan probably won't cut it in a large six- to 10-person tent when it comes to airflow. These fans are affordable, though, so you can buy a couple units for your next camping trip without breaking the bank.
Doubles up as a light. 18 LED lights provide plenty of brightness
Long battery life. 50 hours of fan time at low speed.
Flexible lighting angle. The lights can adjust for a more comfortable viewing angle.
Power: Fan speed may not be as powerful as desired for some people.
Big: A tad bulky, making it difficult for overnight backpacking trips.
You have plenty of options to keep Coleman's OneSource Multi-Speed Fan spinning through your entire camping trip thanks to its rechargeable lithium-ion battery packs that work across a range of other camping supplies.
The battery can be recharged through a car outlet, a wall outlet and, most importantly, a USB plug. That means you can use a portable charging bank typically meant for your smartphone to charge your fan.
With a capacity to run on low for 15 hours, you'll only need to recharge this Coleman fan a few times over the course of a weekend trip.
Multiple speeds. There are plenty of options for dialing in that perfect amount of comfort.
Great battery life with six hours on high and 15 hours on low.
Useful hook on the bottom that allows you to hang it in a tent.
Not for hot days. Plastic blades may not move enough air for best comfort.
When you see the Dewalt brand, you think of power tools. And this cordless fan, engineered to perform on work sites, certainly falls into that category.
That durability makes it an extremely capable and unconventional fan for camping that delivers. The airflow is solid 5 to 7 feet away if you're using it in a tent at night. It's also great around the campfire if you want to ensure smoke stays away from you.
The Dewalt Cordless Fan has been highly rated for many uses, including camping. While pricey, you likely won't be disappointed.
Versatile power. Can be used plugged in or unplugged on batteries.
Excellent battery life that can last a couple days.
Extremely durable for even the roughest of campsites.
Pricier than the competition, but it's geared toward work and construction sites.
Camping Fans Buying Guide
There are a handful of factors to consider when buying a camping fan. Luckily, most of these fans are relatively affordable, allowing you to do some trial and error at the campsite.
From the different types of camping fans, including blade materials to their noise levels, here's what you need to know about the many camping fans on the market today.
When it comes to camping fans, there are three different styles to choose from :
Table-top fans. Typically designed to rest on a table or next to you near the campfire. Most models allow you to adjust the fan head for an optimal airflow angle. These fans tend to be larger, so if you have minimal packing space, that's something to consider.
Tent fans. These are fans that feature some kind of attachment, either a hook or a magnetic plate system to hang in your tent and provide much-needed airflow. Many of these tent fans also include a light source, which is helpful at night when you're finding your way around a dark tent.
Handheld fans. These are designed for the camper on the go. They are typically smaller and don't have a huge amount of air power, but are adequate enough to quickly cool off while holding close to your face. If you're camping with a group, it's a good idea to have your own handheld fan in case the one table-top or tent fan is being used by someone else.
A big factor to keep in mind when shopping for camping fans is the power source :
Is the fan powered by disposable or rechargeable batteries?
Are the batteries unique to that fan only, like the Gazeled 9" Camping Fan?
And then, how can you charge those batteries to keep using the fan throughout an entire camping trip?
Many companies today have designed products that allow multiple sources of charging, from the wall outlet to a USB plug. A fan that can charge via USB is helpful, because you can use an entire market of charging banks geared toward mobile devices to keep your fan juiced up.
If you camp in a recreation vehicle or van, you can probably get away with a fan that plugs into a traditional wall outlet or car plug. The Dewalt Cordless Fan actually has an option to plug into a traditional A/C plug, which could be handy for use at home.
Also be on the lookout for solar-charging options that can keep your fan powered up throughout your entire trip as long as it's sunny outside.
Another factor you need to consider when purchasing a camping fan is how loud the fan will sound in your tent. After all, you're camping to enjoy nature and the sounds of the great outdoors.
While certain motors can cause unwanted noise, the quality, design and material of the fan blades are the biggest factors.
Steel fan blades are extremely durable and push a strong amount of airflow, but they tend to be louder than plastic blades.
Plastic blades may not be as strong as steel when it comes to airflow, but they are quieter.
Foam blades, which are featured in the Coleman Zephyr Ceiling Fan, are quiet, but aren't always the best for airflow. They are also good for families who camp with small children who are tempted to stick their finger into the whirling fan blades.
Like most camping gear, there are going to be tradeoffs. If your top concern is airflow, you can generally assume the more powerful the fan, the louder it's going to be inside the tent.
As mentioned, lights are a pretty common feature with camp fans today. Here are a few things to keep in mind when shopping, though :
Lights can drain batteries, especially when combined with a fan. Look for an option with a high-capacity, rechargeable battery.
Brightness is also important if you plan to use that as your main tent fan and light. That brightness, though, goes both ways. There are products on the market that may be too bright for your liking, especially if you camp in the same tent with other people. The Odoland Camping Ceiling Fan, for instance, features 18 bright LED lights. Sometimes, a dimmer light is preferred.
Check the mechanics of the fan and light. More solutions are hitting the market today that allow you to swivel the fan and light in different directions, which is helpful in adjusting for optimal airflow and direction of the light.
Andrew Dodson
Andrew Dodson is an avid camper who enjoys the great outdoors with his wife and two-year-old son. He resides in Colorado, where you can often find him enjoying hikes with a toddler strapped to his back and mini goldendoodle Percy nearby.