Dimensions : 10' 6" x 6' 6"
Hammock Weight : 1.8lbs / 794g
Max Weight : 400lbs / 181kg
Grand Trunk has been a leader in hammock development for years. The Parachute Nylon Hammock is one of their most popular products. It has a large surface area, bigger than other single hammocks. This makes it easier to adjust your position and be comfortable.
It is durable and safe with extra strength stitching and trip-lock seams. The 210T 70D parachute nylon material dries out quickly and is a breathable fabric. Nylon material is soft and dries out quickly.
Although it says single, the Grand Trunk Parachute Nylon hammock fits two campers. It comes with a ready-to-hang rope kit, a stuff sack, and two nautical-grade carabiners for immediate use. It also comes in a wide variety of colors and patterns and is budget-friendly.
Immediate use with carabiners and rope kit included.
Quick drying material from parachute nylon.
Color variety contains many different patterns.
Starter ropes are not as long or durable as separately-bought hammock straps.
Dimensions : 7' x 3'
Hammock Weight : 2.9lbs / 1.3kg
Max Weight : 250lbs / 113kg
Eagles Nest Outfitters went for a slightly different take on a hammock's shape with their SkyLoft hammock. It is made to have more of a structured body with lightweight DAC aluminum alloy spreader bars holding out the sides and ends.
The toggle system with the bars allows you to switch it up between relax or sleep mode. It is the best option for flat sleepers and supports your back while you rest. It comes with a stuff sack that doubles as the hammock's integrated pillow. Two stretch nylon pockets keep any objects close.
The material of the ENO hammock is a NewWave™ nylon that is breathable. It keeps you cool no matter the weather. It is easy to set it up, then take off the pillow and pack it down quickly again.
Structured body made with aluminum spreader bars.
Dual modes for sleeping and relaxing.
Integrated pillow to enhance comfort.
Not compatible with other ENO hammock stands or beignets.
Dimensions : 9' 4" x 6' 2"
Hammock Weight : 1.2lbs / 539g
Max Weight : 400lbs / 181kg
ENO prides itself on its line of outdoor gear, and this very much includes its outdoor hammocks. It is specifically made for two campers to fit comfortably. They have many different color and pattern options to choose from as well.
Just as any heavy-duty hammock does, the seams are triple stitched. The 70D High Tenacity Nylon Taffeta dries quickly but maintains breathability. You feel cool even on hot days.
ENO includes aluminum wire gate carabiners with the DoubleNest hammock, along with a compression sack that is attached. They do not include straps since many hammock-ers have a brand and length preference.
Extra materials included such as aluminum carabiners and stuff sack.
Dries quickly no matter the weather.
Triple-stitched seams for heavy duty use.
Straps not included to allow for use of a preferred brand.
Dimensions : 9' x 6' 6"
Hammock Weight : 9.8oz / 278g
Max Weight : 300lbs / 136kg
Eagles Nest Outfitters' SuperSub hammock is meant to do the trick for lightweight backpackers or campers. It weighs under a pound but still maintains the high level of comfort everyone wants in a hammock. Even with less weight, it retains the spacious dimensions found in their top seller, the DoubleNest hammock.
This hammock has the same dimensions as the DoubleNest mentioned above and has only reduced the weight rating by 100lbs. ENO does this by crafting it from Dyneema® Fiber Line and 30D Ripstop Nylon.
Like other ENO hammocks, the SuperSub hammock doesn't come with straps. It does have aluminum toggles with an integrated Helios™ suspension system for easier setup and fewer materials.
Lightweight for backpackers and campers.
Large dimensions even with less heavy material.
Ripstop nylon helps maintain stability.
Lower max weight the hammock can hold.
Hennessy Hammock Expedition Zip
Dimensions : 8' 4" x 4'
Hammock Weight : 2.8lbs / 1.3kg
Max Weight : 250lbs / 113kg
A more unique take on a hammock, meant more for overnight stays than lounging in the yard. It is the perfect pick for backpackers who don't want to trek with a tent.
The form is asymmetric and comes with a rainfly. One end is larger to be more comfortable for wide shoulders. You lay diagonally in this hammock.
No-see-um mesh keeps out insects during the night. It is like a hanging tent with its side entry through two double-sliders, heavy-duty #10 zipper. They even included a gear pocket that slides out of the way behind the sleeper's head.
The Hennessy Hammock Expedition Zip has a polyester suspension system. It is 10' long and made of 1500lb low-stretch polyester core ropes. It comes with a rainfly with a catenary cut out of 70D nylon that limits the wrinkles.
Asymmetric form for comfortable fit.
No-see-um mesh keeps away insects.
Side entrance through a double-slider zipper.
Low max weight for even a single sleeper.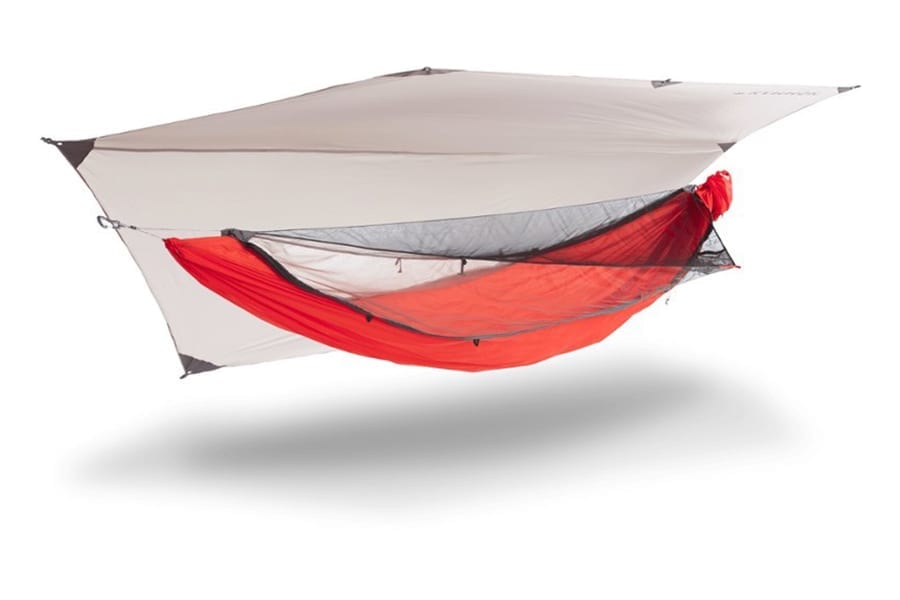 Dimensions : 10' x 4' 8"
Hammock Weight : 1.9lbs / 893g
Max Weight : 300lbs / 136kg
Kammok creates a high strength-to-weight ratio by creating their hammock from Levitas™ 20D ripstop nylon. The included Kammock Python 10 hammock straps are made with a strong, but extremely light fiber at 2.9oz.
There is a rainfly that comes with the hammock, made from 15D ripstop nylon. Its ridgeline ties to the same attachments the hammock does with six ground guy points. These increase its protective capacity and water shedding capability.
If you need to reduce weight on clear nights, leave it out. Dragonet™ no-see-um mesh makes up the enclosing canopy.
The Kammok Mantis hammock features a quick 60-second knotless setup and teardown. It comes with a lifetime warranty to give you a confidence boost on the investment.
Detachable rainfly for extra protection when you need it.
Lifetime warranty for greater product confidence.
Bug net made of no-see-um mesh.
Heavier weight makes it difficult for some backpackers.
Dimensions : 10' x 4' 10"
Hammock Weight : 1.3lbs / 567g
Max Weight : 300lbs / 136kg
The ENO JungleNest Hammock is also made for backpackers or those that like to sleep outside without being bitten by insects. Durable material made out of 40D NewWave™ Nylon.
The build is the more typical hammock body, extended from one point straight across. The structural ridgeline makes setting it up easy. When it comes to packing it up again, ENO has put the attached storage sack on the end of the hammock instead of the middle. It makes it easier to pack up then if it was in the middle.
A Featherlite DAC Spreader Bar across the top of the SkyWeave™ Lite Mesh bug net increases interior volume. At the end, 7075 aluminum toggles connect to the ENO Helios suspension system, but this is sold separately from the ENO JungleNest hammock.
Bug net made from no-see-um mesh.
Durable toggles made from 7075 aluminum.
Spreader bar increases interior volume.
Suspension system is sold separately.
Camping Hammocks Buying Guide
Hammocks might only seem like a piece of fabric hung between two trees. There is so much more that goes into choosing a high-quality hammock, though.
Here are seven things you need to know about hammocks before buying one.
Most hammocks are made from nylon.
Nylon is a lightweight material but it remains resistant to the elements often found outdoors for long periods. The material prevents the growth of mold or mildew as well.
The real test when it comes to the material of a hammock is the denier rating. If you see a number in front of the material type, such as 40D then it has a 40 denier rating. A single strand of silk is 1 denier.
A piece of 40D nylon fabric has strands that are 6.5 times the diameter of that strand. The higher the count, the larger the strand diameter.
It helps you identify the strength and feel of the fabric. 
The higher the denier count, the more durable and thick the fabric. The lower, the more it feels silky and sheer.
To compare, the Kammok Mantis Ultralight hammock with a 20D rating weighs much less and feels much softer compared to the sturdy Hennessy Expedition Zip with a 70D rating.
Read More : The 9 Leading Hammock Brands in the Market
To protect the people who want to get a fitful night's rest, each hammock has a maximum weight rating. They differ for each one, even between single and double hammocks. The denier rating affects this since it creates a stronger hold.
Single hammocks often only have a max weight of 250lbs, like the ENO SkyLoft. Others meant for two people, like the ENO DoubleNest are safe to hold 400lbs or more.
A higher maximum weight rating typically means that the hammock is heavier since it is made with stronger, thicker materials.
Backpackers often opt for lightweight hammocks that only hold their weight and a little extra. Campers that go as a pair often go for the higher max weight since the weight of the hammock doesn't matter as much.
The shape of the hammock is important to maximize comfort. If you are a taller person, look for a hammock that is longer to fit better.
The breathability of the hammock, especially if it has a mesh covering, makes it easier to sleep in hot and humid weather.
Take the Hennessy Expedition Zip for example. It has an asymmetric build that is wider on one side to comfortably contain the shoulders. The ENO SkyLoft is meant for back sleepers comfort in its Sleep mode.
A useful rule of thumb is to look for a hammock that is two feet longer than your height. The width often matters more, though. A wider hammock means more room to move around in and perhaps have another person in as well.
The size and weight can be essential factors depending on your height and how you need to pack it. Typically, the technical specs on a buyer's page lists the dimensions for both the packed and unpacked states of a hammock.
Another aspect to consider other than how much space the packed hammock takes up is how it is formed at the end. Even though a hammock might span 10', the traditional bunched style makes it feel much smaller at either end.
Additional protection and shelter
At times, all we need from our hammock is a comfy place to rest on a sunny afternoon. 
However, if you are looking for one that you can use for overnight stays and frequent sleeping outings, you might need a little something extra.
Canopy addons are not absolutely necessary for overnight stays, but they do help on sunny days. Even if the hammock's fabric is breathable, it can be difficult to protect the sleeper from the heat and the hot rays. Having a hammock with an accompanying canopy gives you some cool shade to sway in. Canopies are often quite heavy and can add up to a pound to the total system.
Rain fly makes it much easier to protect yourself from the elements. These can also act like a canopy, although they are typically thinner and not meant to block the sun. Covering the hammock with a rain fly keeps off the morning dew, rain, and helps temper windy weather. It can add another half a pound to the total weight of the hammock set, though.
Bug nets are especially useful. Even if you decide to leave the rain fly at home, having a hammock with a built-in bug net goes a long way. Useful for both overnight trips and daily swings, bug nets are most often made from a no-see-um mesh. It keeps the bugs out without restricting the views and the sun. They do add weight, but not much since the mesh is so light.
Read More : 15 Hammock Camping Tips and Tricks
Not only can a hammock system lend you more protection, it also offers the possibility of better assembly ergonomics.
Check to see if your hammock comes with equipment such as suspension ropes, carabiners, or even a hammock stand. For beginners, these can help you a lot by allowing immediate use without buying more material.
Some people prefer if a hammock doesn't come with suspension ropes and carabiners. Accompanying ropes are often subpar to what can be bought separately. They are either not made with as durable material or are way too short for pick up and go setup.
If a hammock doesn't come with carabiners, check to see what kind of suspension technology it uses. Getting rid of carabiners is often a design concept to reduce weight and packed size. For example, the ENO JungleNest hammock comes equipped with aluminum toggles that combine with the brand's suspension system.
Amanda Williams
Amanda Williams is a writer, plant-nerd, and outdoor enthusiast. She has traveled extensively, around the U.S., throughout Asia, Europe, and Latin America. Everywhere she treks, she takes time to enjoy the outdoors. John Muir is her hero. She aspires to inspire people to live better as he did.