Our top headlamp picks for campers
Brightness : 325 lumens
Battery Type : AAA
Weight : 3oz / 85g
The Black Diamond Spot 325 is one of the best value headlamps on the market for camping.
First, the multiple lighting modes and built-in memory function are great. After you turn it off and then back on, it will go to the last used mode. So, no need to cycle through different brightness levels each time.
Second, the size is perfect. At 3 oz with the three AAA batteries installed, you'll barely feel this head torch while organizing your campsite after hours.
If you do need to change brightness on the fly, this Black Diamond headlamp features PowerTap technology, which allows for quick changes in brightness.
Color. Multiple color straps and light boxes.
Size. Very compact and easy to pack away.
Waterproof. Rated IPX8, which is good for about 30 minutes submerged in 1 meter of water.
Tricky controls. The ergonomics of the control pad can be tricky.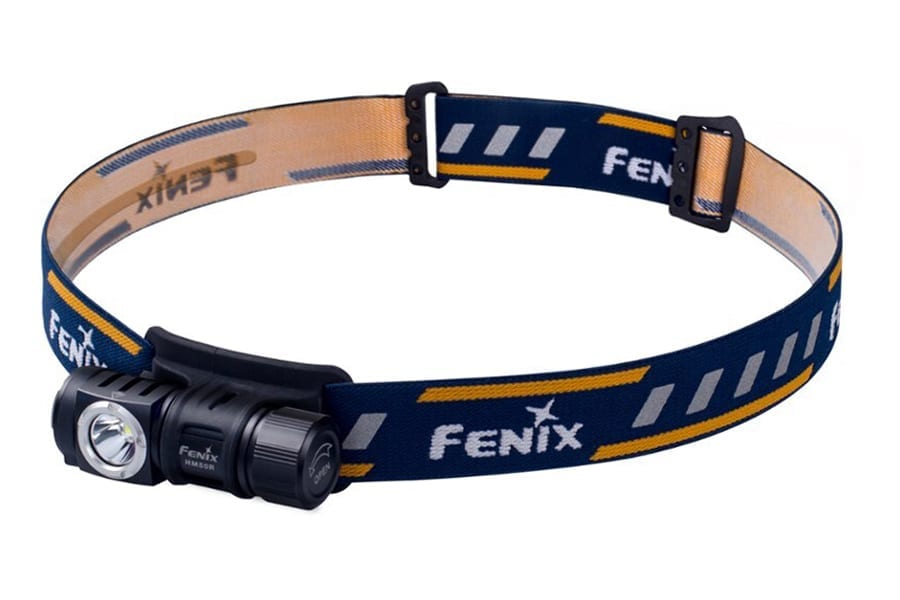 Brightness : 500 lumens
Battery Type : Rechargeable 700mAh battery
Weight : 2.8oz / 79.3g
The rugged aluminum body of the Fenix HJM50R headlamp makes it the ultimate headlamp for camping, plus it comes with a lifetime guarantee against defects in materials or workmanship and a five-year warranty for damage-related to normal use.
For a headlamp on the higher-priced end, you get a max output of 500 lumens, which is more than enough to brighten your campsite at night.
If you're looking for the best camping headlamp that can take a beating, look no further than Fenix's headlamp.
Brighter than competitors in this price range.
Rated IPX8, meaning it can be submerged in two meters of water and is sealed against dust.
Short battery life. Some users have reported the battery failing to charge after a few months.
Brightness : 330 lumens
Battery Type : Rechargeable 1,250mAh battery
Weight : 2.4oz / 69g
If size and weight are top factors when purchasing a headlamp, the BioLite Headlamp 330 is a great option. It's designed with the light in front and the battery pack on the back, which nicely balances everything out when wearing it around your head.
This headlamp packs the premium features you'd expect in that price range, including brightness memory.
A big selling point, though, is the battery, which is mini USB rechargeable. If you own a portable battery charger pack, you'll never have to worry about this BioLite headlamp running out of light.
Lightweight. One of the lightest headlamps on the market today.
Rechargeable batteries. No need to fiddle with batteries on your camping trip.
Various color options. Comes in four different brightly colored straps.
Tough to click if you have bigger fingers.
Silva Trail Runner 4 Ultra
Brightness : 350 lumens
Battery Type : Rechargeable 2.4Ah lithium polymer / AAA
Weight : 2.96oz / 76.2g
Great for camping and those ultra-long runs, the Silva Trail Runner 4 packs enough power to keep your adventure well-lit.
This is one of the more expensive headlamps on our list, but in return, you get better-than-normal battery life and a battery that can fully recharge in four hours. The battery also comes with an extension cord, so you can keep it in your pocket or backpack while it charges.
Silva also sells a small red light that can attach easily to this lamp's anti-slip band.
Dual battery option. The ability to use rechargeable lithium polymer or AAA batteries.
Anti-slip band. Minimal movement makes it great for trail running.
Not waterproof. It can handle rain, but not fully waterproof.
Streamlight ProTac HL 1000
Brightness : 1,000 lumens
Battery Type : Lithium Ion
Weight : 6.8oz / 192.7g
As one of the most rugged headlamps on our list, you can pretty much take on any task with the Streamlight ProTac HL 1000. And you can perform those tasks for a long time with its 50,000 hours of burn time.
Now, this headlamp most likely isn't designed for the casual weekend camper hitting up the local public sites. With its extreme battery life, lumens and toughness, it's designed for the hardcore camper who is going into the roughest and darkest of campsites.
If you fit that category, Streamlight's headlamp is perfect for your most challenging of camping trips.
Plenty bright. At 1,000 lumens max brightness, this headlamp doesn't mess around.
Rugged design makes it a perfect option for camping.
Heavier than most of its competitors.
Brightness : 450 lumens
Battery Type : Rechargeable 1,250 mAh battery
Weight : 2.8oz / 79.3g
If you're looking for a lightweight headlamp that features more than enough brightness to help you around the campsite, the Petzl Actik Core is a great choice.
While more expensive than some of its competitors with similar brightness, this headlamp's big selling point is its battery options. It includes a rechargeable CORE battery, but can also run on AAA alkaline, lithium-ion, or Ni-MH rechargeable battery, which is perfect for long camping trips where you may not have an opportunity to recharge batteries.
This Petzl headlamp only comes in red or black.
Extremely bright beam of light.
Versatile battery. In addition to a rechargeable battery, it also takes AAA.
Auto power preservation. As the battery dies, it automatically dims to use less energy.
Tricky battery : The plastic tab can be tricky to use when installing a battery.
Brightness : 30 lumens
Battery Type : AAA
Weight : 2.4oz / 68g
Adults aren't the only ones who get to wear headlamps. That's where the Black Diamond Wiz headlamp comes into play.
Designed for kids, this headlamp is a perfect camping gadget that your kids can wear while they clean up the campsite for the night.
Your kids will love the brightly colored bands that come in blue, orange, and red.
Of course, this Black Diamond headlamp only emits 30 lumens, so it's not terribly bright. But for some little tasks around a dark campsite, it'll get the job done for your kids.
Kids design. The only headlamp on our list designed for kids.
Very comfortable headband that won't leave your kids complaining about it.
Dim lights. 30 lumens isn't the brightest, but it's still fun and useful for kids.
Brightness : 500 lumens
Battery Type : Rechargeable / AAA
Weight : 2.8oz / 79.3g
One of our favorite features of the Petzl IKO CORE headlamp is that it includes seven LEDs on the lightboard, which distributes the light evenly, so you won't have a direct spotlight poking off your head.
The technology in this headlamp allows for two different beam types; flood or mixed, with each mode including various levels of brightness. The best part is that you can easily access those settings with a single touch of a button.
Another innovative feature of the Petzl IKO CORE headlamp is that it detects which power source you're using and adjusts the brightness accordingly. The included rechargeable battery gives you 500 lumens, while the AAA emits 350 lumens.
Unique design, but also ergonomically designed, headlamp on this list.
Radical design, not for everyone.
Brightness : 1,100 lumens
Battery Type : Lithium Ion
Weight : 13oz / 369g
The Petzl Duo S headlamp is a serious piece of camping gear that's designed for campers who enjoy extremely rural environments. But for that price, you also get some pretty intuitive technology.
This Petzl headlamp features Face2Face technology that automatically dims the light if you face a fellow camper who's also wearing a headlamp.
In addition to that anti-glare function, the control button easily switches between five different modes, including a low-intensity flood beam, which can maximize battery life.
Rugged and durable design is perfect for camping in rough conditions.
Waterproof. If this falls a few feet in the water, don't worry.
3-year warranty is great if you damage this headlamp.
Expensive. You have to be a serious camper to drop this kind of money on a headlamp.
Brightness : 1,000 lumens
Battery Type : Lithium Ion
Weight : 6.3oz / 178.6g
Headlamps can be a little boring, but the Ledlenser MH11 Bluetooth headlamp brings out all the stops for campers who demand a more intuitive solution.
Let's start with the Bluetooth feature. You can control the brightness and focus of this light through a dedicated smartphone app. That alone makes the Ledlenser MH11 the most innovative headlamp on this list.
But there are also some great mechanics with this headlamp. The lighting apparatus can pivot for the optimal angle and a metal clip allows for a number of fastening options if you want to use it as a handheld light.
Value for money. For the price, this headlamp is extremely bright.
Bluetooth connectivity allows you to personalize lighting conditions and control the lamp's dimmer.
Smartphone app needs improvement. While innovative, you may find controlling this lamp via your smartphone isn't the most convenient.
Camping Headlamps Buying Guide
In their simplest forms, headlamps for camping consists of a rechargeable battery pack and light attached to an elastic band that wraps around the head. But there are a handful of factors to keep in mind when shopping.
Use this guide to determine which headlamp works best for you and your family.
The whole point of a headlamp is to brighten your line of sight while setting up or organizing a campsite after the sun goes down. So, the level of brightness, measured in lumens, is pretty important.
According to many experts, you only need roughly 100 lumens to brighten a pathway. Thankfully, many of the headlamps on the market today start around 350 lumens, like the Silva Trail Runner 4, which is more than enough to see in the dark.
Typically, the more lumens (the brighter the headlamp), the more expensive it costs. 
That's why the Petzl Duo S, which emits 1,100 lumens, costs so much.
Bright headlamps aren't just helpful when the sun is completely down. A hike around dusk might feel like there's enough light outside, but a headlamp can help you finish that hike with more confidence.
If you tend to camp in more rural spaces where there's not much artificial light nearby, a brighter headlamp could be beneficial. But for most campers, something in the 300 to 500 lumens range will more than suffice.
Number of brightness settings
Today's headlamps include plenty of features beyond a bright light strapped to your head. 
First, there are a number of brightness settings to keep in mind when shopping for camping headlamps.
Low. Perfect reading in the tent when a partner or tent buddy is already sleeping.
Medium. A good option for moving around outside at dusk or dawn.
High. Used for setting up the campsite after the sun has set, or for night hiking.
Strobe. This is a great feature for families who might be spread out while collecting firewood, for instance but still want a bright blinking light so the kids can easily see their parents.
In addition to those light modes, you need to keep things in mind like beam pattern, beam angle, and beam distance.
An adjustable beam angle allows trail runners to point the light on their down a bit, so they can better see where they are running.
Beam distance is all about how far the light can illuminate. 
The Black Diamond Spot 325, for example, has a maximum beam distance of 80 feet, which is more than enough for most camping situations.
Chances are the brightness setting you decide is best for you will be used for the entire camping trip. So, look for headlamps with a memory function that turns on to the last setting you used.
Headlamps for camping have historically been powered by disposable AAA batteries, but the latest products have expanded to rechargeable lithium-ion batteries.
The only thing you really want to know about batteries is how long they will last. Typically, the higher-powered lithium-ion battery, like the one found in the Streamlight ProTac HL 1000, has several hours of run time. Better yet, you can recharge those batteries instead of throwing AAA batteries.
That being said, you're not always in a situation while camping to recharge your headlamp. That's why it's also a good idea to consider a headlamp with a few battery options, like the Petzl Actik Core. This headlamp is powered using an included lithium-ion, but can also run on AAA batteries.
If you already own or plan to buy, a portable battery pack, then it's probably a good idea to go with a headlamp that includes a rechargeable lithium-ion battery.
Headlamps are great at illuminating the direction you're looking into, but they're only as good as they are comfortable on your head. To pick out the most comfortable headlamp, consider the following factors :
Weight : The lighter a headlamp is, typically the more comfortable it is. But lighter can also mean less bright.
Head strap material : This head strap is going to be tightly stretched around your head. You want something soft.
Strap design : You also have to mentally feel good about it, which is where design and aesthetics come into play.
The most basic of headlamps, like the Black Diamond Wiz, which is designed for kids, use an elastic band with a plastic light and control panel on the front. But the company knew kids could find basic elastic uncomfortable. Instead, it went with an ultra-soft band that's guaranteed to be comfortable.
Like most camping gear, it's about trade-offs. Find a headlamp that fulfills your level of comfort and determine if the tradeoffs, like price or battery life, are worth it or not.
When going on a camping trip, you need to assume everything you bring is going to be soaked in rain, including your headlamp. 
Luckily, many new headlamps on the market today are at least water-resistant, which is strong enough to handle heavy rain.
But not all headlamp models are actually rated as waterproof. 
The Fenix HJM50R is one of those rare headlamps that you could dunk in three feet of water for 30 seconds and not worry about any damage. That being said, you should always dry out the battery cartridge after it comes into contact with water.
To determine how waterproof a headlamp is, refer to the IPX rating system :
IPX 1 to 6 can handle light rain to a more intense jetstream of water being sprayed at the device.
IPX 7 means the headlamp can be submerged in one meter of water for 30 seconds.
IPX 8 means the headlamp can submerge more than a meter into the water for an extended period of time.
Most campers only have to worry about rain as chances are low you'll go diving with a lamp strapped to your head.
Andrew Dodson
Andrew Dodson is an avid camper who enjoys the great outdoors with his wife and two-year-old son. He resides in Colorado, where you can often find him enjoying hikes with a toddler strapped to his back and mini goldendoodle Percy nearby.