You have the camping stove, the utensils and the food.
And now you're in the market for a camping kitchen to stay nice and organized.
As you probably know, there are dozens of options on the market today, making the buying process a tad difficult. Don't worry. We're here to help.
In addition to a lineup of our most-recommended camping kitchens, we also want to help you understand the basics about this gear.
Kitchen top space. Think about what type of cooking you do at camp and how much space you'll actually need.
Stable bases. This is extremely important. You want something not only stable, but also capable of adjusting to an even level.
Portability. Typically, you're not bringing camping kitchens backpacking with you, but you will want something that can easily pack up in your car.
Read More : Camping Kitchens Buying Guide
You'll also want to know about build materials and storage areas, but we will get to all of that.
Here are the 7 best kitchens for camping.
| Kitchen Brand | Material | Dimension (W x D x H) | Weight |
| --- | --- | --- | --- |
| Mountain Summit Gear | Aluminum | 56.2" x 18.9" x 31.5" | 13.5lbs / 6.1kg |
| Eureka | Steel | 56.5" x 19.5" x 33" | 14.8lbs / 6.7kg |
| Cabela's | Aluminum | 84" x 19.8" x 30" | 36lbs / 16.3kg |
| GCI Outdoor | Aluminum | 52" x 20.9" x 32.3" | 18.9lbs / 8.5kg |
| Coleman | Aluminum | 56.7" x 21.3" x 66 | 14.5lbs / 6.5kg |
| Camco | Aluminum / Steel | 57.7" x 19" x 21" | 17.6lbs / 11.5kg |
| Cuisinart | Aluminum | 54" x 20" x 30.5" | 17.2lbs / 7.8kg |
Mountain Summit Gear Deluxe Kitchen
Dimension : 56.2" W x 18.9" D x 31.5" H
Material : Aluminum
Weight : 13.5lbs / 6.1kg
If you're looking for a large camping kitchen with ample storage, the Mountain Summit Gear Deluxe Roll Top Kitchen is a solid starting place.
Weighing in at 13.5lbs, this kitchen features two aluminum roll-top table stations, allowing you to prep food on one and cook with a camping stove on the other.
There have been some complaints about stability because this kitchen is so lightweight. But, for the most part, the casual camper calls this kitchen a homerun. It may be a little bit too light and not durable enough for more intense camping trips.
What we really like about this Mountain Summit Gear kitchen are the adjustable legs. Chances are high your campsite isn't perfectly flat. These legs let you prepare meals and cook evenly.
Detachable storage. Quite helpful when packing up or filling it up during the setup.
Lightweight. And for the weight, it's quite sturdy.
It can multitask. Many campers said they could cook and prep food at the same time because there's plenty of space.
Tough hinges. There are complaints about the hinges being too tight, making it difficult to set up and take down.
Dimension : 56.5" W x 19.5" D x 33" H
Material : Steel
Weight : 14.8lbs / 6.7kg
The Eureka Camping Kitchen is a multi-purpose camping kitchen table that makes meal prep and cooking around the campsite simply easier.
Our favorite feature of this camping kitchen is the wire shelf located under the main table. It's absolutely perfect for drying off pots and pans, but can also be used to hang cooking tools, like tongs.
This table features anti-rocking feet, ensuring stability on uneven camping grounds. There have been some complaints about the durability of this steel-frame table, but for the most part, it's solid for the casual car camper.
We also like that this Eureka kitchen table comes with an easy-to-carry storage bag and at a price that's relatively affordable.
Easy setup. Simply unfold the legs and side tables and you're ready to go.
Smart design. A taller central table for cooking with lower side tables for bowls and other items is a usable design.
Easy transport. The included storage bag makes carrying it to and from the car quite simple.
Not durable enough. There have been complaints about the plastic shelf-mounts breaking off after extensive use.
Cabela's Deluxe Camp Kitchen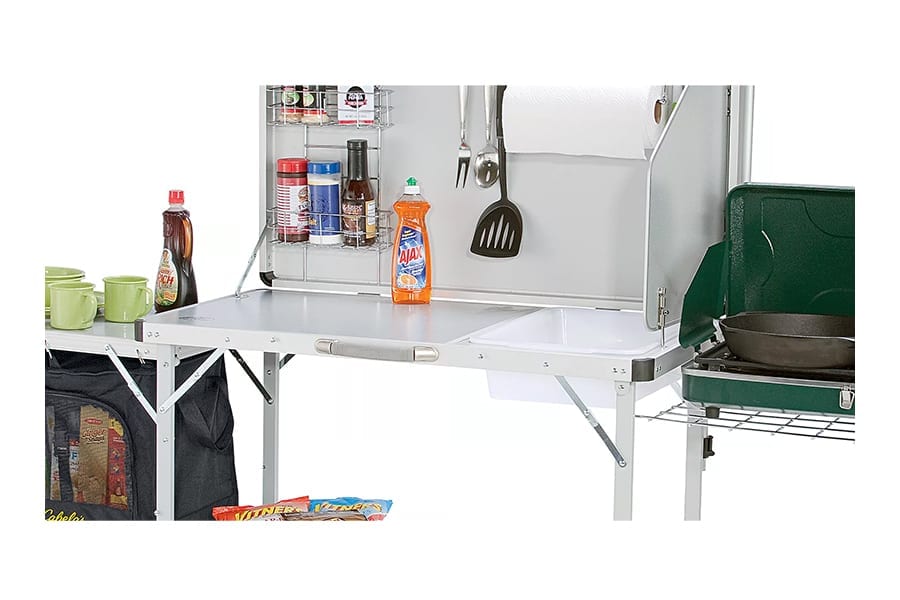 Dimension : 84" W x 19.8" D x 30" H
Material : Aluminum
Weight : 36lbs / 16.3kg
Designed for big-time camping trips or large tailgates, the Cabela's Deluxe Camp Kitchen literally has it all, including a lantern pole to help illuminate your cooking for a midnight snack after the sun goes down.
Now, for something this size, you have to expect it to be heavy. At 36lbs, it's certainly one of the heavier camping kitchens on this list. In return for that weight, though, you receive a ton of well-designed storage, including a spice rack and utensil and paper-towel holder.
To the right of the main food prep area is a wire side table that's great for drying pots and pans, or grilling up food on your camping stove.
This Cabela's camping table is only a little more expensive than smaller options on the market making it a great value for your next camping trip.
Spacious. This is one big camping kitchen with plenty of space.
Adjustable feet. Always important for stability when camping.
Includes a lantern pole. Cooking after hours just got much easier.
Flimsy storage bag. It's prone to tear if everything isn't packed incorrectly.
GCI Outdoor Slim-Fold Outdoor Cook Station
Dimension : 52" W x 20.9" D x 32.3" H
Material : Aluminum
Weight : 18.9lbs / 8.5kg
When it comes to shelf and storage space, the GCI Outdoor Slim-Fold Outdoor Cook Station is a step ahead of the competition.
Despite only weighing in at under 19lbs, this kitchen table features four fold-out tables, in addition to a wire table great for drying pans or additional food storage.
This camping table features an aluminum frame that can fold completely flat for easy storage, making it great for campers who are traveling in smaller cars.
There's not much bad to say about this GCI cook station. One minor complaint is that it doesn't include a storage bag, but once it's folded up, it does feature a handle for easy carrying.
We suppose the only other negative with this GCI kitchen table is that it doesn't include a pole to hang a lantern.
Shelf space galore. You have six reliable shelves to place and store kitchen goods.
Extremely sturdy. This heavy-duty aluminum frame doesn't wobble, even in the toughest of conditions.
Folds flat. Despite all the extra shelves, this kitchen table folds completely flat, allowing for easy storage.
No carrying bag. But there are bags out there that work well for it.
Coleman Pack-Away Portable Kitchen
Dimension : 56.7" W x 21.3" D x 66" H
Material : Aluminum
Weight : 14.5lbs / 6.5kg
From America's oldest camping brand, the Coleman Pack-Away Portable Kitchen has been updated over the years and remains a suitable option for the campsite.
We like a few things about this kitchen camping table, including the handy utensil holder in the back of the main food prep area. Having easy access to things like a spatula or tongs is really useful, especially when it doesn't take up food prep space.
Perhaps this table's top feature, though, is its portability. It features that classic Coleman fold-up design into a metal case with a handle for easy carrying.
Some users have complained this Coleman table isn't the most durable, while others have said an updated version of it is a significant improvement. So, clearly, Coleman listens to its customers.
Designed for a stove. An open shelf area to the side is designed for a camping stove to snuggly fit into.
Lantern holder. The addition of a lantern holder is always welcomed with a kitchen table.
Utensil hooks. You'll be glad to hang these instead of having them take up prep space.
Not the most durable. Some campers complained about brackets falling off after extensive use.
Camco Deluxe Folding Kitchen Table
Dimension : 57.7" W x 19" D x 21" H
Material : Aluminum / Steel
Weight : 17.6lbs / 11.5kg
The Camco Deluxe Folding Kitchen Table finds itself in a best-value category for its price, ease of use and stability.
First the good: This camping kitchen is extremely easy to set up and put away. And once it's put away, it's quite compact. We also like all of the included hooks for utensils and other cooking tools. They are perfectly placed for cooking at the campsite.
Now, there have been some complaints about this camping kitchen, the biggest being concern over the fiberboard shelves. If they get wet on a consistent basis, they could start to warp.
The other complaint about this Camco table is how hot the aluminum frame can get after sitting out in the sun. This is likely common among many aluminum camping kitchens, though.
Efficient design. Compact, but still plenty of operating room.
Simple setup. Push down to unfold and your table is ready to be used.
Sturdy. Can handle most cooking stoves plus food prep materials without wobbling.
Too hot. If left out in the sun, the aluminum can heat up very quickly.
Fiberboard shelves can warp if left out in the rain.
Cuisinart Take Along Grill Stand
Dimension : W 54" x 20" D x 30.5" H
Material : Aluminum
Weight : 17.2lbs / 7.8kg
Simple and versatile, the Cuisinart Take Along Grill Stand is the perfect camping kitchen table for casual campers.
It quickly unfolds and features two side trays with plenty of cup-holders to ensure nothing tips over. We really like the lower shelf, which includes crossbars to prevent anything from falling out.
Now, nothing is perfect. Some campers have complained about this camping kitchen being too wobbly. But there's also a chance they were using a larger grill. This table is specifically designed for a Cuisinart grill.
It's important to note that many reviewers touted the sturdiness and strength of this kitchen table. For the price, this is definitely one of the better-looking budget camping kitchens. So, if aesthetics are important to you, definitely check out this Cuisinart camping kitchen.
Beautiful design. You'd expect nothing less from the folks at Cuisinart.
Simple, no-tool setup. Unfold it and away you go.
Affordable. One of the lowest-priced camping kitchens on this list.
A little wobbly depending how much stuff it's holding.
Camping Kitchens Buying Guide
While many camping kitchens can look similar, each brand and model offers its own unique approach to the solution.
Use this guide to make a purchase that best fits your camping needs.
The amount of space you have to prepare and actually cook food is probably one of the top factors in purchasing a camping kitchen.
For starters, a majority of the camping tables on the market are extremely close in size when it comes to kitchen top space. The ones with lots of extra space, like the GCI Outdoor Slim-Fold Outdoor Cook Station, accomplishes that through extra shelves that fold out.
If you already have a camping stove, this makes purchasing a camping kitchen a little easier. Figure out how much room you need for your stove first, and then determine how much more space you need for food prep. Typically enough extra room for a small cutting board plus some utensils is enough when it comes to food prep.
If you typically camp with large groups and enjoy doing the cooking, then go after a large camping kitchen. But if it's just you and one other person, something smaller, like the Coleman Pack-Away Portable Kitchen, is a great choice.
When it comes to the hardcore camp chefs, storage is everything. But for most, it's not as big of a deal. Let us explain.
Chances are probably slim that you're going to store items like salt, pepper and oils outside in your camping kitchen all night long because you don't want to attract animals looking for a snack to your campsite.
The type of storage you do want, though, is for things like a propane gas tank at the bottom, like what the Cuisinart Take Along Grill Stand offers. Also, hooks for utensils is extremely helpful.
You'll also find several camping kitchens with a wire storage shelf that's great for drying off pots and pans after you're done cleaning.
Made from durable materials
A camping kitchen made of tough, durable materials is important not just for the longevity of the product, but, more importantly, so the table doesn't collapse on you while cooking.
A majority of camping kitchens on the market today use a high-strength aluminum that's plenty durable, depending how the camping kitchen is engineered.
Aluminum is also popular because it's pretty lightweight, which makes packing up and carrying it much easier.
There are some minor downsides to aluminum, though. Mainly, it can get really hot if left out in the sun. It can also dent easily if you're not careful with it.
After aluminum, the next most popular material is steel, which is found in the Eureka Camping Kitchen. Steel is not much heavier than aluminum; Eureka's product weighs in at 14lbs.
Outside of the base, look at the other materials used in a camping kitchen. The Camco Deluxe Folding Kitchen Table, for example, uses fiberboard shelves. Some campers have complained that if a good rain goes through the campsite, those shelves could begin to warp.
A camping kitchen isn't any good if you can't safely place things like a stove and all of your food without worrying about it falling off. That's why you need a camping kitchen with a stable base and an ability to adapt to uneven campsites.
It should come as no surprise to any camper that placing any kind of table on a campsite isn't going to be perfectly straight. Luckily, camping gear manufacturers have figured out some tricks with camping kitchens to ensure smooth cooking.
One of the best features, as found on the Mountain Summit Gear Deluxe Roll Top Kitchen, are adjustable legs or feet. This lets you raise and lower individual legs so that you can put the camping kitchen at an even level.
We actually recommend bringing a small level with you, or even attaching one to your camping kitchen to make it even easier to level out your table.
Finally, we need to talk about weight and portability.
Camping kitchens are a little easier to talk about when it comes to weight, because chances are extremely low that you're bringing one of these large tables with you on a backpacking trip.
Still, you don't want something that's 500lbs to lug out of your car and put back in every camping trip. At 36lbs, the Cabela's Deluxe Camp Kitchen is the heaviest camping kitchen on our list, but even that's doable for one person to unpack and install.
What's more important is portability.
Preferably, you want something that folds flat, like the Coleman Pack-Away Portable Kitchen, so it's not taking up a ton of car space. Many camping kitchens work on a shelf system, which allows them to fold flat.
Also look for camping kitchens with storage bags. This can allow you to throw it on a roof rack with other gear without worrying about rain damaging it.
Andrew Dodson
Andrew Dodson is an avid camper who enjoys the great outdoors with his wife and two-year-old son. He resides in Colorado, where you can often find him enjoying hikes with a toddler strapped to his back and mini goldendoodle Percy nearby.