Our favorite camp lantern picks
Brightness : 1,000 lumens
Power Source : D-cell batteries
Weight : 1.3lbs / 600g
Packed with three light modes, USB ports for device charging, and a waterproof rugged design, the Energizer is the best camping lantern for anyone on a budget.
There's not a huge price difference between the 1,000 lumens and 500 lumens model, so you might as well pay a little extra for twice the power.
One downside is that this lantern requires D-cell batteries, which are heavy, but they can last a long time.
Simply put, the Energizer brand is very well-trusted and reliable. So, whether it's Energizer batteries or an Energizer lantern, you likely won't be disappointed.
Extremely bright. 1,000 lumens is more than enough brightness for camping.
Charge your device. Includes USB ports for charging smartphones.
Ugly design. It's not the most attractive-looking camping lantern.
Brightness : 400 lumens
Power Source : Rechargeable lithium-ion
Weight : 1.1lbs / 500g
The Goal Zero Lighthouse 400 is a perfect LED camping lantern for the weekend camper who needs a medium-level of light around the campsite.
While it only boasts 400 lumens, that's more than enough to handle most camping situations. Some campers actually prefer the slightly lower level because it's not as prone to attract moths.
What we really like about this Goal Zero lantern is the hand crank, which can be very helpful if you find yourself in a dark situation and the battery on the lantern is dead.
Dimmable lights. Varying light levels are great for any setting and helpful for battery life.
Compact size. When packed away, simply fold in the legs for a compact fit.
Smart hand crank. A built-in hand crank can recharge the battery for a limited amount of time.
Slippery knob. Some users have complained the light adjustment knob is too slippery.
Brightness : 60 lumens
Power Source : Rechargeable lithium-polymer
Weight : 3.2oz / 90g
Affordable, durable, and compact, the Goal Zero Crush is a great option for entry-level campers looking to bring a little brightness to parts of their campsite.
The real selling point of this lantern is its ability to crush into a compact square thanks to its silicon body. If you're hiking later at night, it's light and small enough to fit into a backpack.
Now, at 60 lumens, this Goal Zero lantern won't illuminate an entire campsite, but for smaller areas and in a tent, it's perfect.
Compact design. This lantern can crush flat, making packing very easy.
Lightest camping lantern on our list.
Affordable. You could buy two of these lanterns without breaking the bank.
Too dim. High mode is only 60 lumens, but that's enough for lighting up a tent or a game of cards.
Brightness : 314 lumens
Power Source : Rechargeable lithium-ion
Weight : 9.9oz / 280g
Compact, bright, and durable, the Nite Ize Radiant is an affordable camping lantern that can handle tough falls and easily keep your campsite lit for an entire weekend trip.
First, the battery life is excellent, with medium mode (106 lumens) lasting 20 hours and low mode (16 lumens) stretching to 96 hours. And recharging to full capacity only takes three hours.
Another nice feature of the Nite Ize Radiant lantern is the built-in light diffuser and a warm amber mode, which is easy on the eyes after the sun sets.
Soft light. A built-in light diffuser makes for a more relaxing ambiance.
Excellent battery life. On low mode, the battery can last for 96 hours.
Useful clip. A built-in carabiner clip can prevent any drops.
Not waterproof. It can handle some rain but don't drop it in a body of water.
Brightness : 540 lumens
Power Source : D-cell batteries
Weight : 1.9lbs / 870g
The super-tough Streamlight Siege is certainly bright enough for the campsite at 540 lumens, but its rugged design and smart D-clips is the real selling point.
Strong clips to hang a lantern on a line is important to many campers looking to illuminate their entire campsite. And if it does fall, no worries because it's 2-meter impact resistant.
While this Streamlight lantern runs on heavy D-cell batteries, it is power efficient. It can run on high for 30 hours and low (55 lumens) for 295 hours.
Versatile. Includes several modes, including a red light mode.
Smart design lets you hang this lantern anywhere at your campsite.
Waterproof. Rated IPX7, meaning it can be fully submerged in a meter of water.
Runs on D-cell batteries, which can be heavy to bring along for backpacking.
Brightness : 1,000 lumens
Power Source : Rechargeable Lithium-ion
Weight : 1.8lbs / 800g
Depending on how bright you need to keep your campsite, the Coleman OneSource 1000 can run for a couple of days straight in low mode, which makes it perfect for camping.
In terms of design, this lantern looks and feels like a basic camping lantern, but there are some nice features that make it more desirable than the competition, like the soft-grip handle.
We think the interchangeable battery system combined with its ability to charge a smartphone via USB really makes this Coleman lantern a great option for campers of all skill levels.
Adjustable light. Features a low-light mode for when the high mode is too bright at night.
Easy recharge via USB port, plus you can charge a smartphone from it.
Interchangeable battery system lets you recharge one battery while another is running the lantern.
Short run time. Two hours on high may not be enough power for some campers.
Brightness : 250 lumens
Power Source : Rechargeable lithium-ion battery / AA batteries
Weight : 15.0oz / 420g
With a max burn time of 50 hours, the Black Diamond Moji is an excellent battery-powered lantern for campers who want a nice ambiance, but may not need brightness levels closer to 1,000 lumens.
Campers who hike around to different campsites will like the weight of this lantern, but also its ability to double as a phone charger. It includes a pair of 18,650 lithium-ion batteries that give you 200 hours of light on low mode, eight hours on high, and enough juice to recharge your smartphone.
If the lithium-ion batteries die, this Black Diamond lantern also takes AA batteries.
Useful dimming switch makes brightness settings easy.
USB ports. Use the excellent battery to also charge your smartphones.
Low brightness. Only 250 lumens, which may not be enough light for some campers.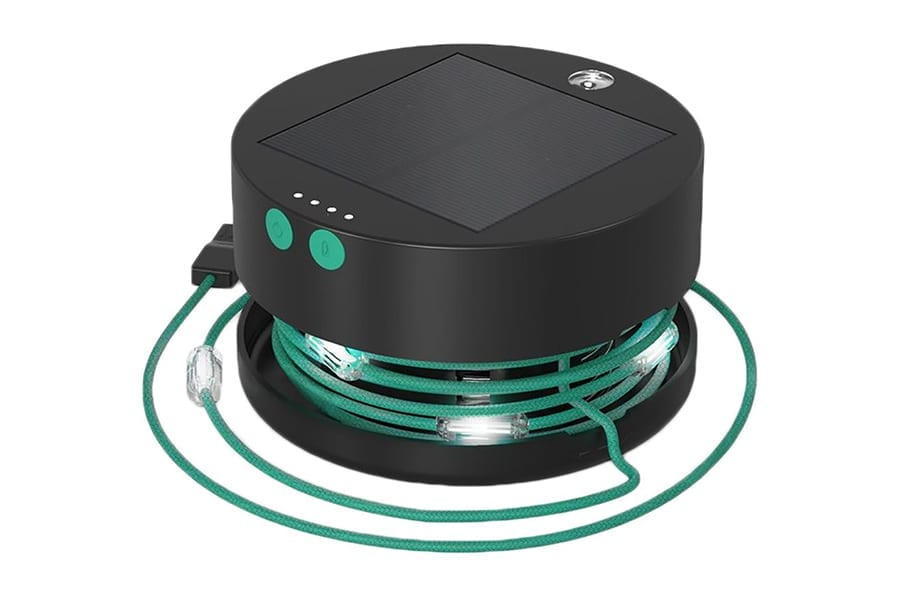 Brightness : 360 lumens
Power Source : Rechargeable lithium-ion / solar
Weight : 9.9oz / 280g
One of the cooler-looking camping lights on this list, the MPowerd Solar Base Light is packed with features, including a solar panel for on-the-go charging and a power bank to keep your smartphone charged.
The USB ports will only charge smartphones, so don't try and charge up a Bluetooth speaker with it.
We also really liked the adjustable base strap, which makes it comfortable to carry while walking around a campsite or for hanging inside a tent.
The warm string lights on this MPowerd lantern provide the perfect ambiance for the campsite.
Long battery life. Enjoy some light for up to 50 hours on low mode.
Warm light. Features warm white LEDs that are easy on the eyes.
Solar powered. Recharge to full capacity in 28 hours via a built-in solar panel.
Slow charging. Some users have complained about the solar feature being slow to charge.
Brightness : 1,540 lumens
Power Source : Propane
Weight : 3.6lbs / 1.6kg
Powered by gas, the Coleman Northstar is an extremely bright and perfect lantern for any campsite.
Of course, the one downside of propane lanterns is that once it runs out, you need more propane. This lantern has a run-time of 4:20 on max lighting and 9:15 on low mode. That may be enough to get you through a weekend camping trip, but anything longer will require extra propane canisters. 
Not a problem if you're going car camping.
This Coleman lantern features an electric igniter that's activated at the single touch of the main button.
Super-bright. At 1,540 lumens, it's one of the brightest on this list.
Instant start. A one-button push can instantly ignite this gas lantern.
High-temperature globe can handle the heat and won't crack.
No case. This lantern is durable, but a case to protect the glass would be nice.
Brightness : 235 lumens
Power Source : Gas
Weight : 4.2oz / 120g
When it comes to camping lanterns, the Primus MicronLantern is about as traditional as it gets.
Powered by gas, this rugged steel lantern mounts on most standard fuel canisters. For longer camping trips, you will need extra gas canisters to keep it powered. Because of that, it does require some maintenance, like installing new mantles.
The starter on this Primus lantern only takes one or two attempts to get a light. Once it's up and running, it also doubles as a nice little heater for those cold nights in the great outdoors.
Lightweight. The lantern itself is quite light, but remember that it requires gas to power.
Doubles as a warmer. In addition to lighting up your campsite, the lamp can also keep you warm on a cold night.
High maintenance. If you're looking for a low-maintenance lantern, this isn't it.
Camping Lanterns Buying Guide
Camping lanterns come in all different shapes, sizes and price points and we're here to help break down all of the features.
Use this guide to make the best-possible buying decision.
On the surface, camping lanterns might seem unnecessary because you already own a couple of flashlights.
But lanterns can really make or break a camping experience. When playing cards around a picnic table at night, for example, you're not going to want to hold flashlights or wear headlamps. Hanging a camping lantern can illuminate a large area after the sun sets for the day.
So, what are some different uses for camping lanterns?
General brightness. A campfire is great, but it really only illuminates that immediate area. A camping lantern can brighten up an entire area of a campsite, like the cooking area, which is much easier than holding a flashlight. You can also use it as an emergency light if needed.
Ambiance. There's something about lanterns that really sets the ambiance for camping.
Tents. You might find yourself spending a lot of time in the tent if the weather isn't cooperating. But even just for getting ready for bed, it's nice to hang a small lantern that illuminates your tent.
Depending on what you intend to primarily use your camping lantern for will depend on how much brightness you need, what type of power sources are required and any other additional features you may want.
Many lanterns today, for instance, include USB ports for charging smartphones. If this is a priority for you, make sure to get a lantern with a larger, rechargeable battery.
Read More : 11 Campsite Etiquettes Every Camper Should Know
Like a flashlight, the brightness of a camping lantern is a crucial factor as to what you ultimately buy. Typically, the brighter the lantern, the more expensive it's going to cost you.
But that doesn't mean you should skimp out on a dim lantern. 
First, it's important to understand the unit of measurement used for brightness; lumens.
Here's a general idea of lumens in terms of camping lanterns :
Anything above 600 lumens tends to be considered high, like the Coleman Northstar Propane Lantern. 
About 300 lumens is in the medium range.
150 lumens and lower is typically considered low, like the Goal Zero Crush. Many lanterns also have battery-saving eco modes that are about 15 to 20 lumens.
The number of LED lights impacts brightness, but also modes. The Goal Zero Lighthouse 400, for example, features two LEDs and includes a warm lighting mode.
In addition to cost, also remember that the brighter the lantern, the quicker your battery could die.
Energizer's camping lanterns, for instance, run on D-cell batteries, which can be drained after a weekend of camping. The Coleman OneSource 1000 uses a rechargeable lithium-ion. If you already own a portable battery pack, it might be a better idea to invest in a rechargeable lantern.
After you determine how much brightness you really need, you have to figure out what best suits your needs in terms of powering that lantern.
Here are the main types of power sources for camping lanterns :
Alkaline battery. They pack a punch, but since you can't recharge most of them, you'll be bringing extra batteries with you, which add weight and space to your load.
Rechargeable battery. This is the most common power source amongst today's camping lanterns. Rechargeable lithium batteries can typically keep your lantern running on high for 7-10 hours and significantly longer for lower modes. The downside is figuring out how to keep it charged. Most rechargeable camping lanterns take 3-5 hours to fully recharge.
Solar. Solar is free, but it requires sun (obviously) and a lot of time. The MPowerd Solar Base Light, for instance, takes 28 hours of sunlight to fully recharge. It can definitely get you by each night, though, if you're diligent about keeping it in the sun during the day.
Gas. For the more traditional campers, gas is an interesting option that can keep your costs low, but your packing is on the heavier side. The Coleman Northstar Propane Lantern, for example, features great brightness, but you could run out of gas on your first night. If you're camping for three nights, you might be OK bringing three cans of gas with you, but any longer than that and things can get expensive.
Most camping lanterns, like the ones offered by Goal Zero, offer a one-year warranty for product defects. In other words, if you accidentally run over your lantern, don't expect the manufacturer to send you a brand new one.
On the other hand, some lanterns don't offer any type of warranty, like Energizer's camping lanterns.
Camping is a rigorous activity, so make sure to research what kind of warranty is offered for a specific lantern. In the event a bulb breaks or too much water ultimately damages a lantern that's advertised as water-proof, you'll feel good knowing you can send it back and get a brand new one in return.
Andrew Dodson
Andrew Dodson is an avid camper who enjoys the great outdoors with his wife and two-year-old son. He resides in Colorado, where you can often find him enjoying hikes with a toddler strapped to his back and mini goldendoodle Percy nearby.