| Stovel Model | Output | Fuel Type | Weight |
| --- | --- | --- | --- |
| Camp Chef Everest 2X | 20,000 BTU | Propane | 12.0lbs / 5.4kg |
| Coleman Compact Stove | 7,000 BTU | Propane | 6.0lbs / 2.7kg |
| GSI Outdoors Selkirk 540 | 10,000 BTU | Propane | 10.0lbs / 4.5kg |
| Eureka SPRK+ Camp Stove | 11,500 BTU | Butane | 3.3lbs / 1.5kg |
| Kovea Mini Stove | 7,200 BTU | Butane | 5.6lbs / 2.5kg |
| Coleman Portable Grill Stove | 20,000 BTU | Propane | 8.0lbs / 3.6kg |
| Primus Tupike | 10,200 BTU | IsoPro | 9.1lbs / 4.1kg |
| Camp Chef Explorer | 30,000 BTU | Propane | 46.0lbs / 20.9kg |
| Stansport 3 Burner Stove | 25,000 BTU | Propane | 15.0lbs / 6.8kg |
| Snow Peak Double Burner | 11,200 BTU | IsoPro | 15.5lbs / 7.0kg |
Power : 20,000 BTU / Burner
Fuel : Propane
Weight : 12.0lbs / 5.4kg
Performance meets convenience with the revolutionary Camp Chef Everest 2X stove. Featuring a small packed size and a relatively lightweight of just 12lbs (5.4kg), this stove is one of the most powerful and portable two-burner models on the market. It has two 20,000 BTU burners, which is more than enough power to cook up any meal in the windiest of conditions.
Featuring nickel-coated steel fixtures and a burly 3-sided windscreen, this model is durable enough for regular use. Meanwhile, a matchless ignition system eliminates the need to fiddle around with lighters before you start cooking.
Plus, the Camp Chef Everest 2X is compatible with a range of different optional accessories, like a frying griddle so you can customize it to meet your needs.
Powerful. Boasts a 20,000 BTU per burner output.
Matchless lighting system. Makes cooking more convenient.
Compact. Relatively small size for a stove this powerful.
Fuel limitations. Requires extra adaptor hose for bulk propane tanks.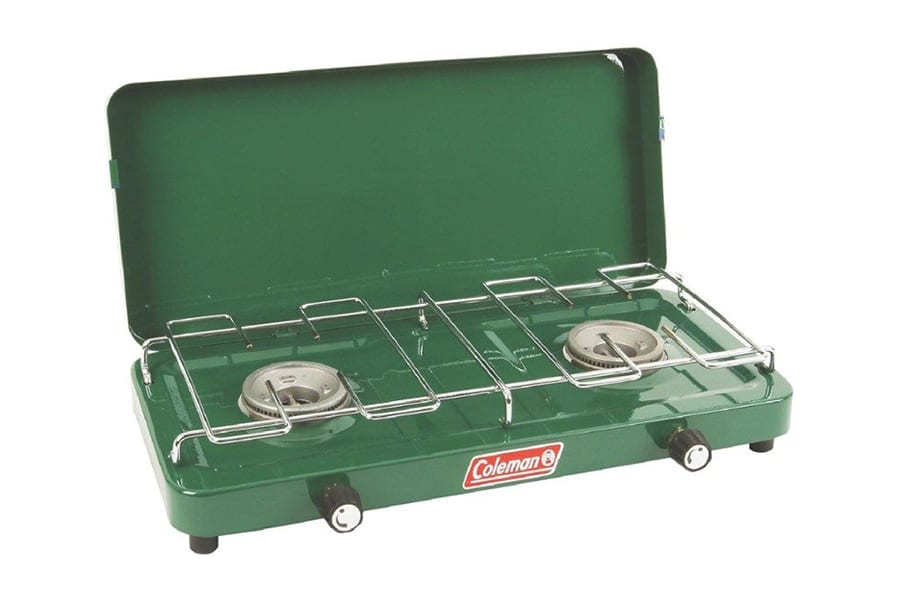 Power : 7,000 BTU / Burner
Fuel : Propane
Weight : 6.0lbs / 2.7kg
Combining affordability and functionality, the Coleman Compact Propane Stove is a great all-around choice for budget-conscious campers. Thanks to its compact size and lightweight, this model is easy to pack on any car camping trip. Its steel lid is also durable enough to withstand the rigors of frequent adventures by protecting the stove in transport.
When it comes to heat output, this stove offers up to 7,000 BTUs per burner. You can also easily control your cooking settings with its precision dial system and PerfectFlow pressure technology, which provides a steady source of heat, even in the wind.
Although it doesn't come with side panels, the Coleman Compact Stove does have a large cooktop. That way, you can work with 2 large pans at the same time for faster meal prep.
Lightweight. Just 6lbs (2.7kg) for maximum portability.
Affordable. Budget-friendly price and features for any camper.
Durable. Steel exterior is robust enough for regular use.
No side windscreens. Not as great in stormy weather.
Power : 10,000 BTU / Burner
Fuel : Propane
Weight : 10.0lbs / 4.5kg
Rugged, yet reliable, the GSI Outdoors Selkirk 540 is a go-to cooking station for longer camping adventures. Built using the same design concepts as a backpacking stove, this model takes twin 10,000 BTU burners and couples them with individual control valves that allow you to simmer, boil, and sauté a gourmet meal in no time flat.
The stove starts up in just a few seconds, thanks to its push-button ignition system. Once the burners are lit, you can place up to 2 separate 10" pans on top of the reinforced nickel-chrome cooking platform, which can be easily removed for more convenient clean-up.
Plus, the exterior of the GSI Outdoors Selkirk 540, including its two fold-down side windscreens are made from sturdy powder-coated steel for extra durability.
Auto-ignite system. Has Piezo ignition technology for convenience.
Easy clean-up. Removable pot stand makes clean-up simple.
Rugged. Steel construction and wind-screens for long-lasting performance.
Lower power output. When compared to similarly priced models.
Power : 11,500 BTU / Burner
Fuel : Butane
Weight : 3.3lbs / 1.5kg
Small but mighty, the Eureka SPRK+ Camp Stove is a solid option for campers that need a single burner that's powerful enough to cook any meal.
This budget-friendly option boasts a burly double-walled design that provides much-needed protection from the wind at more remote campgrounds. Plus, the stove's durable shell comes with a set of adjustable feet to help it stay level, even when cooking on uneven picnic tables.
To help you cook your food to perfection, it comes with a precision adjustment knob with built-in simmer control. The burner can also put out up to 11,500 BTU of energy, which is quite impressive for a stove that weighs just 3.3lbs (1.5kg).
When it's time to pack up camp, the Eureka SPRK+ Camp Stove has a lid with an integrated handle, allowing you to easily carry it to and from the car.
Adjustable feet. Provides a flat cooking surface.
Ample wind protection. Thanks to double-walled design.
Convenient transport. Outer shell has an integrated handle
Costly silk is one of the more expensive materials.
Power : 7,200 BTU
Fuel : Butane
Weight : 5.6lbs / 2.5kg
For solo camping trips or small group adventures, the Kovea Mini Stove is a compact option with a retro design that's ready to tag along.
This stove offers a versatile cook station that can provide up to 7,200 BTUs of heat from its single burner. It even features a safety shut-off feature for added peace of mind.
The entire stove packs into a tiny carrying case for easy transport. It also has an all-in-one system with a hidden storage tray for stashing all the included cookware in one nifty place when you pack up camp.
Rounding off a great list of features is the Kovea Mini Stove included ceramic pan, which is versatile enough to cook most dishes. It's also compatible with a wide range of other pots and pans, thanks to its steel pot support.
Compact. Fits in a tiny carry case for transport.
Accessories included. Comes with a pot and cookware for convenience.
Safety features built-in for peace of mind.
No Wind Protection. Not ideal for stormy conditions.
Power : 20,000 BTU / Burner
Fuel : Propane
Weight : 8.0lbs / 3.6kg
Offering a nice mix of affordability and versatility, the Coleman Portable Grill Stove allows you to create a multi-course meal all on one, compact, camp stove.
Thanks to its unique design, this model can grill burgers while simultaneously sautéeing veggies on a pan. Featuring up to 20,000 BTUs of heat and PerfectFlow pressure-control technology, you can get a consistent cooking flame, even in windy locales.
The stove also comes with two WindBlock panels and a large lid that can be used to keep your food cooking, even when the weather won't cooperate.
At the end of your trip, the Coleman Grill Stove folds up into a compact size for easier transport to and from your campsite.
Wind-resistant. Two windscreens and a large lid for wind protection.
Dual-purpose stove. Can grill and boil water at the same time.
Compact. Easy to transport and store in between trips.
Durability concerns with metal warping at high heat.
Power : 10,200 BTU / Burner
Fuel : IsoPro
Weight : 9.1lbs / 4.1kg
If your camping adventures frequently take you into windy locales, the Primus Tupike Stove might be a great choice.
This fully-featured table-top stove features an elegant Swedish-style design and a stainless steel body that provides a sleek, durable exterior. Additionally, it has a set of legs that fold down for transport and pop open to create a countertop height cook station with added gear storage space underneath.
Cooking with this stove is simple and convenient, thanks to its Piezo auto-ignition system. It also comes with a non-stick griddle plate and a removable pot support system for added versatility.
Oh, and when the weather brings strong winds to your campsite, the Primus Tupike Stove offers some of the best wind protection in the industry, thanks to its three-sided windscreens.
Wind-resistant. Three wind screens for functionality.
Sleek design. Looks good and performs better.
Versatile. Includes a griddle and a pot stand.
Expensive for a 10,200 BTU/burner stove.
Power : 30,000 BTU / Burner
Fuel : Propane
Weight : 46.0lbs / 20.9kg
When cooking for large groups is your top priority, the Camp Chef Explorer 3x Stove is hard to beat. This 3 burner cook station is completely free-standing, so you can set it up anywhere, without the need for a table. It offers a 4' wide cooking area that's big enough to accommodate extra large pots and pans when cooking for large groups.
Thanks to its rugged steel frame, this stove is burly enough for long camping trips. Additionally, it comes with a built-in windscreen that allows you to cook even when the conditions won't cooperate.
Finally, the Camp Chef Explorer can be used on its own or in combination with up to 14 different accessories, including BBQ grill boxes, griddles, and even folding side shelves for added prep space.
Great for large groups. Three burners for maximum cooking space.
Powerful. Up to 30,000 BTUs per burner.
Burly construction. Rugged steel frame for frequent use.
Heavy. One of the heftiest models.
Complex set-up. Can take a while to put everything togethe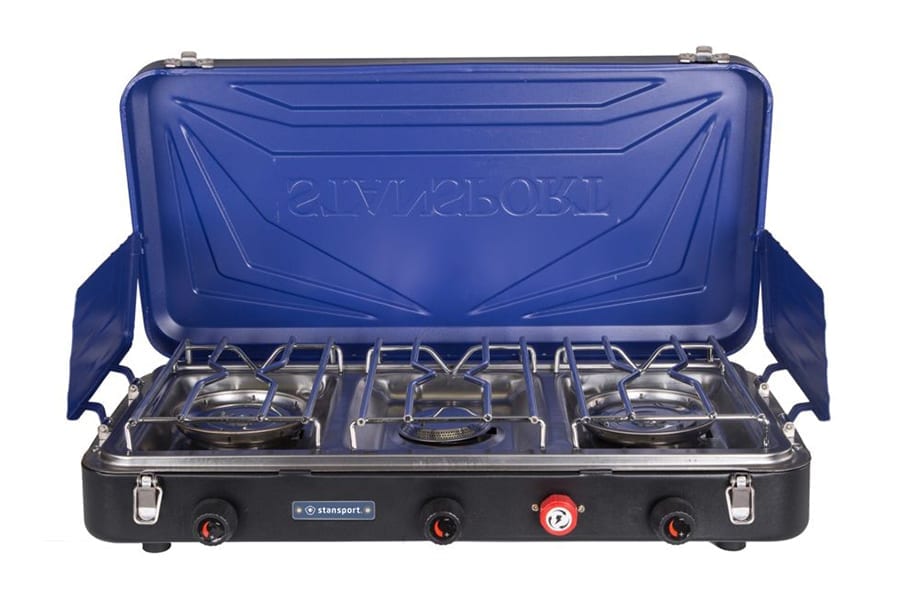 Power : 25,000 BTU / Burner
Fuel : Propane
Weight : 15.0lbs / 6.8kg
For camp chefs that like to multitask, the Stansport 3 Burner Propane Stove is ready for an adventure.
This tabletop stove comes with 3 burners, allowing you to quickly cook complex dishes and multi-course meals all at once. Each burner has a precision adjustment knob and can even be started with its integrated Piezo electronic ignition system.
The entire stove features a steel exterior for added durability. Three sides of the stove are also covered by windscreens to help you cook in less-than-ideal conditions.
Finally, the Stansport 3 Burner Stove comes with 3 durable steel pot support grates – one over each burner – which can be easily removed for quick cleaning on the go.
Versatile. 3 burners for creating complex meals.
Rugged. All stainless steel exterior construction.
Precision simmering. Easy to use adjustment dials.
Portability limitations. Doesn't have a good handle for transport.
Power : 11,200 BTU / Burner
Fuel : IsoPro
Weight : 15.5lbs / 7.0kg
Thanks to its unique mix of style and functionality, the Snow Peak Double Burner Stoves prove that quality and simplicity can come in one great package.
Boasting an all-stainless steel construction, this stove takes Snow Peak's classic sleek design style and creates a reliable cooking tool for outdoor living. Once you open up its sturdy steel lid, the stove folds open and provides 3 sides of wind protection to help you cook in windy conditions.
To get dinner started, you simply need to attach your 1lb isobutane/propane (aka IsoPro) tanks to the bottom of the stove and click the auto-ignition system.
One of the most unique parts of the Snow Peak Double Burner Stoves' construction is its folding steel legs. Although this is a table-top stove model, these legs help prop up your cook station to standard countertop height for added comfort as you prep your meals in the outdoors.
Folding legs raise this table-top stove up to countertop height.
Auto-Ignition. Eliminates the need for lighters.
Sturdy stainless steel construction.
Expensive. One of the priciest models around.
Camping Stoves Buying Guide
Camping stoves are loaded up with high-tech features, which can make choosing one a difficult process.
These are 8 critical things to keep in mind as you shop for your next camp stove.
Freestanding vs tabletop stoves
Modern camping stoves come in one of two styles, freestanding and tabletop, each of which has its own advantages and disadvantages. This is what you need to know.
Freestanding stoves
Freestanding stoves, like the Camp Chef Explorer, have a set of legs that allow them to be set up nearly anywhere. Often, these legs are adjustable, so you can still create a flat cooking area, even on undulating terrain.
The convenience of a freestanding stove, however, comes at the price of weight savings and portability. In general, these stoves tend to be much heavier than their tabletop counterparts and more difficult to set up.
Tabletop stoves
Tabletop stoves are a popular choice for car campers because they are lightweight and highly portable, even though they require a picnic table or some other support system to use.
Within the realm of tabletop stoves, there are models, like the Coleman Portable Stove, that have no legs. That means that they are placed directly onto a picnic table, which is normally well below standard countertop height.
For added comfort, many stoves, such as the Snow Peak Double Burner, come with legs that provide extra height to the unit when it's placed on a table. That way, you get the packed size of a tabletop stove with the comfort and countertop height normally found in a freestanding model.
Read More : 11 Essentials to Bring to A Car Camping Trip
Camp stove burner power is normally measured in BTUs or British Thermal Units.
A single BTU represents the amount of energy that's needed to raise 1lb of water by 1ºF. For reference's sake, this is the equivalent of about 0.25 kilocalories or 1055 joules.
Since most of us don't use BTUs in our day to day life, here are the amounts of BTUs you should look for in your camp stove based on your unique situation :
It's important to know the BTU of your stove's burners because higher BTUs directly translates to faster boiling times and more heat.
With smaller groups, you can get away with stoves that have a lower BTU (and often, a lower price tag), because you're cooking less food at once.
That being said, for very windy conditions, you'll want a minimum of about 15,000 BTU. That way, you can ensure that your stove has enough power to keep cooking, even when working against the wind.
With camping stoves, you can generally choose between models with 1 to 3 different burners. More burners mean more cooking space, which is ideal for larger groups.
Here's what to look for based on your group size :
However, even solo campers and couples might want to consider a 2 burner stove, especially if they enjoy cooking and like to make more complex dishes that might benefit from the extra cooking space.
Additionally, some models, like the Coleman Grill Stove, come with one burner and one grill, which is ideal for campers that want a more versatile stove that can cater to different cooking styles.
It's also important to find a stove that has large enough burners to accommodate the pots and pans that you plan to use.
Smaller stoves often have smaller burners, which are only ideal for 1.5 to 2L pots. Moreover, even if a stove has 3 burners, if they're all small, they might not work well for your cooking needs.
Finally, many camp stoves, like the Camp Chef Everest now come with auto-ignition functions. This is an important feature because it allows you to start your stove without a match or lighter for added convenience while camping.
When cooking outside, it's important to remember that your camp stove will not provide you with the same level of heat control as you have at your home kitchen. However, some semblance of simmer control is important in a camp stove if you don't want to accidentally burn all your food.
So, models, like the Stansport 3 Burner Stove, which have precision dials that allow you to fine-tune the heat coming from the burners, are ideal.
There are many different types of fuel used in camp stoves, each of which has a major impact on your stove's performance.
This is how these fuel types perform in the real world :
Propane which is used on stoves like the Camp Chef Everest, is a fuel of choice for camp chefs because it vaporizes at a lower temperature for better simmering. However, it is bulkier and more expensive than butane.
Butane stoves, like the Kovea Mini Stove, tend to be less ideal for simmering but are often much more compact and affordable. This is because butane takes up less space when pressurized and is generally more affordable.
IsoPro is a mixture of isobutane and propane, which offers a good mix of the compactness of butane and the simmering ability of propane, though it is somewhat expensive. It is used in stoves, like the Snow Peak Double Burner, where performance is key.
Unfortunately, it's nearly impossible to give an accurate estimate of how long fuel will last in your stove because there are so many factors at play.
How much fuel you need for camping will depend on a few factors such as :
Elevation of your campsite
Number of people in your group
How much cooking you do
BTUs of your stove (more BTUs mean more fuel consumption)
Trial and error is the best way to know how much fuel you need, though most people use about 1/2 lb of pressurized gas fuel, like propane or butane, per person per day as a starting point.
Read More : Butane vs Isobutane vs Propane – Which is Better?
Wind is a camping stove's enemy because it can cause reduced heating power while you cook or it can extinguish your burners' flames all together.
To overcome this issue, manufacturers often use double-wall designs, like on the Eureka SPRK+ Camp Stove, to allow adequate airflow while protecting the burner.
Alternatively, wind screens, such as those found on the Primus Tupike, are a lightweight and convenient way to provide 3-sided wind protection for your stove without sacrificing your burner's performance.
Camp stoves can be pretty big and bulky, so a small size model, like the Kovea Mini Stove, is always a fan-favorite.
But, it's important to note that smaller models that are under 10lbs often sacrifice either the number of burners, the overall burner size, or their power output to achieve a sub-10lbs (4.5kg) weight and the packed size of a large suitcase.
For people who'd rather have more burner space or who prefer a freestanding design, there is a trade-off between convenience and portability. Indeed, most freestanding stoves, like the Camp Chef Explorer, weigh well over 40lbs (18.1kg) and are often 40" x 20" (91 x 51cm) in size.
That being said, most camp stoves have simple designs with an integrated lid, so they don't change much in size when packed.
Additionally, most models don't come with a carrying case, because they often have an built-in handle for transport. But many companies do sell cases should you want to protect your stove in transport.
Most camp stoves come with a manufacturer's warranty, which protects only against defects in construction or materials, not damage due to water exposure, after-market modifications, or metal warping.
The terms of these warranties vary, from the 1 year you get with Camp Chef Everest to the 3 years of coverage that you receive with the Coleman Compact Stove.
Keep in mind that to qualify for a warranty, you must keep your stove in good, working condition, and free of grime, which can clog burner jets and cause other performance issues.
Gaby Pilson
Gaby is a professional mountain guide with a master's degree in outdoor education. She works primarily in the polar regions as an expedition guide, though she can be found hiking, climbing, skiing, sailing, or paddling in some of the world's most amazing places when not at work.