Our favorite camping table picks
Coleman Pack-Away 4-in-1 Table
Surface Dimension : 63.2" x 8.3" (Adjusts to various sizes)
Weight : 13.5lbs / 6.1kg
If you're not sure what size camping table you need, the Coleman Pack-Away 4-in-1 table might be your best option.
This camping table is designed to be used as a square table, buffet table, bi-level table or two separate tables for around a campfire. Users have also reported using part of it as a nightstand in the tent.
For such a versatile table, it only weighs 13.5lbs. But that lightweight design might be a tradeoff for durability. Some users have complained about it falling apart after a year's worth of camping trips.
If versatility is important to you, though, this Coleman table is definitely worth checking out.
Versatile. You get four different-sized tables for the price of one.
Adjustable height. Perfect for campers of all ages and heights.
Stylish table top. Camping tables can look boring; the retro design is welcomed.
Delicate. Some users have complained the legs and corners of the table are too fragile.
REI Co-op Outward Side Table
Surface Dimension : 21.3" x 12.0"
Weight : 5.1lbs / 2.3kg
A compact camping table on a budget, the REI Co-op Outward table is cheap enough that you could afford to purchase two before your next camping trip.
There's a lot to like about this table and that starts with its size. It's extremely compact, especially when folded up and packed away in your car.
As its name suggests, this is a side table and not a dining table for multiple people. That means it's perfect next to a lawn chair and to place your drink, food and even a small Bluetooth speaker on.
That durability and stability of this REI camp table can make it a little difficult to set up. After a few tries, you should get the hang of it.
Delightfully compact. Folds flat and takes up barely any space when packed in a car.
Durable. Powder-coated top is perfect for food preparation.
Great design. The aesthetics of this table scream camping.
Tough to assemble. Opening and closing the legs can be a little tricky.
Surface Dimension : 23.6" x 15.7"
Weight : 1.5lbs / 0.7kg
Designed for the minimalist camper, the Helinox Table One is a soft-top table that can somehow carry an incredible amount of weight.
It's absolutely perfect for placing your drinks on while playing a game of cards with your fellow campers. It can also easily handle heavier dinner plates.
Because it is extremely lightweight, it's a great option for motorcycle campers and backpackers. And because it can be stowed away in a compact storage bag, it's also a great choice for RV campers.
If there are any downsides about this Helinox camp table, it's that the cupholders on it don't fit typical camping mugs, but you shouldn't have to worry about keeping your mugs on the flat part of the table.
Ultra lightweight. At only 1.5lbs, it's the lightest table on our list.
Compact. It folds up into a compact storage bag that takes up minimum space.
Strong frame. This soft-top table can hold up to 110lbs.
Expensive. Minimalist tables with this kind of stability aren't cheap.
Alps Mountaineering Dining Table
Surface Dimension : 28.0" x 43.0"
Weight : 12.0lbs / 5.4kg
The aluminum fold-up top featured on the Alps Mountaineering Dining makes this one of the more durable and sturdy camping tables on the market today. It also helps with storing it into a compact bag.
In terms of sturdiness, this caming table features an X frame design, which not only helps with keeping things on the table steady, but also lets you pull up a chair to the sides and eat without hitting your knees on the legs.
For such a high quality level, this camping table is surprisingly affordable.
Complaints about this Alps Mountaineering camping table are minimal. Some users said the storage bag is too tight to easily store the table.
Compact. The table-top rolls up and the legs fold in, making it compact for storage.
Easy to set up. Users have said their young children can easily set this camping table up.
Sturdy. Designed to withstand accidental bumps.
Tight storage bag. The compact storage bag is almost too tight, making it difficult to pack up.
Travel Chair Grand Canyon Table
Surface Dimension : 35.5" x 21.5"
Weight : 10.5lbs / 4.7kg
If you want a great-looking camping table that's also extremely durable and sturdy, the Travel Chair Grand Canyon Table might be your best option.
This aluminum table-top camping table is expensive, but it features innovative telescoping legs that make it extremely sturdy, especially on uneven camping sites.
It's adjustable height (18"-28") also makes it more versatile for meal prep, eating dinner, or playing cards. At the lowest height, it's able to carry 225lbs, which means it could realistically double as a chair.
At 10.5lbs, you probably wouldn't want to backpack with the Travel Chair camping table, but if you need to walk a bit to your campsite, it's no biggie.
Great design. Definitely one of the nicer-looking camping tables.
Sturdy legs. Described as a high-end camera tripod, you don't have to worry about this table tipping over.
Strong. When the legs are lowered, this table can support 225lbs.
Expensive. Great durability and stability shoots the price up.
Camp Chef Mesa Camp Table
Surface Dimension : 48.0" x 28.0"
Weight : 22.0lbs / 9.9kg
The Camp Chef Mesa is designed for the ultimate camping chef who needs a durable table to organize ingredients and tools for the day's meals.
The first thing we really like about this table is how surprisingly compact it is. The entire table, which features a top with 10 square feet of working space, rolls up nicely into a durable storage bag.
Once it's set up, you don't need to worry about its aluminum legs giving out on you. Many users put table-top stoves right on the table with no issues.
And if you're a taller camper, you'll love the adjustable heights on this Camp Chef table. It can stretch 39", which is standard counter height.
Large table surface. Perfect for staying organized while preparing meals.
Easy set up. After unrolling the table-top, simply unfold the legs.
Multiple heights. Adjusting the height from 27" to 39" makes it great for standing or sitting.
Heavy. At 22lbs, it's on the heavier side for camping tables.
Surface Dimension : 23.6" x 15.75"
Weight : 1.8lbs / 0.8kg
If you're looking for a camping table that can store away in a bag that's no bigger than a shoebox, but comes with plenty of stability and durability, the Leki Table XS Lite might be exactly what you need.
Weighing in under 2lbs, this table features high-strength aluminum shafts and rubber feet with six teeth, so you don't have to worry about it tipping over, even if you bump into the table.
The tabletop breaks down into individual planks, making it extra compact when storing it. To accomplish that, the table is a little soft, which could cause a drink to spill if it's not level.
If you're a backpacking and motorcycle camper, this Leki camping table would make a great addition to your gear.
Ultra lightweight for backpackers.
Compact. Designed to pack away in a small 6" x 16" storage bag.
Sturdy. No worries about this table tipping over at the campsite.
Flexible top. While it's a solid top, it has some give, opening the possibility of spilling drinks.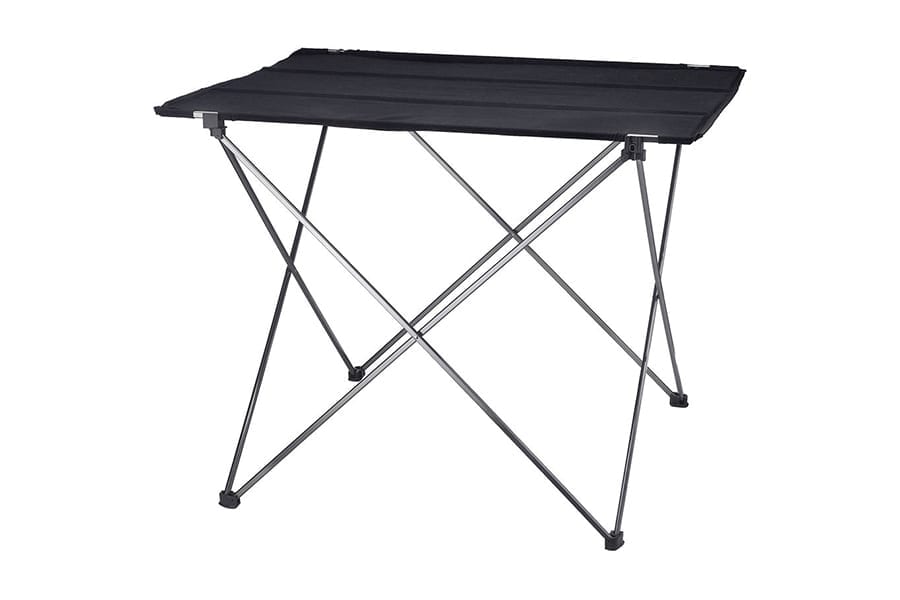 Surface Dimension : 22.8" x 22.8"
Weight : 4.8lbs / 2.2kg
The Primus Campfire Table is another lightweight soft-top table that folds up into a compact storage bag.
This camping table is advertised to be useful for meal prep, due to its surface area and height (30"). But another good reason is that the polycotton fabric can easily be removed and machine-washed. If it gets really dirty, you could handwash it in a pinch.
If paired with Primus' camping chairs, two people could easily eat around this table.
There are some negatives with this table. Some users have complained about it being too flimsy, which is common with soft-top tables.
But the price is also a tad high, falling in line with sturdier hard-top camping tables. Still, if weight and size are your top priorities, this Primus camping table is a solid choice.
Quick set up. Unfold the legs and you're good to go.
Machine-washable top. At the end of your trip, cleaning it is a cinch.
Flimsy. Some users have complained it's not sturdy enough for meal prep.
Lafuma Anytime Folding Table
Surface Dimension : 43.3" x 26.8"
Weight : 28.6lbs / 13.0kg
Designed for the hardcore camping chefs and likely the football tailgater, the Lafuma Anytime Rectangular Folding Table is an incredible piece of engineering that gives you the confidence in any type of task while out camping.
When it comes to meal prep, this tough table can handle hot pots up to 356ºF. It's also HPL laminated, which helps prevent surface scratches and makes cleaning easier.
Once the meal is cooked, you can comfortably seat four to six adults around the table for dinner.
This Lafuma camping table falls on the luxury side of the spectrum, but if you have the money to spend and don't want to worry about it ever falling apart, it's worth the investment.
Tough as nails. This camping table is indestructible.
Large seating capacity. Easily sit four to six adults around this table.
Anti-rust frame means it can withstand the toughest of camping conditions.
Expensive. The priciest camping table on this list.
Heavy. At 28lbs, this is also the heaviest table on this list.
Big Agnes Soul Kitchen Camp Table
Surface Dimension : 24.0" x 27.5"
Weight : 4.5lbs / 2.0kg
The Big Agnes Soul Kitchen Camp Table is unique in that it focuses on meal prep as opposed to simply being a side table for your beverage and some snacks.
It's sturdy, features plenty of table-top space and can hold up to 90lbs.
We like how quick and easy it is to set up and how it can roll up into a compact storage bag.
This Big Agnes camping table also packs some great versatility. While geared toward meal prep, the design of the legs makes it perfect for a two-person card game like cribbage, or for enjoying a meal.
It could be difficult for four people to eat a meal around this table due to its leg design.
A soft-top for cooking. The heavy nylon and polyester material make this soft-top great for meal prep.
Simple set up. Table uses a fully-shock corded design for a quick and easy setup.
Sturdy. It won't wobble if you eat a fork-and-knife meal on it.
Sensitive top. Some users have complained the top can pop off easily.
Mountain Summit Gear Folding Table
Surface Dimension : 47.0" x 28.0"
Weight : 13.5lbs / 6.1kg
The tough-looking Mountain Summit Gear Quad Folding Table can be a great camping table if cared for properly.
Some users have complained it can't withstand the elements, like rain and humidity, as well as other camping tables. But if placed under a canopy, you may not have to worry about that.
We really liked the adjustable heights, making it great for meal prep or a game of cards. It can fold up into an easy-to-carry briefcase, making setup and storage relatively simple.
And if you don't want to worry about beverages spilling over, the design of the legs makes this a very sturdy table, even on uneven camping sites.
This MSG camping table can take a beating, so if durability is high on your list, you might want to check it out.
Foldable design. For a heavy-duty table, it can store away easily.
Adjustable height makes for a versatile camping table.
Not waterproof. This could be a problem while camping.
Camping Tables Buying Guide
There are a handful of features you need to know about before purchasing a camping table. Use this guide to make the best-informed purchase.
3 types of camping tables
There are three main uses for camping tables.
Utility table. Think card games, whittling hiking sticks and elevating a bluetooth speaker. Your primary concern is stability. The lightweight Helinox Table One Camp Table is an option that fits this description
Dining table. This is a table multiple people can sit around and enjoy a meal. The Lafuma Anytime Rectangular Folding Table can easily accommodate a minimum of four people around the table.
Cooking table. These are designed for meal preparation. They need to be able to handle heat and water and have a big enough surface area, like the Big Agnes Soul Kitchen Camp Table.
One of the first things you need to determine is how much tabletop surface area do you need from your camping table.
If you're looking for something that fits nicely between two camping chairs and is used to hold beverages and light snacks, the Primus Campfire Table, which has a surface area of 3.61 square feet, will suffice.
That same table, though, won't work well for meal preparation.
Most camping tables have a width of at least 24". Lengths vary based on their utility.
The Camp Chef Mesa Camp Table, which is designed for cooking, is 48" long camping table with a 28" depth for a surface area of 9.32square feet.
In general, hard-top tables offer more surface area than soft-top tables.
The weight and portability of your camping table is also an important factor to take into consideration. If you're a backpack hiker, you don't want to lug around a 22lbs camping table from destination to destination.
Weight
Most camping tables range from 8lbs to 15lbs, although there's a growing segment for ultra lightweight models, like the Leki Table XS Lite, which weighs in at under 2lbs.
For the camper who drives to a campsite and sets up camp near their car, weight isn't an issue. If you fall into that category, consider things like surface area, durability and sturdiness to help make your purchase. The 10.5lbs Travel Chair Grand Canyon Table is a great option.
Weight is much more important for backpacking and motorcycle campers, who literally measure out their packs to the ounce to ensure they're being as efficient as possible.
To cut down on weight, you'll need to go with a soft-top table, like the Helinox Table One Camp Table.
Portability
The portability of a camping table is also something to consider, especially for those light packers. Luckily, many tables on the market today fold up nicely into small storage bags that don't take up much room in the car or in a backpack.
Portability isn't just for soft-top tables, either. The Mountain Summit Gear Quad Folding Table is a heavy-duty camping table that folds into an easy-to-pack briefcase. And the REI Co-op Outward Side Table folds into a skinny storage bag.
What good is a camping table if everything you put on it falls off because it's not sturdy enough?
Thankfully, today's camping tables are being engineered with innovative designs to stay standing, even in the roughest of camping sites.
We really like camping tables with teeth built into the legs, so you can push the table into the dirt for extra sturdiness. The Leki Table XS Lite features six teeth and users have reported great sturdiness.
One of the more innovative designs on the market belongs to the Travel Chair Grand Canyon Table, which uses a telescoping system similar to a camera tripod. Because the legs are slightly wider than the table itself, there's less worry about it tipping over.
No matter how good a camping table is designed, not all camping sites are perfectly flat and groomed. So, if it's a little uneven, try wedging side tables in between camping chairs for extra sturdiness.
For larger camping tables geared toward meal prep, you may want to tie down legs into stakes you drive into the ground.
Depending on how much camping gear you own, you could be setting up your site for several hours upon arrival.
That's why you want a camping table that can be set up easily and quickly.
Camping tables, like the Big Agnes Soul Kitchen Camp Table, can be set up quickly, but probably require some practice. That table uses an easy-to-use corded system where the legs snap into place. Once the legs are set up, you simply snap the soft-top onto the top of the base. It might take you 10 minutes at first, but after a few times of doing it, it can be set up in about two minutes.
Some tables, like the REI Co-op Outward Side Table, are quite durable and sturdy, but that comes at a cost of an easy setup. Many users have complained that setting up the legs is too difficult.
You may also want a camping table that can easily adjust heights, like the Camp Chef Mesa Camp Table, which is convenient if you're transitioning from a standing position during meal prep to a seated position while enjoying dinner.
You'll see the following materials used across camping tables due to their durability and because they are typically lightweight.
Aluminum. A majority of camping tables incorporate high-strength aluminum in the legs because it's extremely durable.
Wood. Treated wood can make for a nice table, but could get beat up if you use it for meal prep. Make sure it's waterproof to avoid warping.
Steel. It's great for durability, but heavier than aluminum.
Nylon. Soft-table tables use varying weights of nylon because it's lightweight, but strong.
Most camping tables come with a limited one-year warranty. So, what does that entail?
Typically, if the table fails due to a manufacturing defect, you can get a new table sent to you at no charge.
Now, if you run over your table and it snaps into three pieces, you won't be able to claim your warranty.
Higher-end brands, like Lafuma, offer a great five-year guarantee on their products.
Should I get a hard or soft top camping table?
If you're mainly doing meal preparation on your camping table, you'll likely prefer a hard-top because of the added sturdiness. If your table is only going to be used as a side table for beverages, snacks and maybe a game of cards, you can likely get away with a soft-top.
Is it safe to use my camping stove on the table?
Yes, but only if the table can handle the heat. The Lafuma Anytime Folding Table, for instance, can handle heat up to 356-degrees. Manufacturers will instruct whether or not a stove is safe for their respective table. Typically, soft-top tables aren't designed for stoves.
How do I keep the camping table from wobbling?
First, make sure the ground underneath the table is flat. If it is and it's still wobbling, jam a piece of cardboard underneath one of the legs until it doesn't wobble anymore. Finally, ensure the table is set up correctly. Camping tables have different locks and hinges, some of which can be tricky to install.
Andrew Dodson
Andrew Dodson is an avid camper who enjoys the great outdoors with his wife and two-year-old son. He resides in Colorado, where you can often find him enjoying hikes with a toddler strapped to his back and mini goldendoodle Percy nearby.