Most popular Coleman camping tents
Floor Dimension : 96" x 72"
Center Height : 4' 7"
Weight : 8.8lbs / 4.0kg
If heading into remote wilderness areas for days or weeks on end is how you like to spend your free time, the Coleman Hooligan Backpacking Tent just might be what you're looking for.
This versatile shelter weighs just 8.8lbs (4kg), which makes it one of the lightest backpacking tents that Coleman makes. It features a compact packed size and an included carry bag to make it easier for you to pack up your camp each morning.
Since it's specifically designed for backpacking, Coleman crafted this tent with a full-coverage rainfly to keep water out at all costs. It boasts the company's proprietary WeatherTec system, which includes fully welded floors and inverted seams to stop water in its tracks.
For added strength in the wind, this tent has a dome shape design, which allows it to withstand harsh conditions without breaking.
Additionally, the Coleman Hooligan Backpacking Tent comes with a single large vestibule for gear storage, as well as an assortment of interior pockets to help you stay organized on the go.
Waterproof. Full-coverage rainfly with WeatherTec protection.
Gear storage. One large vestibule and internal stash pockets.
Wind-resistant. Dome shape is ideal for harsh winds.
One door design makes entry and exit more difficult.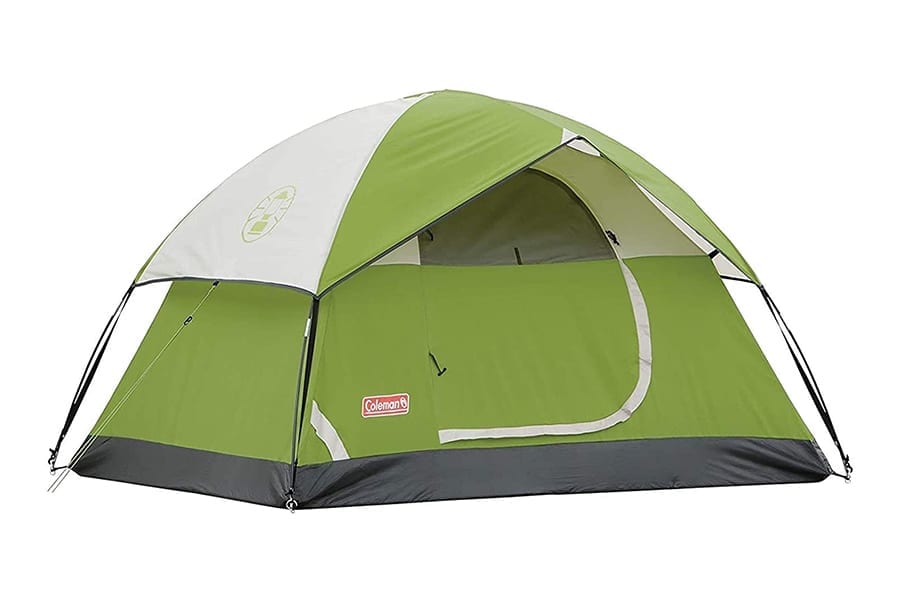 Floor Dimension : 84" x 60"
Center Height : 4' 
Weight : 7.5lbs / 3.4kg
For warm weather camping where comfort is key, the Coleman Sundome 2P Tent is a solid option.
Designed with summertime car camping adventures in mind, this tent offers plenty of ventilation, thanks to its four large mesh windows. These VariFlow windows are located toward the top of each wall to allow hot air to escape on muggy evenings.
Additionally, this tent comes with a rainfly that boasts inverted seams to help keep the water out. Its dome shape allows it to withstand up to 35+ mph winds should the weather decide not to cooperate on your trip.
When it comes to set-up, most campers can pitch this tent in under 20 minutes thanks to its simple design. With two identical poles and built-in quick-clip technology, it's quick and easy to set up this shelter when you arrive in camp, so you can spend more time enjoying the outdoors.
Inside the Coleman Sundome 2P Tent, you have enough space to fit 1 queen-size air bed. There's also an integrated E-Port so you can bring electrical power into your shelter via an extension cord without sacrificing the tent's weather-resistance.
Good ventilation. Includes 4 large windows for breathability.
Strong design that can withstand 35+ mph winds.
Easy set up. Can be pitched in just 10 minutes.
Low center height. Not enough room to stand upright.
Floor Dimension : 96" x 84" 
Center Height : 4' 8" 
Weight : 11.6lbs / 5.3kg
Perfectly sized for a small family, the Coleman 4P Skydome Tent is a versatile option for groups that enjoy car camping and the occasional backpacking trip.
It features a quick pitch design that allows you to set your tent up in just under 5 minutes. This is because it has pre-attached poles that eliminate the guesswork and hassle of clipping in poles as you pitch your tent.
Moreover, Coleman designed this tent with nearly vertical walls, which allows it to provide more headroom throughout the tent than you'd normally find in a tent with a 4' 8" (1.4m) center height. While these straight walls do reduce the tent's durability in the wind, they greatly increase the overall comfort of the tent.
As far as weather-resistance goes, this tent features WeatherTec welded corners and inverted seams. It also has a tub-like floor to help prevent your tent from getting soaked when the ground is wet.
Since the Coleman 4P Skydome Tent was designed with small groups in mind, it has an oversized door for easier entry and exit. It's also available with Dark Room technology, which reduces the amount of light entering the tent for a cooler, more comfortable shelter, even on sunny days.
Quick pitch design allows for 5 minute set-up.
Larger Doors. for easy entry and exit.
Nearly vertical walls provides more headroom.
Durability Concerns in the wind due to nearly vertical walls.
Coleman Elite WeatherMaster 6
Floor Dimension : 204" x 108"
Center Height : 6' 8" 
Weight : 41.0lbs / 18.6kg
When comfort and livability are priorities, the Coleman Elite WeatherMaster 6 should be at the top of your list.
Fully featured to serve as your home away from home while out in the great outdoors, this tent has a spacious screen porch that allows you to lounge and relax without worrying about the bugs. This screen porch also provides ample gear storage space for wet clothing, boots, and gear that you don't want to bring inside.
Within the tent, you have enough room for 2 queen size mattresses and a staggering 6' 8" (2m) of headspace. It also features a 100 lumen battery-powered LED light system, which makes it easier for you to hang out as a family or group at night.
For ventilation, this tent comes with large mesh windows that provide plenty of airflow, even in the rain. When it's cold outside, these windows also have fabric panels that can be rolled up for added insulation.
Oh, and the Coleman Elite WeatherMaster 6 is well suited for harsh conditions, thanks to its steel frame. But, when the weather is nice, you can roll back the rainfly to expose the tent's mesh roof for a great view of the stars above.
Screen porch for bug-free outdoor living.
LED lighting provides nighttime illumination.
Durable frame made with steel poles for wind-resistance.
Heavy even for a car camping tent.
Floor Dimension : 192" x 84"
Center Height : 6' 2" / 1.9m
Weight : 25.0lbs / 11.3kg
When foul weather isn't enough to keep you home, the Coleman Elite Montana 8P Tent is a solid shelter to bring on your adventures.
Crafted with WeatherTec inverted seams and a bathtub-style welded floor, this tent is designed to keep you dry. It even has angled windows that provide you with ample airflow during a storm without allowing water to make its way inside, even if you keep the integrated fabric panels unzipped.
For added convenience, this shelter has a set of 100 lumen CPX LED lights, so you can illuminate the tent with the push of a button using either D batteries or a rechargeable power cartridge. The tent also comes with a built-in charging station for powering all your small electronics at night.
For easy entry and exit, this tent has a large hinged door. It also has an overhead awning above the door for a bit of sun and rain protection throughout the day.
Although set-up can take a while with this model, the Coleman Elite Montana 8P Tent's cabin-style design does provide it with 6' 2" (1.9m) of headroom and a spacious floor plan.
Fully waterproof design. Perfect for wet conditions.
Built-in LED Lights. Offers a nighttime lighting solution.
Integrated charging station. Allows you to charge your electronic devices.
Tricky set-up. Can take up to 15 minutes.
Coleman Elite WeatherMaster 10
Floor Dimension : 204" x 108" 
Center Height : 6' 8" / 2m
Weight : 31.0lbs / 14.1kg
Built for large groups that don't let a bit of rainy weather keep them at home, the Coleman Elite WeatherMaster 10 Tent is a burly shelter for car camping in any weather conditions.
For added weather protection when the sun isn't shining, this tent has a durable Polyguard fabric to keep you dry. It also has a WeatherTec tub floor that features welded corners and inverted seams to keep your sleeping bags dry in the rain.
When it comes to wind-resistance, this shelter's steel pole frame is designed to hold up in winds that are well over 35 mph. Its included rainfly offers even more protection from the elements but can be removed on nice evenings so you can gaze up at the stars above.
Thanks to its hinged door, it's easy enough to enter and exit the tent at night. Once you're inside the tent, there's enough space for 3 queen size airbeds as well as plenty of internal gear storage pockets to help you stay organized.
Finally, the Coleman Elite WeatherMaster 10 Tent comes with a removable room divider which can be used to create two separate sleeping areas for privacy.
Removable room divider for added privacy at night.
Weatherproof design. Perfect for rainy environments.
Strong frame. Steel poles hold up well in the wind.
Breathability. Durable Polyguard fabric isn't very breathable.
Coleman Tents Buyer's Guide
Coleman's tents are jam-packed with technology, which is why they're so popular among avid campers.
Here are some of the most important things you need to know when shopping for a Coleman tent.
Coleman tents come in four main shapes, each of which has its own advantages and disadvantages.
Here's what you need to know :
Cabin tents, like the Coleman 4P Skydome Tent, have nearly vertical walls, which provide plenty of headroom for added comfort. The drawback to this style of tent is that it tends to be less stable in the wind.
Dome-shaped tents, such as the Coleman Sundome 2P Tent, are highly compact and are easy to set up. While they don't provide a lot of headroom, they are sturdy in the wind and rain.
Modified dome tents provide much of the same durability that you find in dome shelters, in addition to a large screen room or awning for added livability. These tents, like the Coleman Elite WeatherMaster 6P, are less packable and are sometimes trickier to set up, but are very comfortable to camp in.
Specialty tents. Coleman also makes a series of specialty tents for unique camping situations. These include tents that connect together to create separate living spaces when camping in a large group. This style of tent is usually quite comfortable for camping but is often a bit less weather-resistant in foul conditions.
Tent capacity has a major impact on your camping experience because it directly controls how many people can comfortably sleep inside a shelter.
While 2 person models, like the Coleman Hooligan are great for backpacking, 8 to 10 person tents, such as the Coleman Elite Montana 8P and Coleman Elite WeatherMaster 10P are best for car camping.
The vast majority of Coleman tents are sold in multiples of 2 (e.g. 2, 4, 6, 8, 10 person), though some other companies do make 3 and 5 person tents. While these odd-numbered tens are available, they're not as popular because they're not an ideal size for couples or families.
Although a 5 person family could conceivably fit in a 5 person tent, most people tend to opt for a slightly bigger model than they need; in this case a 6 person model like the Coleman Elite WeatherMaster 6P. This is because a slightly larger tent provides more space for gear storage and general relaxation.
So, Coleman, which is a family camping-oriented company, usually sticks to tents that are built for common family and group sizes.
Where to buy Coleman tents?
Coleman tents are very popular, so they're fairly easy to find.
Here are some of the most popular places to shop for a Coleman tent.
Amazon. You can buy pretty much anything on Amazon, and Coleman tents are no exception. Pretty much any model of Coleman tent is available though this online retail giant with just the click of a button.
Walmart. Walmart is a very popular choice for buying camping gear, and Coleman tents are generally easy to find in their stores. Walmart's pricing is often quite reasonable and they have stores all across the US, Canada, and Mexico.
Target. Although Target is more popular for home decor and clothing, they do have a nice selection of outdoor sporting goods and Coleman tents. There is at least one Target in every US state and the company offers most of their products online for quick delivery to your home.
Cabela's. Cabela's is a subsidiary of Bass Pro Shops, both of which are popular retail outlets for outdoor recreationists. They have a huge array of outdoor gear, including most Coleman tents. So, Cabela's a good place to go if you need to stock up on a lot of camping gear before your next trip.
All Coleman products, including tents, are under a limited warranty that goes into effect from the date the item is purchased. Every tent in our list has a 1-year warranty that covers defects in either workmanship or materials.
This means that damage due to regular wear and tear or misuse is not covered under warranty.
To submit a warranty claim with Coleman, you'll need your original sales receipt – so don't throw it away! You'll need to contact the company directly to get a return authorization before you mail in your tent.
Once Coleman receives the tent, they'll assess it to see if the issue falls under warranty. If so, they'll either replace or provide you with store credit if the tent is no longer being manufactured.
What is the difference between Skydome and Sundome tents?
The Coleman Skydome is a cabin-shaped tent compared to the Sundome's dome shape. It has vertical walls and a more spacious interior with 20% more headroom which is ideal for campers taller than 6'. The wider doors make it easier to move the air beds, sleeping bags, and camping gear in and out.
Are Coleman tents waterproof?
To ensure waterproofing, the majority of Coleman tents, like the Coleman Elite Montana 8P, come with WeatherTec, which creates a waterproof tent with welded floor corners and inverted seams. You can also renew the waterproofing after every few trips with DWR (durable water repellent) spray.
Are Coleman tents well ventilated?
For ventilation, many Coleman tents, including the Coleman Sundome 2P have VariFlow technology, which combines large windows with built-in vents near the ground. This helps create a constant flow of air for maximum comfort while in your tent.
What is Coleman tent Dark Room Technology?
Dark Room technology reduces the amount of sunlight that enters the tent. This is found in models like the Coleman Skydome 4P and is designed to make the tent cooler and more comfortable to sleep in when camping in hot locales.
Where are Coleman tents made?
Most Coleman tents are made overseas, though some are made in the company's facilities in Kansas and Texas. They do not list manufacturing locations on their website, so it's best to call customer service if you have questions about a particular tent.
Gaby Pilson
Gaby is a professional mountain guide with a master's degree in outdoor education. She works primarily in the polar regions as an expedition guide, though she can be found hiking, climbing, skiing, sailing, or paddling in some of the world's most amazing places when not at work.