On the lookout for a Eureka tent?
Perfect, because we're here to help you find the right one.
Eureka got its start all the way back in 1895 from their small tent store in upstate New York. Since then, the company has made a name for itself as a manufacturer of innovative and functional camping shelters for any outdoor environment.
These days, Eureka makes dozens of different tents, so finding the right one isn't easy.
Here are 3 features that make a great Eureka tent:
Appropriate capacity. When shopping for your next tent, it's critical that you get one that's the right size for your group
Waterproof. All Eureka tents come fully waterproof, though some have vestibules and awnings for even more weather protection
Gear storage. Whether it's a vestibule, overhead gear loft, or interior pockets, all Eureka tents have some form of storage option for your gear
Read More : Eureka Tents Buyer's Guide
We know how important it is for you to get a Eureka tent that's right for you, which is why we curated this list of the 7 best options available. To help you out, we even put together a buyer's guide, complete with all the information you need to select your next Eureka tent.
Here are 7 best Eureka tents for your camping needs.
Floor Dimension : 96" x 32" 
Center Height : 2' 4"
Weight : 2.6lbs / 1.2kg
For those solo adventures where weight savings are key, the Eureka Solitaire AL Tent is a solid choice.
Featuring a simple two-pole design, this tent is quick and easy to set up. Its 7000 series aluminum poles are lightweight, yet durable enough to withstand frequent use in harsh environments.
The tent itself has a tunnel-style shape. This provides it with improved strength in windy conditions without adding unnecessary weight to your pack.
Additionally, Eureka designed this tent with a full-coverage 68D 185T polyester taffeta rainfly that has a 1500mm waterproof coating to help you stay dry when the weather won't cooperate. On cool nights, this shelter has large mesh panels that can be completely exposed for maximum airflow.
The Eureka Solitaire AL Tent packs down into a small 6" x 21" (15 x 53cm) stuff sack for increased portability. Plus, despite the tent's compact living space, it has 2 internal storage pockets to help you stay organized in the mountains.
Compact. Highly portable, lightweight design for solo use.
Weather-proof. Full coverage rainfly and durable construction.
Breathable. Large mesh panels for ventilation.
Limited headroom. Low peak height minimizes internal space.
No vestibule. Doesn't have external covered gear storage.
Eureka Alpenlite 2XT Tent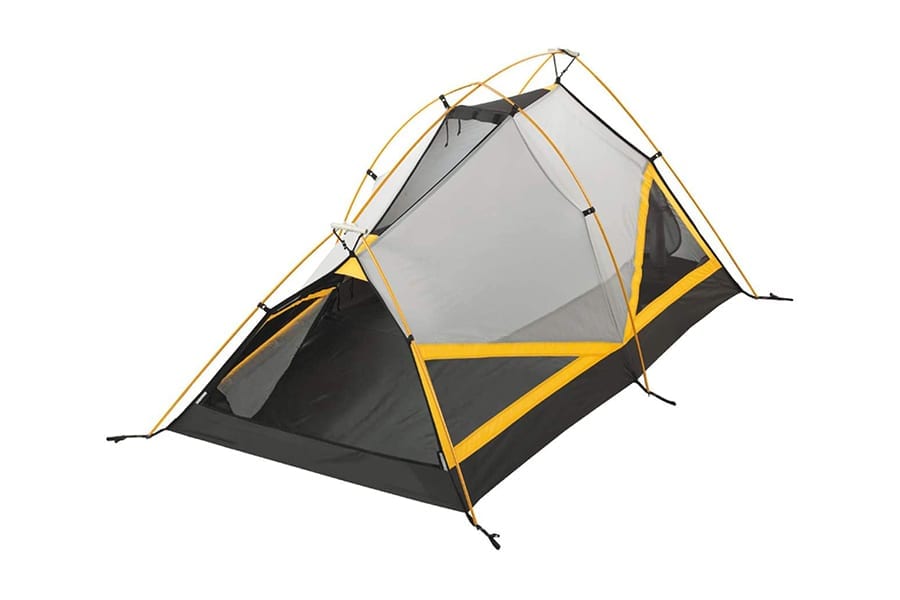 Floor Dimension : 90" x 54"
Center Height : 3' 4"
Weight : 7.4lbs / 3.4kg
When it comes to extreme weather trips into the mountains, the Eureka Alpenlite 2XT Tent is a reliable shelter that's designed to keep you dry.
It's built using a unique blend of the traditional A-frame design and a more modern dome shape. This allows the tent to perform exceptionally well in the wind without skimping on interior space.
Thanks to its burly aluminum poles and thick 75D 190T polyester ripstop rainfly, this tent is crafted to hold up in foul weather. Its rainfly also features 1800mm StormShield waterproofing to ensure that water stays outside the tent.
Boasting a quick and easy setup system, courtesy of its simple-to-use pole clips, this tent can be pitched in just a few minutes. It comes with a full set of reflective guy outs to keep the tent taut and anchored in the wind.
One of the coolest features of the Eureka Alpenlite 2XT Tent is its PU transparent windows. With a large window over the spacious gear storage vestibule, you can easily look out at the weather and get some natural light inside the tent.
Durable construction. Crafted to withstand harsh wind and rain.
Lots of natural light. Large PU window allows in natural light.
Big vestibule provides plenty of gear storage space.
Somewhat heavy for a 2 person backpacking tent.
Eureka Mountain Pass Tent
Floor Dimension : 88" x 56" 
Center Height : 3' 5"
Weight : 5.6lbs / 2.5kg
Lightweight, yet oh-so-durable, the Eureka Mountain Pass Tent is a go-to shelter for wintertime use below treeline.
With an easy to set up clip and hook pole system, this tent helps simplify the pitching process when you first arrive in camp for the night. Its 9.5mm aluminum poles are also strong enough to withstand moderate snow loads without weighing down your pack.
For superior performance throughout the year, this tent features a unique inner body construction. It has 20D 400T ripstop polyester for added warmth in the winter, as well as large mesh panels for breathability and condensation reduction.
For increased ventilation on muggy days and in stormy conditions, this shelter has a high/low air exchange ventilation system and removable side panel vents.
Additionally, even though it only has one door, the Eureka Mountain Pass Tent has an oversized vestibule, which is perfect for storing wet gear. Inside, there's also an overhead gear loft for decluttering your floor space and providing ample livability.
Lightweight for a 4 season tent.
Gear storage in vestibule and overhead loft.
Well ventilated with removable side panels for added breathability.
Only one door. Limits access and entry.
Floor Dimension : 96" x 90"
Center Height : 5' 8"
Weight : 12.6lbs / 5.7kg
An affordable option for car camping on a budget, the Eureka Space Camp 4 a summertime shelter for adventures near the road.
It features a large footprint for a 4 person tent, allowing everyone to have the space they need for lounging and relaxation. The tent also has two large doors for easy entry and exit so you don't have to crawl over your friends to answer nature's call at night.
Within the tent, there are 10 pockets for keeping the floor decluttered and organized. There's also 3 large vestibules, one over each door, to keep the tent entrance dry and to provide you with extra gear storage space.
Since it's designed for 3 season camping, the Eureka Space Camp 4 has large mesh panels on the inner body, as well as an Air Exchange System for added ventilation. To improve airflow on hot days, you can even convert the tent's vestibules into awnings for a bit of shade from the sun.
Convertible awning. Vestibule can be pitched as an awning.
Lots of gear storage. 10 storage pockets and 2 vestibules.
Large doors allow for easy entry and exit.
Low Ceiling Height. Not tall enough for some campers.
Eureka Timberline SQ 4XT Tent
Floor Dimension : 103" x 84" 
Center Height : 4' 9"
Weight : 9.8lbs / 4.5kg
Combining a great mix of durability, functionality, and affordability, the Eureka Timberline SQ 4XT Tent is an all-around tent for small group backpacking adventures. Despite its spacious floor dimensions, the tent is lightweight for a 4 person shelter and can even be pitched without the inner body for even more weight savings.
This tent boasts extra-strong DAC DA17 aluminum poles in Eureka's proprietary SQ Frame design, which helps to cut weight without compromising on durability. As a result of its A-frame construction, this tent is especially functional in windy conditions.
Its burly 68D 190T ripstop polyester rainfly is PU-treated for added waterproofing. It has a unique shape that provides full coverage for the entire tent, as well as a 75D polyester taffeta bath-tub style floor to keep you warm and dry in the rain.
With 2 oversized doors, the Eureka Timberline SQ 4XT is easy to get in and out of this tent at night. The front door also has a large 15.3 square foot (1.4 sq. m) vestibule for storing wet gear outside the tent.
Large vestibule. Provides ample gear storage.
Strong poles made with robust DAC aluminum for durability.
Lightweight for a 4 person tent.
Limited interior space. A-frame sloped walls limits headspace.
Eureka Desert Canyon Tent
Floor Dimension : 120" x 120" 
Center Height : 7' 5"
Weight : 23.2lbs / 10.5kg
Designed to keep you and your family comfortable on those weekend car camping getaways, the Eureka Desert Canyon Tent is a fully outfitted shelter that emphasizes functionality.
With a 6 person maximum occupancy, this tent is spacious enough for a small family. Its near-vertical wall structure helps to maximize the interior layout of the tent while its 7' 5" (2.3m) center height ensures that nearly all campers will be able to comfortably stand upright.
This tent boasts a set of burly fiberglass and steel poles that provide it with the stability necessary to hold up in the wind and the rain. Its thick 75D polyester taffeta body and rainfly also help to ensure that you stay dry in the rain.
For added ventilation on hot evenings, Eureka designed this tent with four large mesh windows. The oversized rainfly also extends over the door and the windows for added weather resistance in wet environments.
Although the Eureka Desert Canyon Tent doesn't have a vestibule, it does have four storage pockets and an internal gear caddy to help your family stay organized throughout your trip.
High center height. Tall enough for nearly all campers.
Spacious interior. Enough internal room for cots and airbeds.
Durable. Steel and fiberglass poles, plus thick polyester fabrics.
No vestibule. Has no external gear storage.
Eureka Copper Canyon LX 12 Tent
Floor Dimension : 168" x 120"
Center Height : 7' 0"
Weight : 36.8lbs / 16.7kg
Spacious and luxurious, the Eureka Copper Canyon LX 12 Tent is your home away from home for large-group car camping adventures. With enough space for up to 12 campers, it's an ideal set-up for big families and longer camping trips.
This tent has a steel and fiberglass frame, which sets up quickly thanks to its pole sleeve and quick clip design. Thanks to its burly pole construction, this tent also has near vertical walls, which allows for increased livability and functionality.
It has two oversized doors so it's easier for everyone to enter and exit the tent at night. Each door is partially covered by the extended rainfly, which helps to keep the tent dry in the rain.
To ensure breathability on hot summer days, this tent has massive mesh windows on each wall. These windows also have waterproof curtains when the weather doesn't want to cooperate.
Oh, and the Eureka Copper Canyon LX 12 Tent also comes with a removable room divider. That way, you can split it in 2 rooms so everyone gets the privacy and personal space they need while camping.
Versatile. Removable room divider for ample privacy and versatility.
Large doors allow for easy entry and exit.
Oversized windows provide ventilation on hot evenings.
Very geavy. Even for a car camping tent.
Eureka Tents Buyer's Guide
Eureka offers a great line-up of tents for any type of camping trip, so it's understandable if you're not quite sure which one is right for you.
Here are the most important things you need to know before you buy a Eureka tent.
There are many types of Eureka tents, each with their own unique advantages and disadvantages.
Backpacking tents, like the Eureka Alpenlite 2XT Tent, are designed for small groups that want to head out on extended trips into more remote areas. They are lightweight, highly portable, and are durable in the wind, but they have lower center heights and more compact interiors.
Car and family camping tents, such as the Eureka Space Camp 4, are designed more with comfort in mind. They have higher ceiling heights and more spacious interiors which offer ample livability for trips to roadside campgrounds. However, they are too heavy to pack for most backpacking adventures.
Large group camping tents, a high-capacity cabin-style tent, like the Eureka Copper Canyon LX 12 Tent, is ideal. These tents prioritize comfort and livability, with near-vertical walls and high ceiling heights. They tend to be quite heavy, but this often isn't too big of a problem for roadside camping.
Winter camping tents, such as the Eureka Mountain Pass Tent, are designed specifically for year-round use. They have thicker fabrics and burlier poles that can withstand heavy snow loads. The downside is that they're often heavier than their 3 season counterparts, but there are some lightweight options available.
Mountaineering tents are crafted for use in alpine environments, where the weather can be harsh. They are generally quite similar to winter camping tents, but are made with even stronger materials that pack down to a compact size.
Bike and van touring tents. For bike and van touring, small 1 person tents, such as the Eureka Solitaire AL, are ideal. These tents have a tiny packed size and a light weight which make them perfect for packing into a pannier or for occasional use on van-based trips. However, like backpacking tents, they offer minimal interior space.
Festivals tents, such as the Eureka Desert Canyon Tent, which are spacious and easy to set up are ideal. Festival tents tend to have an emphasis on comfort, which often comes at the expense of weight and packed size.
The shape of a tent has a direct impact on how it performs in the real world. Here's what you need to know:
A-Frame tents, such as the Eureka Timberline SQ 4XT Tent, hold up well in the wind and are excellent in the rain and snow due to their steep sided walls. That being said, these steep walls limit the interior space of the tent and can often make them feel a little claustrophobic when filled to maximum occupancy.
Dome tents, such as the Eureka Mountain Pass Tent, offer many of the same benefits of A-Frame tents, but with added livability. Their walls are a bit less steep, which improves their interior headspace. While this detracts slightly from the tent's ability to slough off snow and rain and makes set up slightly more complex, many campers enjoy the interior space of dome-style tents.
Cabin tents, which include models like the Eureka Desert Canyon Tent, are highly popular for car camping, family camping, and festivals because their near vertical walls provide maximum interior space. They generally have high center heights and offer plenty of room for large groups. However, this livability comes at the expense of wind-resistance, weight, and packability so they're often not ideal for backpacking.
Every tent has a maximum capacity, which denotes how many people can comfortably sit inside. Companies, like Eureka, offer a wide range of different tent capacities, from the 1 person Eureka Solitaire AL Tent to the 12 person Eureka Copper Canyon LX 12 Tent.
Most tent companies offer their tents in multiples of 2 (i.e., 2 person, 4 person, 6 person), though this is more out of convention than for a specific reason. Many campers tend to adventure in groups of 2, 4, or 6, which is why tents are normally sized for this purpose.
Of course, you can get 1 person, 3 person, and 5 person tents, they're just not as popular as their even-numbered counterparts.
Where to buy Eureka tents?
Eureka is a popular tent manufacturer, so you can buy their gear at a number of different major retailers.
These are some of the largest retailers that stock Eureka tents :
Backcountry is an online-only outdoor gear store that sells everything from tents to surfboards. They generally offer free shipping on orders over $50, which is one of the reasons why they're so popular. They also offer free returns for up to 30 days after purchase and will help with warranty claims on some select items.
REI is a popular outdoor retailer in the United States that sells both online and in-store. The company offers a generous 100% satisfaction guarantee with free returns, replacements, or refunds on any of their products for up to 1 year after purchase (receipt required!).
CampSaver is a discounted gear outlet that got its start in 2003 as a way for outdoor enthusiasts to get affordable gear. They offer products from a wide range of companies and they have a rewards program for frequent shoppers.
Amazon. These days, you can buy pretty much anything on Amazon and Eureka Tents are certainly on the list. You can sometimes snag great deals on tents through the website as well as fast, free shipping through Amazon Prime.
Eureka tents warranty period
With all Eureka tents, you're backed by the company's limited warranty policy. This covers defects in materials and workmanship for the lifetime of the product.
A product's lifetime is a fairly subjective unit of measure, but you can normally expect companies to honor their warranties on tents for about 5 to 10 years. However, Eureka's warranty (like those of most other tent companies) does not cover damage caused by regular wear and tear or negligence.
With that in mind, Eureka does offer a great 60 day trial on all their products. So, if you use the tent and decide within the first 60 days that it's not right for you, you can always return it. Plus, after the 60 day trial is over, the company is also happy to repair any damage to your tent that's not covered by warranty for a reasonable fee.
Gaby Pilson
Gaby is a professional mountain guide with a master's degree in outdoor education. She works primarily in the polar regions as an expedition guide, though she can be found hiking, climbing, skiing, sailing, or paddling in some of the world's most amazing places when not at work.