Our top picks for portable battery pack
Powertraveller Harrier 25
Capacity : 95Wh
Weight : 2lbs / 900g
If you're looking for a cool, rugged, and waterproof design, the Powertraveller Harrier 25 is a great portable battery pack for camping. Add in the fact that this battery pack features wireless charging and includes an elastic strap to keep your smartphone in place making it even better.
Of course, the point of a portable battery pack for camping is to ensure your gadgets can stay charged for the length of the trip. The Powertraveller Harrier 25 only packs 6700mAh, or 25Wh, which can fill an iPhone twice. That might be enough juice for a weekend trip, but probably not adequate for longer trips.
Durable. The rugged design is perfect for camping in rough conditions.
Waterproof. When the rain hits, you don't have to worry about getting this charger back into the tent.
Wireless charging. Throw your Qi wireless phone on top and watch it fill with power. No cable needed.
Lesser power. Many competitors offer more than 6700mAh, or 25Wh.
Capacity : 155Wh
Weight : 3.75lbs / 1.7kg
After a day of charging up your drone, phone and camping fan, you'll find that the Westinghouse iGen160s has enough juice left to illuminate your game of cards at the picnic table after sunset with its built-in reading light.
While the versatility is much-welcomed, even more impressive is that it only takes six hours to fully charge this 155Wh-capacity Westinghouse power station. If you want to make sure it stays charged through the length of your trip, invest in a compatible solar power input accessory.
Extra lights. One of the few to feature a reading light and dual-mode flashlight.
Simultaneous charging up to nine devices.
Electronic protection. Features low-voltage, short-circuit and overload protection.
No cords provided. Doesn't include any USB or USB-C cords like competitors.
Capacity : 95Wh
Weight : 2lbs / 900g
The Goal Zero Sherpa 100AC made a splash when it was introduced in 2018 and for good reason. This portable, light power bank packs a powerful punch with 95Wh, allowing your whole family or group of camping friends to keep their gadgets charged for an entire camping trip without worrying about running out of power.
It's especially nice that this power bank comes bundled with different types of charging cords, including USB-C and USB-to-Lightning for Apple products.
If you bring your phone, portable speaker and camera and video gear camping with you, you won't regret dropping some extra money for the Goal Zero Sherpa 100AC.
Plenty of power. This bank features a lot of juice at 25,600mAh.
Multiple power outlets from USB-C to a single 100W AC plug.
Small size. It's packed with power, but still only weighs two pounds.
High price. Power and portability don't come cheap.
FlashFish Portable Power Station
Capacity : 222Wh
Weight : 5.6lbs / 2.54kg
For those long camping trips, look no further than the FlashFish Portable Power Station. Packed with three lithium-ion batteries, this power bank can keep all of your gadgets charged and then some.
With 222Wh, you can charge an iPhone more than 20 times and a drone more than five times.
This kind of capacity by the FlashFish Portable Power Station doesn't come cheap, but you'll be glad you have it once your favorite gadgets run out of power.
Huge power. Absolutely massive 60,000mAH (222Wh) power bank which is great for long camping trips.
Ergonomic design. Handle makes it easy for carrying from the car to the campsite.
Beautiful design. The silver case looks beautiful.
Heavy. On the heavier side at 5.6 pounds.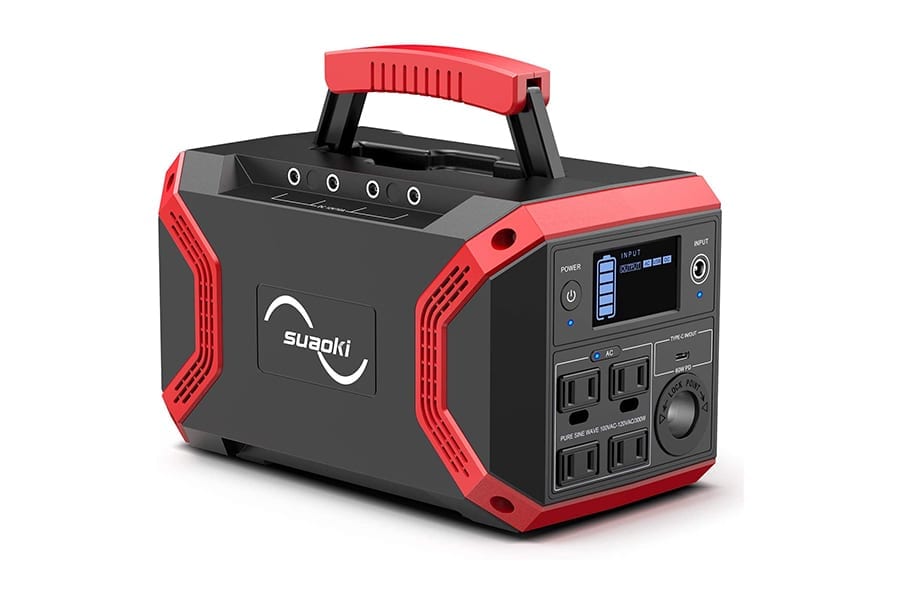 Capacity : 300Wh
Weight : 7.2lbs / 3.27kg
We're now getting into the big-time battery packs on our list. With 300Wh, the Suaoki portable power station is perfect for the longest of camping trips.
The power station includes 14 ports, allowing you to charge everything from your phone and tablet to a CPAP machine, air compressor to blow up a mattress, or even run a TV for about an hour.
A nice design feature is the handle, which folds down for additional space-saving.
Suaoki's power station is heavier at seven pounds, but that's expected with more power.
Big-time power. With 300Wh, you don't need to worry about running out of juice.
Multiple AC outlets. This power station includes four AC outlets.
Solar powered. Paired with a 100W solar panel, you'll never run out of power.
Expensive. This power station is meant for power users.
Capacity : 187Wh
Weight : 5lbs / 2.27kg
With its high-speed charging capability, the Goal Zero Yeti 200X can charge your phone or any other camping gadget extremely quickly, allowing you to focus more on your camping experience and not worrying about your electronics dying.
While not as powerful as other power stations on this list, the 187Wh packed into lithium-ion batteries is enough for several iPhone and camera charges.
One complaint we have about the Goal Zero Yeti 200X portable power station is the price for the amount of power. If you're just going on a weekend camping trip, its capacity will suffice.
Fast recharge. Can recharge in four hours
LCD screen. See how much power you have left on a bright screen.
Noisy. There are complaints over the fan noise that keeps this power station cool.
Capacity : 162Wh
Weight : 3.9lbs / 1.77kg
Simply put, the Aiper Flash 150 is an absolute beast with a capacity of 162Wh. It can charge an iPhone more than 13 times; a MacBook three times; and a camera more than five times. If you're a creative who takes his or her gear camping, you'll need a power bank with this kind of juice.
If you're camping, you can use the onboard AC-plug or car-port output to inflate mattresses, run ceiling tent fans, or even keep a CPAP machine running.
For all of the features and power this bank includes, you don't have to worry about the Aiper Flash 150 power station breaking your wallet either.
Durable. The rugged design is perfect for camping.
Carrying handle. While this may seem minor, the handle is extremely helpful.
Versatile. This power bank can charge any device imaginable.
Fragile screen. Any LCD screen, including this one, is considered fragile while camping.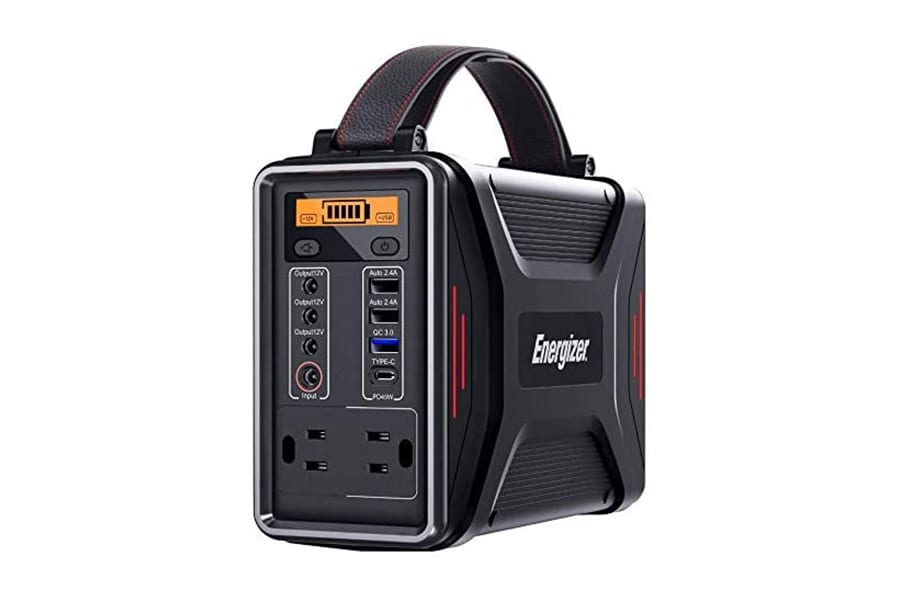 Capacity : 240Wh
Weight : 5.9lbs / 2.7kg
No list of best battery packs would be complete without a product from one of the longtime battery brands; Energizer.
The Energizer PD 45W runs on the more expensive side of these products, but you get 240Wh, which is enough to charge an iPhone about 20 times.
But your smartphone won't be the only thing you'll be charging with this power station. With two normal plug ports and four USB ports, you can charge plenty of camping gadgets throughout the course of your trip. Additionally, most portable solar panels can recharge the power station.
If you need a solid solution for camping, this Energizer battery pack is a great addition to your gear.
Used in all weather conditions. Can be used in 23ºC weather all the way to 131ºF.
Reading light. We love a battery pack that includes a warm reading light.
Great battery. Energizer guarantees the battery for 10 years of life.
Inaccurate battery indicator. The indicator as to how much power is left isn't always accurate.
Jackery Power Station Explorer 1000
We're saving the biggest for last. The Jackery Power Station Explorer 1000 has the biggest capacity on this list at 1,000Wh, allowing you to bring all of your camping gadgets on your next off-the-grid adventure.
If you typically only need to charge some phones and a camping fan, this probably isn't the portable battery pack you need. This is for the RV camper who needs to plug in power-hungry devices, like fridges and televisions. It's also great for sleepers who rely on CPAP machines to run through the night.
Jackery products are expensive, but they come with a great, two-year warranty.
Massive battery. The biggest of the bunch with 1,000Wh.
Multiple outlets. Can keep a blender, ice shaver, electric grill and mini fridge all running at the same time.
Heavy. More power equals more weight. This weighs 22 pounds.
Portable Battery Pack Buying Guide
Today's portable battery packs, also referred to as generators or power stations, are packed with features and have wide price ranges.
If you're not sure where to start, use this guide to answer any questions you may have to best determine which battery pack is right for you and your camping adventures.
Battery capacity is the big feature. If you're camping for a week, you want to make sure you have enough juice to charge your essential gadgets. 
But before you start shopping, it's important to understand battery lingo, which will help in your decision making.
Watt-hours. Battery capacity is typically described in Watt-hours, using the symbol Wh. A Watt-hour is the amount of energy the battery gives out over an hour. It's calculated by taking the voltage the battery delivers multiplied by Amps (the current the battery can provide), multiplied by the hours it takes to drain.
mAh. Smaller power banks typically used to charge smartphones on the fly are being advertised in Ah or mAh, which is Amps multiplied by hours. To convert this number to Watt-hours, multiple it by the voltage.
The bigger the advertised Watt-hour, the more power you have to charge more devices.
So, If you typically just camp for two nights over the weekend, something like the Powertraveller Harrier 25, which packs 25Wh, could be an adequate option. It can charge an iPhone a little more than two times.
If you're also bringing your MacBook, DSLR camera, a drone, and need something to power an air compressor to blow up a mattress, the FlashFish Portable Power Station and its 222Wh capacity is probably a better option.
Of course, the higher the capacity, the higher the price tag. Do your best to find the happy medium so you're not overpaying for power that you'll never use.
You may have a lot of different gadgets to charge while camping, but you need to determine if you need to charge all of those at once. That's where the number of power outlets come into play.
For creators who use their camping trips to take lots of photos and video, and even do some editing around the campfire, there might be a need to charge a laptop and camera battery at the same time, along with a camping fan.
Additionally, some campers like to bring lots of cooking gear such as blenders, electric stoves, a mini fridge, with them that would require a battery pack with multiple outlets.
It's not just the number of outlets. It's also the type of outlets.
The Suaoki Portable Power Station, for example, includes four AC outlets, which allows you to power those more traditional kitchen camping gadgets and plug in a laptop.
If you camp with a family or large group of friends, all of whom have smartphones, you'll want a power pack that features plenty of USB outlets. The Energizer PD 45W is a good option with four USB hubs.
Many air mattresses come with air compressors that are powered via a 12V car outlet. Luckily, many of the more-robust battery packs include this outlet.
Create a list of camping gear you typically use that requires power. Next, determine how that gear is powered. Use that information to pick a battery pack with the appropriate outlets.
Also keep in mind how you can recharge your portable battery pack. Many options today, like the Westinghouse iGen160s, can recharge using a portable solar panel, which is nice for those rural camping trips.
Here are your recharging options :
Wall charger. Plug it in before your camping trip to fully recharge the battery. If you use public campsites, there might be a building nearby with outlets to recharge your battery.
Car 12V. More expensive battery packs include the car outlet as a recharging feature, like the Suaoki Portable Power Station.
Solar. This is a great sustainable option, but note that solar panel chargers typically are slow to refill your battery. They can also run you an additional $100 or more.
Many new portable battery packs advertise rapid recharging, which is nice, but it's not really required for camping as long as you fully charge your device the day before your adventure.
Depending where you camp and how you get to your campsite, you want a portable battery pack that's light and compact. Again, you need to find the trade-off, because the more power a battery pack has, typically the heavier it is.
At 1,000Wh, the Jackery Power Station Explorer 1000 weighs in at 22 pounds, which wouldn't be fun to carry if your campsite is a couple miles away from your car.
For the most part, these battery packs range from three to six pounds and are about the size of a typical shoebox.
Look for a battery pack with a handle. It's much easier to carry.
Durability is so important when camping, so you need to find a battery pack that's waterproof and can take a few tumbles into the dirt.
Waterproof. Look for battery packs that are rated IP-67, which means it can be in about three feet of water for 30 minutes without harm.
Dustproof. There's no rating for dust, but look for rugged designs that are well-sealed.
Shock-resistant. Again, no specific rating, but look for packs that are advertised as shockproof. It's guaranteed to take a fall at some point.
Temperature. More battery packs are advertising they can be used in sub-freezing temperatures to more than 130 degrees, like the Energizer PD 45W.
The Powertraveller Harrier 25 is a great waterproof option. Jackery products are built extremely tough to withstand some rain, but for the most part, you want to keep these battery packs dry.
These products aren't perfect, so make sure to know what kind of warranty comes with your battery pack. Most come with a one or two-year warranties, which typically means you can get a full replacement if your battery fails during that time.
Now, if you accidentally run over your battery, there's a chance it won't be covered. Some manufacturers, like Goal Zero, specifically say leaving the battery unplugged for a long time instead of fully charged will result in the termination of the warranty.
Read the warranty specifically so you know exactly what your options are in the case your portable battery pack is no longer charging.
Andrew Dodson
Andrew Dodson is an avid camper who enjoys the great outdoors with his wife and two-year-old son. He resides in Colorado, where you can often find him enjoying hikes with a toddler strapped to his back and mini goldendoodle Percy nearby.