Our top solar panel picks for camping
Rated Power : 5 watts
Dimensions (Unfolded) : 9.5" x 7.0" x 0.8"
Weight : 12.7oz / 360g
The Goal Zero Nomad 5 is a simple, yet rugged solution for charging small electronics while outside. This model comes in a compact size, which is smaller than a standard US letter-sized piece of paper, so it's easy to pack on any trip.
Thanks to its rugged frame, this monocrystalline solar panel is durable enough for extended outdoor use. Like all Goal Zero panels, it's also highly water-resistant, making it a solid choice for use in most environments.
The Goal Zero Nomad 5 solar panel also comes with its own kickstand, which makes it easier to position in relation to the sun. Due to its lower power output, this panel is ideal as a solar charger for small electronics and camping gadgets which fit right into its built-in charging dock.
Affordable. A budget-friendly solar panel charger solution.
Easy setup. Has a built-in kickstand.
Compact. Small size is easy to pack.
Low power output. Only suitable for small devices.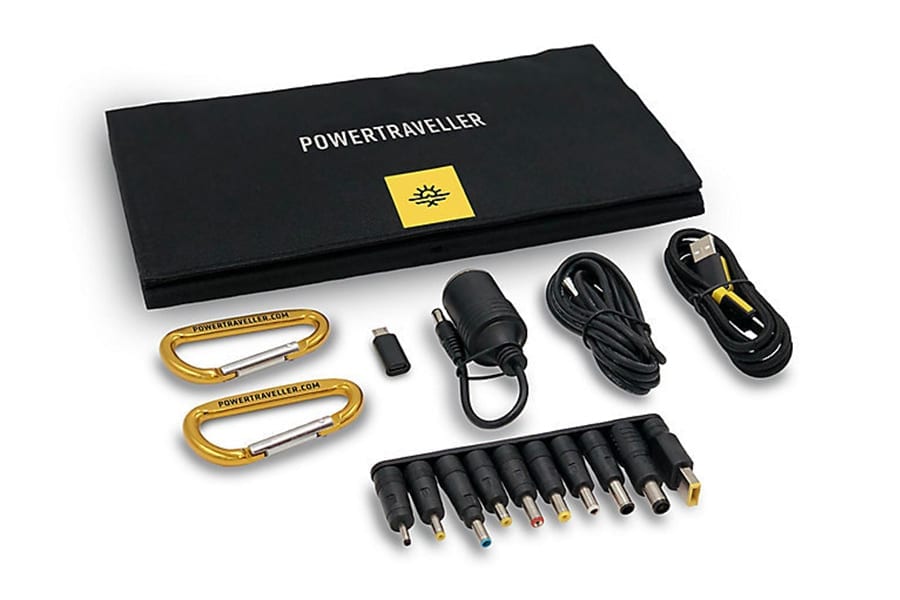 Rated Power : 21 watts
Dimensions (Unfolded) : 26.2" x 11.0" x 0.1"
Weight : 16.6oz / 470g
Crafted with portability in mind, the Powertraveller Falcon 21 is a great choice for backcountry adventures. This solar panel provides 21 watts of power and is bundled up in a rugged polyester frame for added durability.
It can charge anything from a laptop to a GoPro using the power of its monocrystalline photovoltaic cells. Plus, the panels are able to charge two devices simultaneously through their USB and DV outlets.
The Powertraveller Falcon 21 solar panels also have four metal eyelets which allow them to be attached to a backpack for charging while hiking. This panel set is also rated to IPX4, so it's water-resistant enough to handle very light rain.
Water-resistant. Has an IPX4 rating.
Dual charging. Can charge two devices at once.
Portable. Features eyelets for attaching to a backpack.
No power storage. Only supports direct charging in the sun.
Rated Power : 28 watts
Dimensions (Unfolded) : 12.1" x 31.6" x 0.1"
Weight : 48.0oz / 1.4kg
The Goal Zero Nomad 28 Plus set is designed to provide you with an efficient power source in the outdoors. This solar panel kit features 4 connected 7-watt solar panels that combine to provide a solid 28 watts of power, which is enough to charge phones, tablets, and power packs.
It features Auto Restart technology that allows you to directly charge a device from the sun in variable conditions without accidentally draining any battery from your device. The panels' LED indicator also tells you the strength of the current solar conditions in real-time and gives information about its current charging speed.
Thanks to its removable kickstand, the Goal Zero Nomad 28 Plus solar panel can be oriented in any direction to maximize its sun exposure. The entire setup is also completely waterproof, so you don't have to worry about damage in wet conditions.
Waterproof. Prevents damage in wet environments.
Removable kickstand. Allows you to get the optimum sun angle.
LED indicators. Tells you about charging conditions and speed.
Heavy. One of the heaviest models for its size.
Wissblue Solar 21 Charger
Rated Power : 60 watts
Dimensions (Unfolded) : 11.0" x 22.0" x 0.3"
Weight : 21.0oz / 595g
The Wissblue Solar 21 Charger is an ideal choice for campers that are looking to power a portable generator and their devices. This solar panel set offers up to 60 watts of energy output, which makes it suitable for use with smartphones, generators, and laptops.
Despite its high power output, this panel set folds up to a small packed size. It also has four stainless steel holes which can be used to attach the panels to the outside of a tent for charging your devices in camp.
For added convenience, the Wissblue comes standard with an assortment of different size connectors. These adaptors allow you to quickly charge devices via USB or DC and are the right size for connecting to a range of different solar generators.
Powerful output. 60W is strong enough to charge generators.
Optimizing technology prevents overcharging of batteries
Multiple Connectors. Designed to connect to different portable generators.
Water-resistance issues. The electronic junction box is not water-resistant.
Rated Power : 24 watts
Dimensions (Unfolded) : 27.4" x 11.2" x 0.1"
Weight : 26.6oz / 754g
If you want to maximize your solar energy output without bulky gear, the Big Blue might be for you. This highly compact set of panels is just a minuscule 0.08" (2cm) thick, making it one of the most portable options available.
It boasts a power output of 24 watts, which can directly charge your device through 3 USB ports. These ports also have SmartIC technology, which automatically provides the best voltage for optimal charging speeds.
Finally, the Big Blue is IPX4 rated, which means it can handle splashes of water without breaking. This makes it a great option for use in wet climates where occasional moisture is unavoidable.
Optimized charging. Automatically provides the best output for charging devices.
Very compact. Thin folded size is easy to pack and store.
No power storage. Allows only direct charging in the sun.
Rated Power : 8 watts
Dimensions (Unfolded) : 16.2" x 1.0" x 9.0"
Weight : 19.2oz / 544g
A compact and portable solar charger, the Wilderness Systems is designed for use in remote environments. This model features two monocrystalline panels and a folding design that helps save space in your pack.
Originally intended for use on kayaking trips, these panels are water-resistant and are wrapped up in a durable nylon casing. It also comes with 4 bungee attachment tethers that can be used to secure the panels to kayak, backpack, or tent.
The Wilderness Systems solar panels have a built-in charging meter, which allows you to keep track of your device's battery levels. With 8-watt power output and a single USB output, this panel is best for charging smartphones and headlamps while you're paddling or hiking.
Water-resistant. A good option for use in wet environments.
Multiple attachment points. Includes attachment straps.
Limited Outlets. Includes just one USB port.
Rated Power : 10 watts
Dimensions (Unfolded) : 10.1" x 8.2" x 1.0"
Weight : 13.8oz / 391g
Designed with simplicity in mind, the BioLite SolarPanel 5+ is an easy-to-use panel for powering smaller electronics. Unlike many other models that have folding designs, this panel has a single metal bar that serves as a 360º aluminum stand to better orient it toward the sunlight.
This monocrystalline panel can put out up to 10 watts of electricity, which is enough to charge tablets, phones, and headlamps.
The BioLite SolarPanel 5+ also has an integrated lithium-ion battery, which can store up to 8 watt-hours of energy. It fully charges in just 2.2 hours in the sun, or you can directly charge your devices from the panel's USB port in real-time whenever the sun is shining at your campsite.
Simple. Quick set-up design with an aluminum stand.
Integrated battery. Charges in only 2.2 hours.
Small electronics only. Not suitable for laptops or big generators.
Rated Power : 100 watts
Dimensions (Unfolded) : 20.5" x 15.5" x 2.0"
Weight : 10.2lbs / 4.6kg
For charging big solar generators, the Goal Zero Nomad 100 is a top choice. This uber-powerful panel set can produce up to 100 watts of energy and can even be linked with other panels for faster charging.
As one of the largest foldable panels on the market, this setup is ideal for car camping trips where weight isn't a priority. This solar panel kit has a number of different loops available to make it easier for you to hang up the panels and direct them toward the sun.
Despite its large size when unfolded, the Goal Zero Nomad 100 solar panel actually folds up into a respectable size. It's also encased in rugged materials and is 100% weatherproof for use in any condition.
Lots of power. 100 watts of power to charge nearly any solar generator.
Weatherproof. Perfect for use in wet conditions.
Linkable. Can be connected to other panels for more power.
Expensive. One of the priciest options available.
Heavy. Too big for backpacking purposes.
Portable Solar Panel Buying Guide
Camping solar panels are complex pieces of gear. Therefore, it's essential that you have all the information necessary to choose the right model for your needs.
Up next, here are 6 critical things to consider when buying a portable solar panel.
Solar panels for camping come with a wide range of different power outputs (measured in watts), which directly impacts both what you can charge and how fast you can charge it.
Every device requires a different wattage for charging, so it's important to check your gear's specifications before you buy a solar panel.
As a rough guide, you'll need these power outputs to charge the following devices :
Small size (phones, lights, GPS) : 2 to 6 watts
Midsize (tablets, laptops, DSLR) : 6 to 30 watts
Large size (TV) : 50 to 100 watts
Heavy-duty (small fridge) : 700 to 2,200 watts
So, a panel, such as the Goal Zero Nomad 100 with its 100 watts of power, would be ideal for someone looking to power larger electronics. 
Meanwhile, the Big Blue's 24 watts of power would be best for smartphones, headlamps, GPS units, and tablets.
The unfolded surface area of a solar panel directly translates to the amount of energy it can produce. Solar panels are composed of many photovoltaic cells, which are the main mechanism within a panel that harnesses the sun's energy.
More surface area means more photovoltaic cells, which means more power for charging your devices.
For comparison, we can easily see the difference between the size in the BioLite SolarPanel 5+, which produces 10 watts of energy from its 10.1" x 8.2" x 1.0" unfolded size, and the Wissblue solar panel that can create 60 watts of power from a surface area of 11.0" x 22.0" x 0.3".
You have two options when it comes to portable solar panels; models that are just panels, which can charge devices directly, and those that have built-in battery packs for energy storage.
Solar panels with built-in battery packs
The main advantage of energy storage in a solar panel is that it allows you to charge your devices even if it's not currently sunny, such as in your tent at night. This ability is particularly helpful if you spend a lot of time camping in locations that get a lot of rain or simply have very variable weather.
For those models that do come with built-in batteries, including the BioLite SolarPanel 5+, you can expect to get about as much energy storage as you would receive from a small portable power bank.
Solar panels only
It's important to keep in mind that charging devices directly from the sun isn't always efficient or practical because the sun's energy intensity changes rapidly. Nowadays, many portable solar panels have built-in technology that optimizes their charging conditions to meet the needs of your devices.
But if there simply isn't enough solar energy to charge your device, you could end up wasting hours waiting for your phone to get to 100% battery, only to find that the cloudy conditions prevented it from actually charging.
Thus, direct charging, while convenient, isn't always the best option for larger devices.
However, even if your solar panel doesn't come with built-in storage, you can still find ways to store energy for later. Combining your panel with a small power bank or a generator is a great way to harness the power of the sun when it's bright out, while still maintaining the ability to charge your devices at any time of day.
In many instances, purchasing your own power bank separately from your solar panel can help you save money and it also allows you to get a portable battery pack that's better for your needs. 
Just be sure that your solar panel has the right ports (more on that in a bit) to charge up your power bank.
If you're looking to charge your devices directly from the sun, having a solar panel system that has multiple ports and a variety of different port types is useful.
In general, having 2-3 different ports is preferred, as it provides you with maximum flexibility for charging your devices. Some panels, like the Powertraveller Falcon 21, allow you to charge multiple devices at once, which is handy if you're short on time.
Additionally, having a few different port types, such as USB and 12V DC ports, is helpful, particularly if you're looking to power more than just your smartphone. Some panels also have outlets and connector cables that allow them to be used with solar generators for long-term energy storage.
Thankfully, most camping solar panels are fairly compact and portable, but some are certainly more so than others.
3lbs (1.4kg) is about the maximum weight most people would consider for a solar panel for backpacking purposes, so something like the Wilderness Systems would be a sure bet.
For car camping, something that weighs up to 15lbs (6.8kg), such as the Goal Zero Nomad 100, would still be portable enough for most trips.
It's also essential to find panels that fold, roll, or somehow pack down for easier transport in the outdoors. 
Folding panels are often preferred because they tend to fit better inside the frame of a backpack, especially on longer expeditions.
Portable solar panels need to be durable enough to withstand the rigors of the outdoors. Most are made with durable materials, including thick polyester fabric, which provides a bit of structure, stability, and protection for the panels' delicate photovoltaic cells.
Some, such as the Goal Zero Nomad 28 Plus, are also waterproof, boasting IP ratings over IP67. If you're looking to take your panels into wet environments, having a model with some semblance of waterproofing is essential to protect their expensive electronic components from damage.
How do I care for my portable solar panels?
To maintain your portable solar panels, simply wipe them down occasionally with a damp towel. If the inverters on your panels get wet, leaving them to dry before plugging anything in is usually your best bet.
Gaby Pilson
Gaby is a professional mountain guide with a master's degree in outdoor education. She works primarily in the polar regions as an expedition guide, though she can be found hiking, climbing, skiing, sailing, or paddling in some of the world's most amazing places when not at work.