Our top rooftop tent picks
Capacity : 2 campers
Floor Dimension : 81" x 51"
Floor Area : 28.7ft²
Innovative and versatile, the Tepui Tents HyBox is a hybrid rooftop tent system that's designed with comfort and functionality in mind.
Perhaps the most unique aspect of this tent is that it's also a rooftop storage box with 23 cubic feet of storage space. So, when you're driving around, you can easily store all of your bulky pieces of gear, like skis, tents, and coolers, on the top of your car.
Then, when you get to your campsite for the night, you simply need to zip on the tent's waterproof and breathable cotton canopy to instantly convert your gear storage box into a shelter for the night.
Thanks to the Tepui Tents HyBox Tent's hardshell construction, it's both aerodynamic and durable. It also comes equipped with an 8'6" telescoping ladder that you can quickly attach to the tent for convenient access on the go.
Rooftop gear storage. Converts between tent and storage space.
Durable hardtop clamshell design for long-term use.
Waterproof. Features a waterproof and breathable fabric tent canopy.
Heavy weight limits use to larger vehicles.
Capacity : 4 campers
Floor Dimension : 85.4" x 55.1"
Floor Area : 43.2ft²
The award-winning iKamper Skycamp 2.0 made waves in the industry as one of the first-ever hardshell rooftop tents available. While it's no longer the only hardshell option on the market, iKamper's dedication to quality and intuitive design is apparent in this tent.
With this shelter, you get enough space to sleep 4 people on a 1.8" king-size memory foam mattress, which is quite spacious for a hardshell rooftop abode. The tent itself is made from a durable poly-cotton canvas fabric that's insulating in the cold and breathable in the heat for maximum comfort.
The iKamper Skycamp 2.0 sets up in just under a minute after you open up its hardshell transport case. It's also easy to enter and exit, thanks to the company's included ladder, which has angled steps for a more comfortable climbing experience.
There's also a more compact version of this tent, the iKamper Skycamp Mini for smaller cars.
Breathable. Multiple windows for ventilation in the heat.
Extra thick mattress provides ample comfort at night.
Innovative ladder with angled steps allows for easier tent access.
Expensive even when compared to other hardshell options.
Capacity : 2 campers
Floor Dimension : 83" x 49"
Floor Area : 28.2ft²
If you need one rooftop tent that can do it all, the Roofnest Sparrow might be what you're looking for.
This pop-up hardshell tent packs down into a sleek case that's aerodynamically designed for improved gas mileage. It also has a built-in gear storage area to help you stay organized on the go and it's even large enough to store your bedding inside while you're on the road.
Inside the Rooftnest Sparrow, you get an extra 4" of headroom, as well as a window, 3 large doors, and the ability to mount the included ladder wherever is most convenient to you.
Oh, and this rooftop tent also comes with a large solar panel mounting area, which makes it an ideal choice for longer off-grid adventures.
Gear storage options built-in to the tent.
Extra headroom for added comfort and livability.
Solar panel compatible. Allows for quick setup for an off-grid living.
High price tag for a 2 person rooftop tent.
Capacity : 4 campers
Floor Dimension : 75" x 122"
Floor Area : 63.5ft²
Designed specifically with longer road trips in mind, the OVS Nomadic 4 is a front runner when it comes to prioritizing interior space for maximum livability.
This rooftop tent is built with a burly 600D premium ripstop body fabric and a 420D polyester Oxford waterproof canvas to keep you dry in all conditions. It also has all stainless steel fixtures and thick ballistic nylon straps for added durability in remote environments.
One of the best advantages of the OVS Nomadic 4 Rooftop Tent is its extended roof design, which provides it with a whopping 63.5ft² of living space. This tent is also built with multiple windows for added breathability and it is even compatible with OVS' annex and canopy systems if you want more living and gear storage space on the road.
Large footprint provides ample space for all campers.
Durable cotton canvas, steel fixtures, and nylon straps.
Breathable. Multiple large windows for ventilation.
Trucks and SUVs only due to tent weight and size.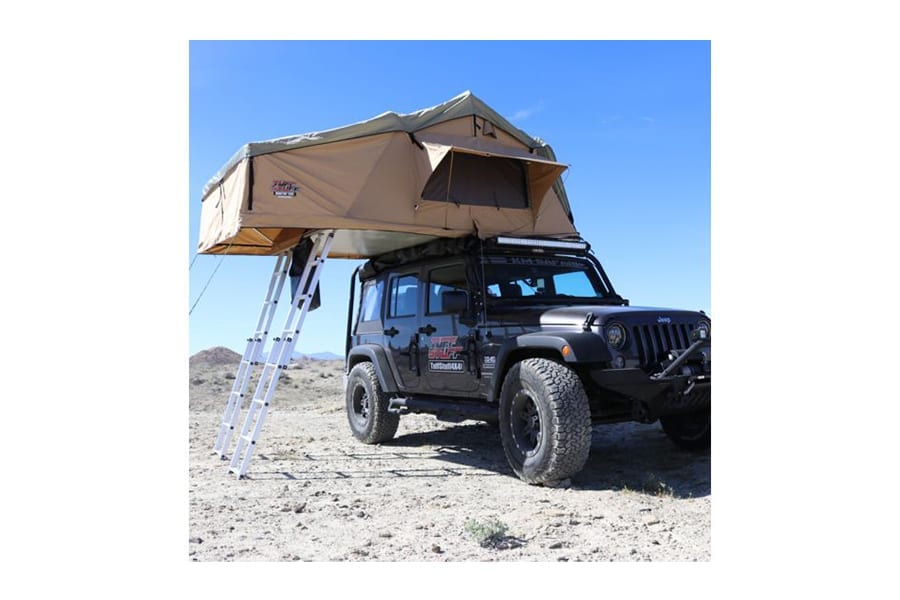 Capacity : 4 campers
Floor Dimension : 75" x 94.5"
Floor Area : 49.2ft²
A veritable palace on wheels, the Tuff Stuff Overland Rooftop Tent is a multi-functional tent that's designed for adventure.
As Tuff Stuff's largest and best roof top tent, this shelter is capable of sleeping between 4 to 5 people inside the tent itself. Meanwhile, 4 more people can sleep in the included annex, which makes this one of the best options for larger families and groups.
Plus, this tent is built with 3 no-see-um mesh net windows for ventilation, each of which also has an awning to keep you dry in a storm.
For added privacy and comfort while you camp, the Tuff Stuff Overland Rooftop Tent has a removable wall system and 2 separate mattresses so everyone gets the personal space they need. It also comes with 2 retractable ladders, making it easier for your fellow campers to enter and exit the tent throughout the night.
Large annex provides sleeping space for an additional 4 people.
Room dividers allows you to create multiple rooms for privacy.
Two ladders for more convenient tent access.
Tricky set-up. Takes a while to pitch.
Rooftop Tents Buying Guide
Rooftop tents are notoriously tricky pieces of gear to buy because of all their various features and components. With something as big of an investment as a rooftop tent, you want to be sure that you know precisely what to look for as you shop.
Here are 9 key things to know before you shop for your next rooftop tent.
When you buy a rooftop tent, you have to be sure that you get a model that works well for your camping needs and for your vehicle. In fact, getting a tent that's not compatible with your car or truck can be a big problem as it can cause damage to your vehicle, your roof racks, or the tent itself.
So, here are some important things to check when it comes to vehicle compatibility for a rooftop tent.
Vehicle dynamic weight capacity
The dynamic weight capacity is the amount of weight that your vehicle can support as you drive.
All vehicles will list this specification in their owner's manual, so it's critical that you know this information before you start shopping so that you purchase a model that's within the limits of your vehicle's load limit.
Otherwise, you could damage your vehicle with your new tent.
Roof rack dynamic load limit
Just as a vehicle has a dynamic weight capacity, roof racks also have dynamic load limits.
In general, brand names like Thule and Yakima can support more dynamic weight than factory-installed racks. However, you should check this information with your rack manufacturer to ensure that you're getting a tent that's not too heavy for your roof rack.
Static weight capacity
In addition to a dynamic weight capacity, all vehicles have a static weight capacity. This refers to the amount of weight that the vehicle can support on its roof when parked.
Interestingly, most vehicles are capable of supporting a whole lot of weight, since they're designed to resist collapsing during a rollover accident.
But, you'll want to know what the specific static weight capacity of your vehicle is so you can determine if a tent with a larger capacity, like the Tuff Stuff Overland, is acceptable for your vehicle.
Roof rack compatibility
The final thing to check when buying a rooftop tent is that it's actually compatible with your roof rack.
Most aftermarket crossbars, like those from Thule or Yakima, are adjustable, so they can be placed at various locations on your car. This adjustability makes it easier to mount a rooftop tent to your car as many tents have fixed mounting points.
Alternatively, some factory crossbars can't be moved on a car, which limits what tents are compatible with your roof rack.
Hardshell vs. softshell tents
There are two main types of rooftop tents; hardshell and softshell.
Here's how they perform in the real world :
Softshell tents
Softshell tents, like the Tuff Stuff Overland, are the most common option.
They are preferred by many campers because they tend to be more affordable. Additionally, while many hardshell tents are limited to about 2 to 4 campers, you can find softshell models that can house upward of 5 or 6 people.
The drawback to softshell tents is that they take longer to set up. Plus, they are less aerodynamic as you drive, which eats away at your gas mileage.
Hardshell tents
Hardshell tents, such as the Tepui Tents HyBox, are somewhat new to the rooftop tent scene. However, they have become very popular in recent years because they offer a sleek, aerodynamic shape that improves gas mileage.
These tents also feature a pop-up setup design, which saves you time when you get to your campsite. The downside is that they tend to be smaller and more expensive than their soft shell counterparts.
Long gone are the days where rooftop tents were limited in space to just 2 to 3 people. In fact, there are some models, like the OVS Nomadic 4, which offer an impressive 63.5ft² of living space.
For the most part, rooftop tents are limited to 2, 3, or 4 person capacities. Of course, the amount of interior space you'll find in one of these tents depends on the sleeping capacity.
As a general rule, you should look for a tent with at least 25ft² of living space and dimensions of 80" x 45" for a 2 person tent.
Dimensions for 4 person tents vary from rectangular to more of a square shape, so it's hard to provide specific lengths and widths to look for. However, 40ft² should be an absolute minimum for a 4 person rooftop tent.
As far as peak height goes, you should look for a minimum of 36" of headroom in your tent. Some, like the Roofnest Sparrow, provide even more headspace with a 40" internal height.
You should be comfortable when sleeping in your rooftop tent, so finding a model with a comfy mattress is key. Foam mattresses are the gold standard for these types of tents because they offer a good mix of comfort and portability.
Full and twin-sized mattresses are ideal for 2 person tents, while 4 person models like the iKamper Skycamp 2.0 come with queen-sized beds, which are great for larger groups.
Other tents, like the Tuff Stuff Overland, even come with multiple mattresses and room dividers. This makes them a nice choice for families with children or others that really enjoy their personal space.
Materials and construction
The types of materials you find in a rooftop tent depend on whether it's a hardshell or softshell model.
In hardshell models, like the Tepui Tents HyBox, you'll have a fiberglass frame, which provides durability in transport and protection from the rain at night. These are then supported by aluminum or steel poles that keep the entire tent upright. 
Finally, hardshell tents will have a canvas canopy to protect you from the rain while you sleep.
On the other hand, softshell models, like the OVS Nomadic 4, have sturdy steel bases. Their canopies and rainflies are made from thick canvas fabric for waterproofing and have aluminum poles for structure and support.
Access doors and side windows
Doors and side windows are critical in a rooftop tent. As far as doors go, many smaller, 2 person models have just one, which makes access a bit tricky at night. Others, like the Roofnest Sparrow, actually have multiple doors which allow for easier entry and exit.
On the other hand, side windows are essential for ventilation. Some models, such as the Tuff Stuff Overland, have plenty of side windows with mesh screens for ventilation, which can then be zipped up for weather protection in the rain.
The ease of use of a rooftop tent really depends on the type that you buy. Hardshell models, such as the iKamper Skycamp 2.0, are easier to set up. This is because they have pop-up designs that limit the pitching process to just a few minutes.
With softshell models, the setup process is a bit more involved. You have to remove the protective transportation covering from the tent, unfold the foundation, and then insert all the poles in the correct location. 
This process can take upward of 30 minutes, depending on the size and complexity of the tent.
Weight is a concern for any rooftop tent because you need to be sure that your vehicle is strong enough to accommodate your mobile camping system.
Most rooftop tents weigh between 130 to 200lbs.
Larger options, like the OVS Nomadic 4, are toward the heavier end of that spectrum with weights of over 180lbs. Heavier tents are only suitable for SUVs and trucks, which have higher dynamic weight capacities.
So, be sure to check the weight limit of your vehicle before you commit to a new rooftop tent.
Some rooftop tents come packed with additional features that make them much more livable for longer road trips. Here are some nice features to look out for as you shop :
Annex rooms such as the one found on the Tuff Stuff Overland, are great because they often double the size of your living real estate. These rooms provide ample gear storage underneath your tent that's thoroughly protected from the wind. Sometimes, they're large enough for people to actually sleep in, which is ideal for larger groups.
Canopies are similar to an awning that you might find on an RV or camper, but they attach directly to your rooftop tent. This provides you with a large area that's protected from the sun and the rain for cooking, relaxing, and general outdoor living.
Storage areas. Some rooftop tents, like the Roofnest Sparrow, have dedicated gear storage areas inside to help you stay organized. Others, like the Tepui Tents HyBox can actually double as rooftop gear storage boxes while you drive.
Gaby Pilson
Gaby is a professional mountain guide with a master's degree in outdoor education. She works primarily in the polar regions as an expedition guide, though she can be found hiking, climbing, skiing, sailing, or paddling in some of the world's most amazing places when not at work.