Material : Aluminum
Length : 7.25"
Quantity : 1 pack
These affordable and straightforward aluminum hook stakes from REI Co-op help supplement your collection or replace worn-out stakes. They are made from a strong 7075-T6 heat-treated aluminum. It makes them difficult to bend and helps them retain their hooked shape at the top.
Tent stakes must be extremely lightweight since you have to carry multiple. Each one of these REI Co-op stakes weighs 0.5oz or 14g.
They are designed for backpackers and its thin design that is slightly tapered at the bottom helps to push it into hard ground.
Strong aluminum helps it maintain its shape.
Lower price compared to other items.
Bottom taper allows it to slide easily into hard ground.
Not as lightweight as some previous versions.
Material : Aluminum
Length : 6.25"
Quantity : 8 pack
Even if a tent is wind-resistant, it doesn't mean that it can stay in place during a storm. They need to be staked down, and The North Face J-Stake M are the stakes to do it. They are crafted with durable 7075-T6 aluminum.
These stakes are made from a hyper-durable material and are long but thin enough to drill into hard ground. They are only ½" wide at their base, with only a slight taper in the bottom to give it easy sliding power.
Thin design helps them drill into the ground.
Aluminum material makes them durable.
Very simple design doesn't make them stand out from the crowd.
Material : Aluminum
Length : 9.5"
Quantity : 4 pack
MSR designs its tent stakes with a spiral design that is marketed to be ideal for creating a solid anchor point. They work very well in soft ground, where it is difficult for a smooth metal to get a grip and for tarps in the wind.
The unique design of the cyclone tent stakes is what makes them work so well. They appear almost like licorice, twisted all the way down to give it a vastly increased surface area.
There is a reflective pull loop that makes it easier to remove at the top of the MSR Cyclone Tent Stakes. They are also longer than the average tent stake but weigh 1.2oz or 34g.
Spiral design gives extra stability in soft ground.
Reflective loop makes removal easy.
Heavier weight at over an ounce each.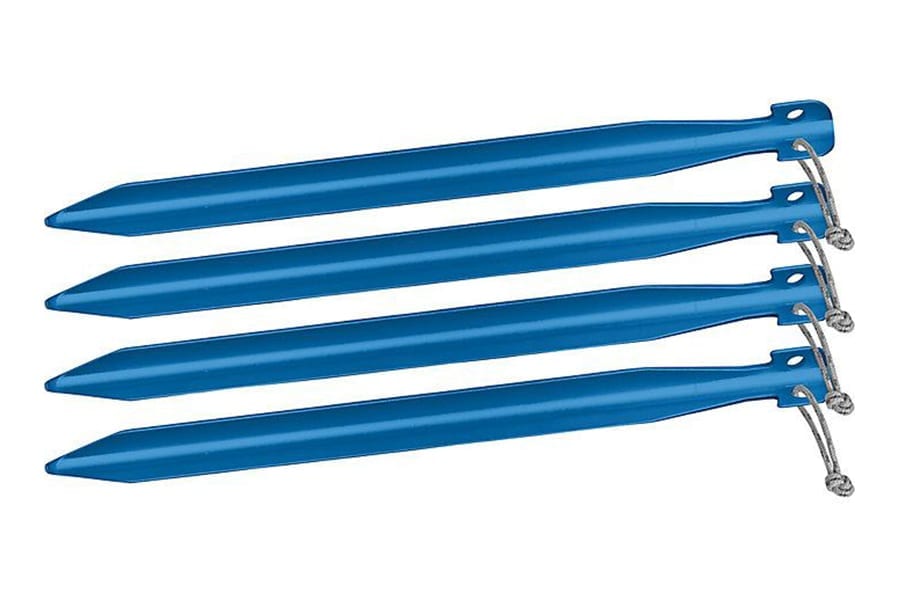 Material : Aluminum
Length : 12.0"
Quantity : 4 pack
Big Agnes crafts another DAC J Stake with its longer, 12" tent stakes. They are topped with reflective nylon cord loops that make them easier to see and pull out when you are ready to move on.
These stakes come in a variety of different colors and are all made with 7000 series aluminum. Big Agnes 12" V-stakes have a tapered top leading to tabs and a hole that allows you to fasten and tie on your guy lines. 
Their spade-like design allows them to efficiently dig into the soil.
Reflective nylon cord loops make for easy removal.
Extended length allows for better grip.
Spade-like design means they dig into hard ground.
Extended length also means they are challenging to get in for a decreased tripping hazard.
Material : Aircraft-grade aluminum
Length : 13.5"
Quantity : 4 pack
Another option if you are looking for snow stakes is from MSR. These stakes have a hexagonal base that increases the surface area at the bottom and anchors them in packed snow and sand. They are said to deliver ten times the holding power of standard tent stakes.
Each MSR stake is topped with a stainless steel cable for extra durability. They are longer than a standard stake as well.
They have an interesting self-driving design. As further tension is placed on them from the attached cables, their spade ends drives them further into whatever medium they are in.
Hexagonal base increases holding power up to 10x.
Stainless steel cable offers more durability.
Only use for snow and sand since the hexagonal base makes penetrating other ground difficult.
Material : Aluminum
Length : 6"
Quantity : 4 pack
NEMO names its stakes Airpins due to their very lightweight design, each stake weighing 0.4oz or 10g. They use a unique 3-point locking system at the top to hold any cord tight and eliminates the need for guy out tensioners.
At the top, they are both flat and wider, giving you an ideal striking point for driving the stake into the ground. They are 1" wide here.
These NEMO Airpin Stakes are crafted with a 7075 aluminum, a blend of durability and lightweight material. They are only 0.12" wide at the bottom, meaning the tip is easy to wedge into hard-packed soil. 
They won the Backpacker magazine's 2019 Editors' Choice Award.
3-point locking system eliminates guyout tensioners.
Tapered design makes it easy to drive into the ground.
Can't always fix guy line tension.
Material : Aluminum
Length : 6.25"
Quantity : 6 pack
Eureka's DAC aluminum stakes helps to keep your tent secure with a tapered corner design. It is created to hold well during gusty weather conditions with a custom DAC aluminum alloy.
Each one has a larger surface area that grips the ground around it by using more of a V-shape stake design. They work well on soft ground because of their shape and grip strength.
Since these Eureka stakes come in a six-pack, one purchase can replace your previous collection of tent stakes. A hole in the top allows you to secure your guy line depending on your setup system.
Custom aluminum alloy makes it especially strong.
Larger surface area allows an increased grip strength.
Six pack purchase restocks entire collection.
Unspecified weight for individual stakes.
Sea to Summit Ground Control
Material : Aluminum
Length : 7.1"
Quantity : 8 pack
This company crafts its tent pegs to be the perfect replacement for a lower-quality peg. They are made from an anodized 7075-T6 alloy. An eight-pack supplies you with a full replacement kit.
These Sea to Summit pegs have a three-sided design with three guy points for easy adjustments. A luminescent pull tab at the top enables easy extraction.
They are helpful in securing guy lines due to their three multi-height guy points. Using these allows you to reduce the leverage on the peg, meaning an increase in stay-power in sandy or soft ground. If you can't get them as far into hard ground, the lower levels also help to keep your tent in place anyway.
Aluminum alloy makes a robust peg.
Three guy points allow easy adjustment.
Luminescent pull tab for quick removal.
Y-shaped top can be challenging for some to hit.
Material : Carbon fiber core with aluminum covering
Length : 6"
Quantity : 4 pack
MSR uses a carbon-fiber core instead of aluminum, although it is externally coated in aluminum afterward. Although these might not be as strong as pure aluminum alloy, they are incredibly lightweight.
This MSR stake kit includes four tent stakes at less than 6 grams per stake or 0.2oz. They are made in the USA and have a standard cylindrical design with a slight taper at the bottom.
The plastic that covers the top widens to give you an easy striking point. However, it is not as durable as metal. It also has a pull loop through it to allow easier removal.
Extremely lightweight at barely 6g each.
Pull cord at the top allows for easy removal.
Carbon fiber core is not as strong as 100% aluminum designs.
Material : Aluminum
Length : 9.6"
Quantity : 1 pack
Stakes designed for soft or hard ground scenarios will not cut it in snowy areas. REI has got you covered with a Snow Stake.
The snow stake is longer than average tent stakes and has holes throughout to have the snow help anchor the stake. It can also be used upside-down as well so you can loop and tie in a line and bury it in snow or sand.
REI Co-op Snow Stakes have a slight U-shaped bend to them and have a thin width so they slide in quickly, fill with snow or sand, and then stay that way.
Holes throughout the design helps utilize the snow.
Use upside-down to fasten down cords.
Longer to provide deeper reach in unstable areas.
Selective use in snow and sand.
Snow Peak Solid Stake #50
Material : Stainless Steel
Length : 20"
Quantity : 1 pack
All of Snow Peak's products are made in Japan. These tent stakes are forged from stainless steel. They are longer at 20", so they work well when placed on soft ground. Pushing them in deeper allows for more grip strength and less leverage. However, it is for the same reason that they can be difficult to use on hard ground.
Snow Peak Solid Stake #50 has a larger head to make it easy to hammer and quick to pull out. At the top, they form a downward facing tab with a hole at the top to securely slide and tie in your guy line.
Otherwise, their cylindrical and bottom tapered design is typical of traditionally designed tent stakes.
Larger top for easy hammering.
Extended length increases hold in soft ground.
Stainless steel craftsmanship is not as strong.
Tent stakes are relatively straightforward. However, finding the right design can mean augmenting your entire camping system.
7000-series aluminum is hands-down, the best material for tent stakes currently. The reasons for this are its increased durability and strength under duress. Aluminum is also rust-resistant and thus lasts longer.
Aluminum is not the lightest of metals that tent stakes could be made from. That is why the MSR Carbon Core Stake Kit is made with a carbon-fiber core but then coated with aluminum. Stainless steel is another option, like in the Snow Peak Solid Stake #50, but it is at least 2x heavier than aluminum.
There are various aluminum alloys that some companies use, though. Eureka has customized theirs in the DAC Aluminum Stake.
The length of a tent stake is typically between 6" to 8", for example, NEMO Airpin Stakes at 6". This length gives you enough leverage when pushed into the soil to hold well without having so much that it sticks out or is too hard to remove.
Some tent stakes are longer for soft ground. However, using something like a 15" to 20" straight stake can still make removal quite difficult.
What is the difference between a tent stake and peg?
The terms tent stake and peg can be used interchangeably. However, a peg takes on more of a nail shape, longer and thicker than an average stake. It can be hit with a hammer instead of a mallet.
How many tent stakes do I need?
It is standard to have one tent stake per corner of a tent, plus some for your rainfly if you carry it. Having a couple of them extra is handy in case one breaks or bends. 
Thus, if you have four corners to a tent and no rainfly, six tent stakes are recommended.
How do I get the tent stakes into hard ground?
If you are having trouble getting a tent stake into the ground by hitting it, try the water bottle trick. Pour a little water in the area where you want the stake to go. 
Let it sink in for a minute or two and then place the stake over it. Use the hammer or your foot to push the stake into the softer ground.
Amanda Williams
Amanda Williams is a writer, plant-nerd, and outdoor enthusiast. She has traveled extensively, around the U.S., throughout Asia, Europe, and Latin America. Everywhere she treks, she takes time to enjoy the outdoors. John Muir is her hero. She aspires to inspire people to live better as he did.