Bryce Canyon is one of five national parks in Utah and is perhaps one of the best among them. It features various activities to do individually, with friends, or as a family all year round.
National parks are known for their incredible hikes and stunning vistas, but what else can you do in them?
Here are 15 of the best things you can do when you're at Bryce Canyon National Park.
Visit during the Astronomy Festival
Bryce Canyon is consistently on the list of the top 10 National Parks in the country for stargazing.
The reasons for this are that there is almost no light pollution in the area, nor much air pollution. The place is also arid during the summer months, so there is rarely a haze in the air to block starry views.
At night, looking up from the canyon, you can see up to 7,500 stars gleaming across the Milky Way. One of the iconic pictures is with the Hoodoos framing the brilliant carpet in the sky. You can make a point to visit during their annual Astronomy festival to dig even deeper.
Go fishing
When we think of Utah, we imagine a barren desert with scrub brush and coyotes. Inside Bryce Canyon, there are an array of fishing holes, rivers, running lakes, and more.
These waterways house plenty of tasty fish. The National Park offers some of the best fishing in all of Southern Utah.
If you are trying fishing for the first time or do not have your gear with you, there are quite a few companies that do tours and rentals in the area.
You also need a Utah state license to fish anywhere in the state. The most common fish include Rainbow Trout, Brook Trout, Cutthroat Trout, and Tiger Trout.
Hire out an ATV Tour
ATVs, or All-Terrain Vehicles, are loads of fun for anyone old enough to drive. You can rent these out in and around the National Park and go on tours if you don't have an idea of where to go.
Tours take you through areas of stunning Ponderosa Pines and throughout the Red Rock canyons. Seeing it from the inside of a bumping speedster gives you an entirely new perspective. The wind through your hair is also an excellent refresher during the hot summer months in Southern Utah.
Experience slot canyons
During the hottest months of the year, it can be difficult to get up and go for a hike. The scorching sun isn't everyone's cup of tea. Instead, seek out the shade by going canyoneering. You find yourself surrounded by towering cliffs of red rock and sometimes even hiking through areas with cool water.
There are tours led in Bryce Canyon if you are afraid of getting lost among the stones. If you are confident with your hiking and navigational skills, try Coyote Gulch or Davis Gulch. They feature long streams and narrow passageways typical to the slot canyons in this area.
Drive along the Scenic Byway 12
As you get into the area around Bryce Canyon and Zion National Parks in Utah, you begin to drive into the mountains. These are rather nondescript during other parts of the year. However, during the Fall, they begin to light up with color changes in birches and maples' leaves.
The Scenic Byway 12 takes you through Escalante National Monument, Dixie National Forest, and Red Canyon. It is the best time to drive it in the Fall since the rugged landscape has been painted brighter than normal. It is best to do this towards the end of September and into October.
Go mountain diking
Mountain biking is a popular sport to do year-round in Bryce Canyon, but it takes on a new allure in the Fall. It is still very hot during this time of the year, though. Make sure you are prepared and bring plenty of water with you in a durable water bottle.
Head for some of the more popular trails to get iconic views while getting your exercise. These include trails like Dave's Hollow, Casto Canyon, and Thunder Mountain. If you need, there are plenty of rental areas in and around Bryce Canyon National Park to rent out a mountain bike.
Guided full moon snowshoe hikes
During the winter, if the parks have enough staff, they offer various tours and guides you can do. One of these is a ranger-guided snowshoe hike during full moons. The best time to do these is from November to March. These months are the ones when the snow gets 12 to 18 inches deep.
If you participate in one of these hikes, they provide you snowshoes and poles if you do not have them. You need to bring your own winter boots and waterproof gear to keep you warm and dry.
Cross-country skiing
It might surprise you that an arid area like Southern Utah still receives snow during the winter. It actually gets more snow on average than the average of the U.S. in general, with 32 inches a year compared to the national average of 28 inches.
All of this snow makes cross-country skiing a marvel to try in Bryce Canyon. Instead of witnessing the red rock magic under a sweltering summer sun, glide through powder in the canyons and along the trails. Be equipped with layers like heated gloves, jackets, and vests.
Date night going couple sledding
There are a few places within the boundaries set for Bryce Canyon National Park that make for suitable sledding. Be aware that sledding anywhere off the canyon rim is strictly prohibited since it is so dangerous.
Although sledding in the Park is hard to top, many local residents go to Red Canyon nearby to do their sledding. You can rent sleds and do it as an individual, family, or even a cute couple's date.
Check the weather forecast before heading out on your trip and make sure you have enough gear to stay warm.
Trot on with horseback riding
Spring is one of the best times to visit the park since everything for the peak season is just beginning to kick into gear. As the temperatures warm into the summer months, more people begin to flock to the National Parks.
Horseback riding in the National Park is allowed and available at almost any time of the year. Springtime offers a warmer season without the icy slopes of winter and scorching heat in the summer.
Look into tours offered in the surrounding area to select the best tour for you and your family.
Try out rock climbing
Rock climbing and rappelling are some of the more popular sports for adventurous tourists that come to the National Park. Experienced climbers are free to explore almost any face within Bryce Canyon and the areas surrounding it.
If you have an itch to try something new, look for a company that offers beginners' climbing tours. Just as there are many areas for climbers who know what to do, there are plenty of smaller and shorter spaces to give it a go as a first-timer.
If you are early enough, you might even get a glimpse of the Hoodoos topped with a cap of snow.
Head into the backcountry
It is easier to obtain a backcountry permit in the Spring since there are not as many people vying for them. There are many different multi-day hikes to choose from throughout the entire park.
When looking for a longer trail, prepare with a hiking backpack, and don't forget camera equipment to take in the unique views you can't find anywhere else.
Although cooler during the summer, it is still essential to take enough water. There are not many water sources in the Park, especially not those deemed potable.
Read More : What Should I Bring for A Day Hike?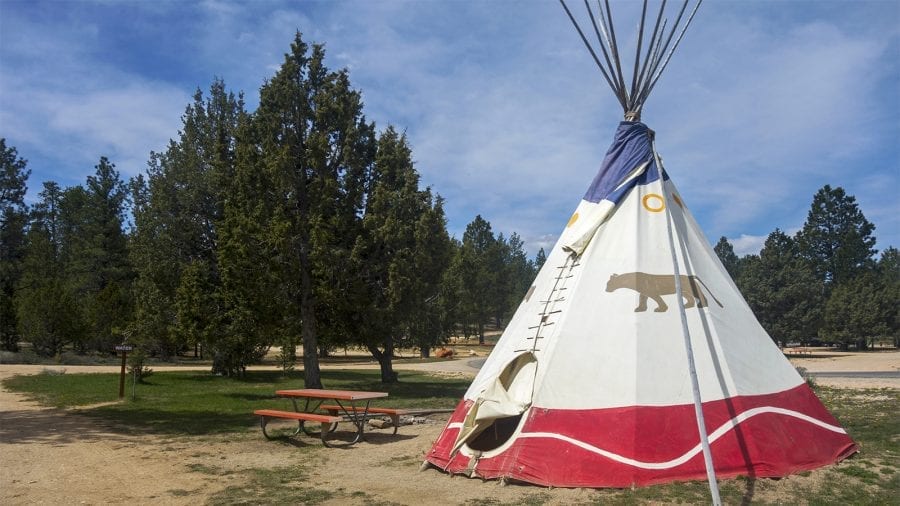 Night out at Bryce Canyon Country Rodeo
The Bryce Canyon Country Rodeo is still within the area of Bryce Canyon National Park, right on the Main Street in the county. It begins on Memorial Day each year and continues through the end of August.
This country rodeo is meant for family-centric fun and takes place each Wednesday through Saturday. If you come from an area where a rodeo is only a thing in Western films, consider introducing your kids to an entirely new experience.
Book an astronomy program
Sitting out under the stars by yourself isn't the only option when it comes to the clear night skies in Bryce Canyon. Instead, learn more by attending an Astronomy Program in the evening with your kids.
There are quite a few options for this, scattered throughout the year and at different times of the night. Some of them in the area are specifically meant for kids, and some are geared towards adults.
Experience a new kind of camp – Tipi Camping
Who needs a family tent when you can go tipi camping?
Native Americans have been an enormous part of our heritage that we can forget about at times. Reintroduce a little history at Ruby's Inn Campground.
The tipi is provided to go tipi camping, but you need to bring your own bedding, such as sleeping bags for kids and yourself and pillows. Bring camping blankets if it is still cool at night. Combine this with one of the astronomy activities to learn about being guided by the stars before heading back to your tipi at night.
Amanda Williams
Amanda Williams is a writer, plant-nerd, and outdoor enthusiast. She has traveled extensively, around the U.S., throughout Asia, Europe, and Latin America. Everywhere she treks, she takes time to enjoy the outdoors. John Muir is her hero. She aspires to inspire people to live better as he did.