No one will dispute that the United States National Park system is packed with absolutely stunning parks that let everyone enjoy the great outdoors.
But beauty can be dangerous. From falls to drownings, many of the National Parks can be quite dangerous if you don't practice safety and vigilance.
So, which parks could be designated as the most dangerous? 
Since 2010, there have been hundreds of deaths across the entire park system, which should serve as a reminder that Mother Nature can be dangerous if you're not careful.
You might be surprised at the most dangerous element of the Grand Canyon. Since 2010, there have been 134 deaths, but only 27 have come from falling off 100-foot cliffs.
It's actually heat-related illnesses that have caused the most deaths over the past decade, which should serve as a reminder to drink plenty of fluids and always stay hydrated.
The truth is, you have about a 1 in 400,000 chance of falling at the Grand Canyon. Your bigger issue is dehydration and heatstroke. Make sure you bring a large camping water bottle with you.
The Grand Canyon is a hiker's paradise, but it's a tough trek. You need to be in great shape and come prepared with enough food and water to safely hike these trails.
Rushing rivers, steep cliffs, and potentially dangerous wildlife. Yosemite has seen its fair share of deaths over the years and can serve as a sobering reminder that nature comes with danger.
While more people die of natural causes at Yosemite, in addition to heatstroke and dehydration, falling hundreds of feet off a cliff to your death has unfortunately happened multiple times over the years. Those falls became more prevalent with the advent of social media and people working to get the most unique photo. Unfortunately, those photos hide the risks that Yosemite holds.
As a general rule of thumb, never pose on top of a huge granite drop-off. Make sure you give yourself a good 10 feet from any cliff to ensure you're safe. And bring a flashlight with you, in case you're hiking as it gets dark so you can clearly see the edge of cliffs.
Additionally, avoid selfies and other photos while standing in rivers or near waterfalls. You never know when the current can sweep you at the feet and ultimately drown you.
3. Great Smoky Mountains, TN
As the most-populated National Park with more than 12 million visitors each year, the Great Smoky Mountains is not as dangerous as Yosemite or the Grand Canyon, but it certainly has an opportunity to flirt with danger.
Because of the large crowds, there can also be big-time traffic during the peak of the season. Over the past 10 years, there have been 37 deaths due to motor vehicle crashes. So, it's not even really the park itself that's dangerous as it is the popularity of the park, opening up an opportunity for human error while behind the wheel. In other words, slow down!
Drowning deaths, though, are quite real in the Great Smoky Mountains. If you're not a strong swimmer, you need to proceed with caution when recreating in any of the rivers or lakes. The undertow of these bodies of water can suck you right in.
4. Sequoia & Kings Canyon, CA
There have been 75 deaths over the past decade at Sequoia and Kings Canyon National Parks, with 25 of those being attributed to falls. The most recent came in 2018 when a rock climber fell 200 feet to his death on John Muir Trail.
Like any mountainous National Park, you need to be vigilant while close to cliffs, as the slightest loss of balance can send you over the edge.
It's the extreme change in climates from your starting elevation of about 1,300 feet all the way up to nearly 15,000 feet. Unprepared hikers have become stranded in cold patches near the top and succumbed to hypothermia and falling on ice. In addition to the right clothes, bring a multi-tool in case you need to cut branches or anything else in case you find yourself in a survival situation.
Wildlife hasn't historically been an issue, because black bears tend to stay away from humans unless provoked. That means you still need to practice safety around all wildlife.
You have three things to worry about at Yellowstone National Park :
Traffic. As one of the most popular parks in the system, there are plenty of cars and some of the roads are tight and winding. Make sure you're driving with your full attention.
Wildlife. Yellowstone has its fair share of grizzly bears, which show no mercy toward humans. Also make sure to keep your distance from buffalo and moose.
Falls. The rim trails through Yellowstone are the most dangerous. Make sure you wear good hiking boots with adequate traction, and always avoid cliffs at all costs.
Environmental exposure is the No. 1 killer in Denali National Park. Alaska is the Last Frontier, due to its size and the fact that it has an incredible amount of unexplored wilderness. When you're unprepared, that's when danger strikes.
Because this is Alaska, you can expect a vast change in the climate from the start of a hike to the end. If you don't bring enough clothes, for instance, you could suffer from hypothermia. In addition to a winter coat, also bring a rain jacket in case of precipitation.
Combine the extreme climate with the potential for altitude sickness, and you can see why some people don't make it back down the mountain.
Of course, those who do make it to the top of a mountain like Denali put themselves at risk of falling off a cliff, which happens to be the second cause of death in the park over the past decade.
There hasn't been an eruption in 500 years, but if there ever is one, Mount Rainier National Park would officially be the most dangerous park in the entire system. So, in a way, it has the highest potential of being the most dangerous park and volcano in the country.
While the volcano hasn't erupted, there are plenty of earthquakes. Bring walkie-talkies in case your group gets separated.
In the winter, you need to be worried about avalanches. Mount Rainier is the tallest mountain in Washington and one of the most prominent in the U.S. Over the years, there have been horrific avalanches that have taken the lives of multiple people at once.
While you can read avalanche reports before heading out, sometimes it just can't be predicted.
Plenty of people want to visit the great state of Colorado, but very few work to get accustomed to flying into the Mile High City, which means they're not used to the elevation.
As a result, unprepared hikers and climbers suffer from altitude sickness, which can cause them to become disoriented, have nausea and become dizzy. If this happens higher up on a trail, your chances of falling also increase.
If you have any pre-existing heart conditions, you should consult with your doctor before going to this park. Thankfully, there are relatively easy hikes that you can walk at a relaxed pace, while still taking in the stunning mountain landscape in the Rockies.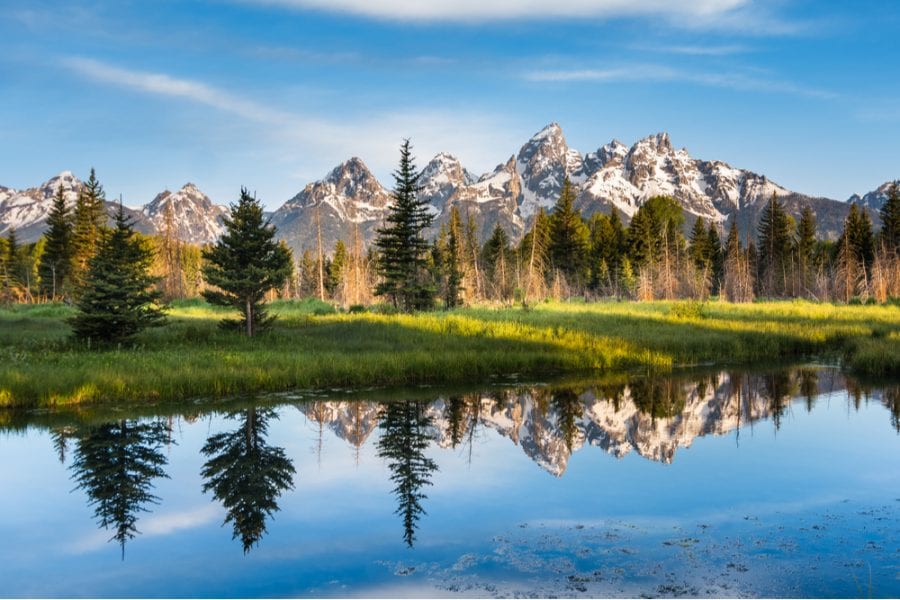 As another popular park, traffic accidents are the most dangerous element while traveling around Grand Teton National Park.
But right up there is the opportunity to fall on top of rugged terrain. Of the 48 deaths reported in the last decade here, 21 were caused by falls.
These trails are steep and challenging, so any medical episode, like a heart attack, that takes place on the trail is potentially fatal because it takes so long for emergency personnel to make it inside the park.
From accidental falls to drownings, Zion National Park rounds out our list of the most dangerous National Parks in the system.
There have been a few drownings over the years, but falls are the most common. Of the 43 deaths in the past decade, 22 were attributed to falling off a steep cliff. One small misstep could prove to be fatal.
Especially avoid cliff selfies at Observation Point. You're already going to be tired from this hike and its 2,000-foot elevation gain. But often, the sandstone ground can be wet, especially near the edges.
The Slot Canyons are also dangerous because there can be surprise flash floods. In 2015, seven hikers lost their lives in flash flooding.
Andrew Dodson
Andrew Dodson is an avid camper who enjoys the great outdoors with his wife and two-year-old son. He resides in Colorado, where you can often find him enjoying hikes with a toddler strapped to his back and mini goldendoodle Percy nearby.