The Glacier National Park spans across the Continental Divide and has an elevation of more than 7,000 feet (2,100 meters) above sea level.
The western side of Glacier National Park has a milder but wetter climate because of its lower elevation. There is higher precipitation between late Fall through Spring. There may be snow, even during the summer months at higher elevations.
The winter can be very cold on the eastern side of the Continental Divide as it sits on a higher elevation.
Average temperature and precipitation by month
Seasons in Glacier National Park
Summer (21 June to 22 September)
Average Highs : 71 to 80ºF / 22 to 26ºC
Average Lows : 44 to 47ºF / 7 to 9ºC
June to August are the peak months of the year in the Glacier National Park.
Daytime temperatures are warm, with temperatures reaching into the 80s, while nighttime temperatures can drop all the way down into the 40s.
Higher elevations see temperatures that are 10 to 15ºF cooler than at lower elevations of the park. All of the park's complimentary shuttle systems are running. 
As this is the busiest time of the year in the park, make reservations for accommodations and tours in advance.
Read More : 12 Essentials to Bring for Summer Camping
Fall (23 September to 20 December)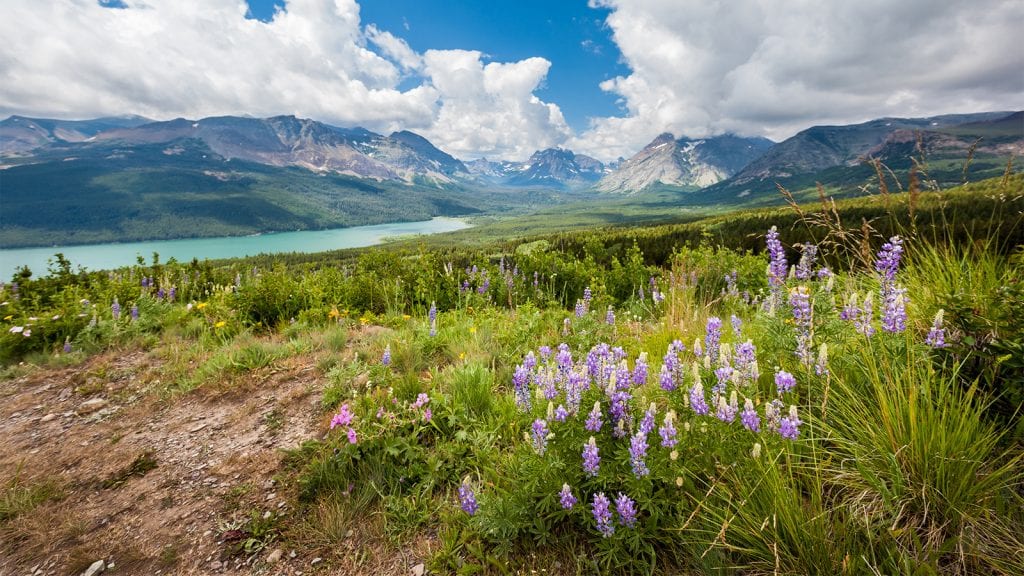 Average Highs : 37 to 67ºF / 3 to 20ºC
Average Lows : 25 to 39ºF / -4 to 4ºC
Fall is one of the most beautiful times of the year in the park, with the autumn foliage on full display.
Temperatures remain warm in the daytime, with temperatures reaching into the 60s and 70s and nighttime lows dropping into the 40s.
Rates for accommodations also drop after Labor Day. Just keep in mind that many businesses and lodges close after Labor Day, which may require you to look outside the park for a place to stay.
Read More : The Best Time to Visit Glacier National Park
Winter (21 December to 19 March)
Average Highs : 29 to 35ºF / -2 to 2ºC
Average Lows : 15 to 19ºF / -8 to -10ºC
During the wintertime, the weather can be extreme inside the park.
Daytime temperatures will reach 40ºF in midwinter while nighttime lows will drop into the teens and below 0ºF on occasion.
The park also sees significant snowfall during the wintertime, making it a good place for snowshoeing and cross-country skiing. Few accommodations are open during the winter, with most of the park's roads closed due to snowfall.
Read More : Winter Camping Checklist – 11 Gear to Bring with You 
Spring (20 March to 20 June)
Average Highs : 42 to 64ºF / 6 to 18ºC
Average Lows : 23 to 37ºF / -6 to 3ºC
Daytime temperatures during spring average in the 60s while nighttime lows still drop into the 30s. Lodging begins to open back up in the spring, offering reduced rates.
Many of the park's roads and hiking trails remain closed during the spring due to snowy conditions.
Shuttles begin operating on a reduced schedule as weather allows. This is a popular time of year for biking as much of the main road is still closed to traffic.
Amanda Williams
Amanda Williams is a writer, plant-nerd, and outdoor enthusiast. She has traveled extensively, around the U.S., throughout Asia, Europe, and Latin America. Everywhere she treks, she takes time to enjoy the outdoors. John Muir is her hero. She aspires to inspire people to live better as he did.