Looking to get outside but don't want to sacrifice creature comforts in the process?
Glamping is just what you need.
If you've never been glamping before, you're in for a treat. This comfort-focused camping style is a sure-fire way to get outside without compromising on luxury. But, if you're new to the world of glamping, you might be feeling a bit overwhelmed by the prospect of planning your first adventure. 
Thankfully, we've created this guide to glamping to ensure that you have all the information you need to make your next trip the experience of a lifetime.
Glamping, or glamorous camping, is a camping style that prioritizes comfort above all else. 
Unlike backpacking, dry camping, and primitive camping, glamping is all about creating a cozy home away from home in the mountains.
Due to the fact that glamping is often a more casual adventure style, most glamping trips take place on campgrounds.
However, some folks will also go on glamping road trips, either by traveling to multiple glamping campsites or by finding free campsites where they can park and pitch a rooftop tent.
While glamping is a type of camping, there are a few key differences between glamping and other camping styles, like backpacking or car camping. 
Some of the most important features that differentiate glamping from camping include :
The biggest difference between glamping and camping is that your personal comfort is key when glamping. Indeed, while you might be okay with sacrificing a bit of your own comfort while camping in exchange for increased gear packability, there's no bigger priority while glamping than staying comfortable.
As a result, you'll find that you're willing to bring comfort-focused pieces of gear, like portable generators and fire pits while glamping that you might not pack if you were just going camping.
Weight savings aren't a priority
Along the same lines of prioritizing comfort above all else, weight savings just aren't that important while glamping. Since glamping trips are almost always roadside adventures, there's no need to fret over the weight of your cot or summer sleeping bag.
Rather, you can focus more on packing the gear you need to have a magical time in the great outdoors.
If there's one thing that no good glamping trip is complete without, it's scrumptious food. In fact, glamping trips are your time to whip up yummy meals and imbibe in tasty beverages while outside. It's basically an extended gourmet picnic. 
What could be better?
If you're interested in going glamping, your first job is to find the perfect place for your adventure. Luckily for you, there are plenty of excellent places to go glamping. 
Here are some of the best glamping areas to check out :
How to make the most out of your glamping trip
Making the most of your glamping trip starts with knowing how to prepare for your adventure. 
These are some of the most important things to keep in mind as you plan your next glamping trip :
Select the right campsite
Since you'll likely spend a lot of time at your campsite while glamping, it's important that you choose the right location.
This means selecting a campsite that offers a mix of good views, great amenities, and the peace and quiet you need to enjoy yourself in nature.
Read More : How to Pick the Perfect Campsite
Create a relaxing sleeping space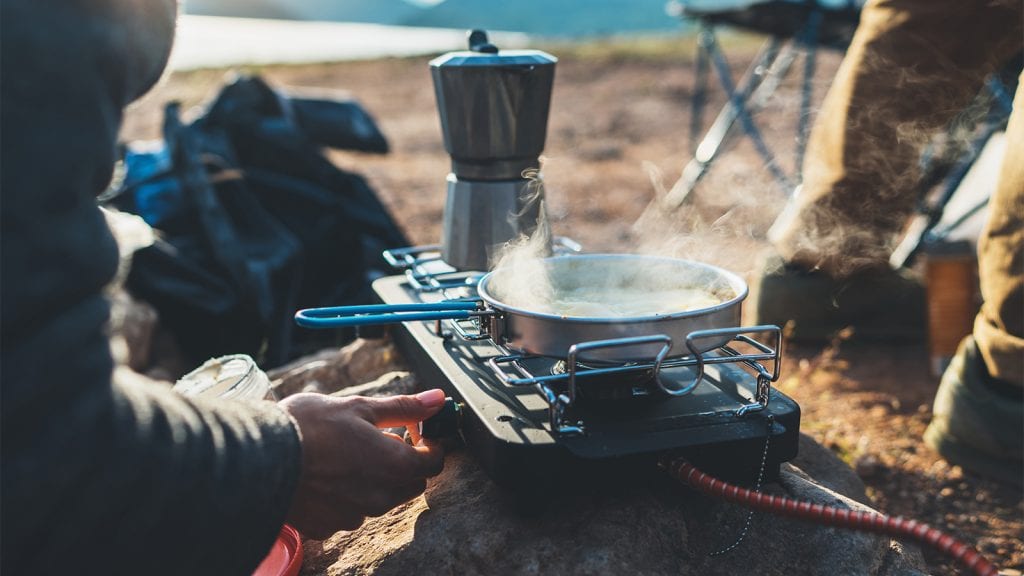 If you want to make your glamping trip one to remember, then gourmet meals are an absolute must.
Before you leave for your trip, be sure to create a detailed meal plan so you can shop for all your ingredients.
As you plan your meals, don't be afraid to get a little creative. Consider making yourself scrumptious 3-course meals or other fun luxuries that you might not normally enjoy in the great outdoors.
A good glamping trip requires plenty of lovely ambiances, which you can easily create with quality lighting. 
In addition to packing headlamps and flashlights for walking around your campsite, consider bringing string lights and lanterns to illuminate your hang-out area. 
Doing so will help you craft a cozy place to unwind during your trip.
Bring plenty of entertainment
Whether you're glamping alone or with a group, be sure to pack plenty of entertainment. Depending on your personal style, this entertainment could be games, a book, an instrument, or even a watercolor set.
Whatever you enjoy doing to relax, be sure to pack it on your trip!
Read More : 10 Popular Campfire Games for Adults
Things to bring to glamping
As you can probably guess, glamping is a gear-intensive pursuit. So, here are some of the must-bring items that you ought to have in your packing list for your next glamping trip :
Blankets. A set of blankets is essential for staying cozy and comfortable at night while you glamp.
Pillows. While you might forgo a pillow while backpacking, these little luxuries are a must while glamping.
Air mattress. Big farewell to thin, uncomfortable sleeping pads and hello to plush air mattresses during your glamping adventures.
String lights. String lights are the ultimate cozy lighting accessory for any glamping trip.
Hammock. If you truly want to relax in style, a hammock is a must-have piece of gear for your glamping site.
Coffee makers. In our humble opinion, there's nothing better than a freshly brewed cup o' joe at your campsite, so having a coffee maker is essential.
Camping chairs. Be sure to pack at least 1 camping chair per camper so everyone has a place to relax during your trip.
Glamping tent. No glamping trip is complete without a spacious glamping tent where you can rest after a long day of adventure.
Gaby Pilson
Gaby is a professional mountain guide with a master's degree in outdoor education. She works primarily in the polar regions as an expedition guide, though she can be found hiking, climbing, skiing, sailing, or paddling in some of the world's most amazing places when not at work.