Sleeping in a hammock can be a comfortable and lightweight alternative to tent camping in the great outdoors. 
But, getting a good night's sleep with a hammock requires skills and experience to make sure that you set yourself up for success while snoozing under the stars.
To get you started, here are our top hammock camping tips to ensure your next adventure goes off without a hitch.
1. Get a camping specific hammock
There are a whole lot of different hammocks out there, so it's important that you find one that's appropriate for camping. Indeed, while it might seem easiest to purchase a cloth hammock that one might use for a backyard lounging area, it's really best to stick to models that are purpose-built for camping.
That's because these camping hammocks are made from lightweight, durable materials, like ripstop nylon, that are meant to withstand use in harsh conditions, such as what you'd find on an Appalachian Trail thru-hike. 
Moreover, camping-specific hammocks are lighter and much more packable than their cloth counterparts.
2. Understand hammock weight limits
Every camping hammock comes with a stated weight limit and it's essential that you understand this weight maximum prior to your first trip. 
Before you buy a hammock, be sure to research the maximum weight limit before deciding if it's right for you.
Then, when you're outside, don't forget to stick to this limit. While it might seem tempting to lounge in a single hammock with your friend or partner, doing so could damage your hammock if it's not rated to hold the weight of two adults.
One of the major downsides to hammock camping is that most hammocks don't come with a bug net. During the summer months, this can be particularly problematic, especially in places where flies, mosquitoes, and other biting insects are prevalent, like the Grand Teton National Park.
Thankfully, there's a simple solution to this problem; hammock bug nets.
If your hammock doesn't already come with a bug net, it's worth investing in one for summertime camping. Alternatively, you could just use a mosquito headnet, but this won't offer much protection for the rest of your body.
Read More : 10 Effective Ways to Keep Bugs Away While Camping
4. Don't forget a hammock tarp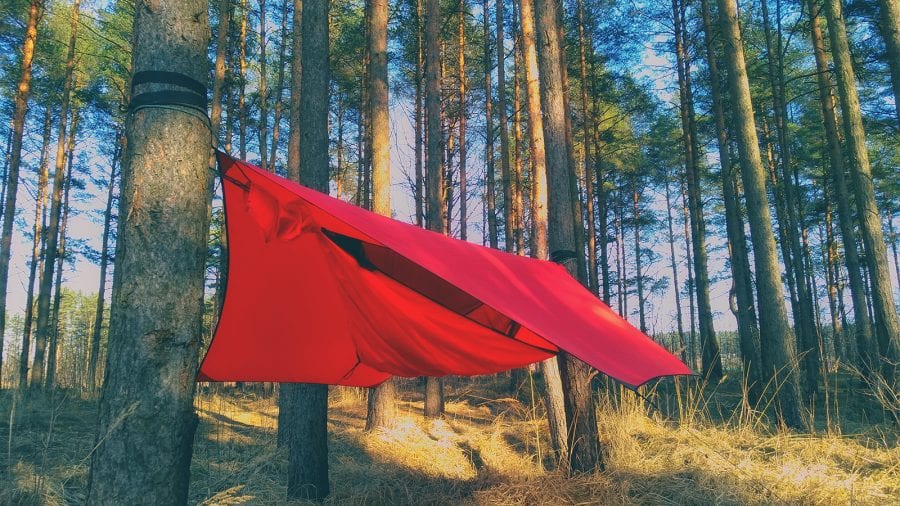 In addition to a hammock bug net, you'll want to consider bringing a hammock tarp with you into the mountains. Unlike tents, hammocks don't naturally provide you with any protection from the wind or the rain, so packing a tarp is a must if you want to stay warm and dry in wet locales, such as the Great Smoky Mountains National Park.
Ideally, you'd get a purpose-built hammock tarp, but if you can't get your hands on one, most fairly large general camping tarps will do. 
However, be sure that when you set up your tarp that it provides enough coverage on the sides of the hammock, which are prone to getting wet in rainy, windy conditions.
5. Use hammock-specific straps
While it may be tempting to use ropes or other types of cords to pitch your hammock, it's best to use hammock-specific straps when setting up your shelter for the night.
Why?
First and foremost, hammock straps are designed to support the weight of an adult human. Therefore, you can rest easy knowing that they're strong enough to keep you suspended throughout the night.
Additionally, using cord and other thin ropes can cause severe damage to trees. That's because these thin cords can cut into tree bark, causing serious injury or even death to trees of any shape and size. 
Alternatively, most hammocks traps are either wide enough or come with enough padding to prevent tree damage when used properly.
6. Do a test run at home first
If you've never hammock camped before, we highly recommend testing out your hammock for a night at home. Doing so can help you figure out what works for you and can help you ensure that you stay comfortable during your adventures.
For folks who don't have a backyard or a place to do a test run of their hammock, consider making your first hammock trip a weekend getaway to a local campground. 
Bring a tent with you, just in case you find that you're very uncomfortable, and use this time to get used to your new hammock.
7. Figure out the right pitching height
In general, hammocks should be pitched so that you only hang 18" (46cm) off the ground at night. This is because keeping yourself relatively low to the ground helps reduce the likelihood of injury, should something go wrong.
Finding the right pitching height can be challenging, though, because trees vary in spacing and configuration from one campsite to the next.
As a result, you should spend some time tinkering with your hammock set up when you first get into camp. After you pitch your hammock, don't forget to give it a test-run to see how far off the ground you actually are. 
If you leave these alterations to right before you go to bed, you may find that you're too tired to get the job done properly.
Your hammock is only as strong as the trees you hang it from, so choosing the right anchoring trees is critical.
Here are some key things to keep in mind when picking trees for your hammock site :
Avoid using dead trees
Choose trees that are significantly more than 6" (15cm) wide
Only use trees that don't move if you shake them
Select trees that are about 10 to 15 feet (3 to 4.5m) apart
Avoid trees that have poison ivy, poison oak, or other poisonous plants nearby
Don't pitch a hammock under overhanging dead branches
9. Consider using drip lines
Even if you use a hammock tarp to keep you dry, you may find that water slides down your hammock straps into your sleeping area on a rainy night. The simple solution to this problem is to use something called a drip line.
Drip lines may sound fancy, but they're just pieces of cord that you tie to your hammock straps. Tie a piece of paracord to each of your hammock straps, about halfway between the hammock and the tree, and let the cord hang down toward the ground.
Then, in a rainstorm, water will run down the hammock straps until it hits the drip line, which will send the water straight to the ground, instead of onto your head.
10. Learn how to sleep in a hammock
Sleeping in a hammock isn't like sleeping in a bed.
Although there are multiple different ways to sleep in a hammock, most people find that the most comfortable option is to sleep diagonally, so that your body is at a 45º angle to the hammock.
Generally speaking, sleeping diagonally in a hammock is better than sleeping with your head at one end and your feet at the other, which can cause an uncomfortable bend in your lower body.
But, the key is to find what works best for your specific needs.
11. Pack an underquilt in chilly conditions
If you're looking to hammock camp in the colder spring and fall months, it's a good idea to pack a hammock underquilt.
Hammock underquilts are essentially large insulated covers that attach to the underside of your hammock to prevent heat from escaping from your sleeping area at night. 
While these likely aren't necessary in the summer months, if you expect the temperatures to drop to near or below freezing, an underquilt might just be what you need.
12. Bring a camping pillow
It's a common misconception that you don't need a pillow while sleeping in a hammock. While it's certainly not a requirement, having a camping pillow with you while hammock camping can greatly improve your sleeping experience.
That being said, compressible models tend to be better than inflatable models for this purpose as compressible pillows are better able to conform to the shape of a hammock.
13. Illuminate your hammock with string lights
For folks that like to read at night before going to bed, hanging up a set of string lights above your hammock can be a great way to illuminate your world without the need to wear a headlamp.
Simply suspend a set of battery-powered string lights below your hammock tarp, switch them on, and enjoy your cozy hanging abode at night.
14. Create your own gear storage system
One of the major drawbacks to using a hammock instead of a tent is that hammocks don't provide much gear storage space.
If you'd like to create some gear storage for yourself, though, you can hang up a second ridgeline using paracord or other lightweight rope next to your hammock for the night. 
You can then clip a stuff sack to that ridgeline and use it as a makeshift pocket for stashing your gear at night.
15. Use a top quilt instead of a sleeping bag
Hammock camping can get chilly at night, so you'll want to come prepared with enough warm clothing and gear to keep you comfortable. However, opting for a top quilt, rather than a sleeping bag, can help you stay warm without adding unnecessary weight to your pack.
Since synthetic and down insulation lose their insulating power when compressed, the insulation underneath your body doesn't do much to keep you warm at night.
Therefore, a top quilt (which is like a sleeping bag but without a bottom) can provide a mix of weight savings and warmth while hammock camping.
Gaby Pilson
Gaby is a professional mountain guide with a master's degree in outdoor education. She works primarily in the polar regions as an expedition guide, though she can be found hiking, climbing, skiing, sailing, or paddling in some of the world's most amazing places when not at work.