Primitive camping is all about being self-sufficient in the great outdoors. But, being self-sufficient requires coming prepared with the right gear for the job.
What exactly do you need to pack for a primitive camping trip, you might ask?
Well, if you're wondering what to pack for your next trip into the mountains, we're here to help. We know firsthand how tricky it can be to find the right equipment for your adventures, so we've put together this guide to do just that.
In this article, we'll introduce you to our primitive camping checklist.
It contains insight into all the most essential pieces of gear for camping at a primitive campsite to help you make the most of your trip outside.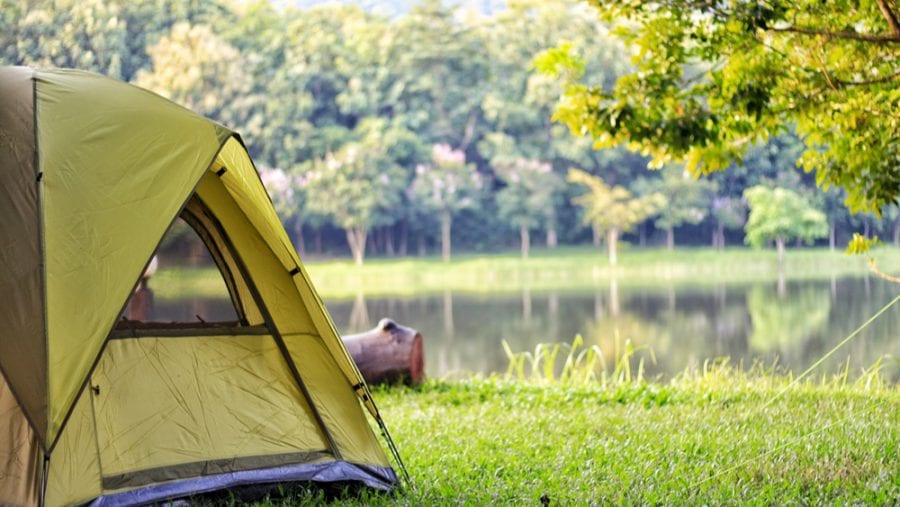 If you're going primitive camping, you'll need somewhere to sleep. Generally speaking, your shelter on a primitive camping trip is a tent, though some people prefer to snooze in a hammock if they get a chance.
That being said, unlike camping trips in established campgrounds with plenty of amenities, primitive camping is all about keeping things simple.
So, instead of opting for a large two-room tent or a glamping tent, it's usually best to go with something a bit simpler.
For example, a modest 4 person tent might be a good choice for small group adventures. The key is to get a relatively simple tent that can keep you dry in foul weather but that doesn't take half a day to set up when you arrive in camp.
Read More : 10 Ways to Make Tent Camping More Comfortable
While a tent is a must for staying dry while primitive camping, a sleeping bag is your go-to option for keeping warm at night.
Although packing blankets and other similar items can work for very short trips, a sleeping bag is generally best for primitive camping.
That's because summer sleeping bags are better designed to withstand the rigors of more remote locales.
Furthermore, sleeping bags are usually highly packable, which makes them ideal for wild camping in places like the Adirondacks.
That being said, a sleeping bag isn't a complete primitive camping sleep system. In fact, you'll also need to pack a sleeping pad for insulation and comfort while you snooze on the ground.
Read More : Sleeping Bag Temperature Ratings Explained
Cooking up a gourmet meal in the great outdoors is one of the greatest joys of primitive camping. However, unlike your kitchen at home, your primitive campsite on the Appalachian Trail isn't going to come complete with a cooktop and oven.
Instead, you'll need to come prepared with the right camping stove to cook with while you're out and about. Since camping stoves run on various types of portable fuel rather than electricity, they're the perfect option for primitive camping.
But, don't forget that a stove is just one part of your primitive camping kitchen. You'll also need to pack plenty of utensils, cookwares, and cooking gear on hand to make your camping meals as tasty as can be.
Read More : Camping Stove Safety Precautions and Tips
If there's one part of primitive camping that's sure to be a highlight of your experience, it's the evening campfire.
Actually building a campfire, however, isn't always as easy as it might seem. In addition to gathering tinders, kindling, wood, and other supplies, you also need to successfully light your fire and tend to it throughout the evening.
Thankfully, there's one piece of gear that can make your campfire experience as streamlined as possible, firestarters.
With the right firestarters, you can quickly light the dampest of wood, allowing you to spend less time building a fire in your primitive campsite and more time actually enjoying it.
Read More : 11 Tips to Have A Campfire Safely
Knives are an essential piece of gear for any outdoor adventure and primitive camping is no exception.
With the right knife, you can handle any situation, be that chopping up kindling for your fire or slicing veggies for your evening meal.
Alternatively, you could also bring a multi-tool, which is a particularly nifty piece of equipment to have while primitive camping.
Since most multi-tools come with all the features you need to repair broken gear, they're an ideal item to have in your pocket when primitive camping in a remote locale, such as in Sequoia and Kings Canyon National Park.
If you're primitive camping, you're likely quite far from the nearest electrical hookups. Therefore, you'll need to have the right headlamps available to illuminate your campsite at night.
Headlamps are generally the go-to option for primitive camping because they illuminate your surroundings and keep your hands free for other tasks, all at the same time.
However, if you have the space and gear storage capacity, other items, like lanterns and string lights, can also be worth packing on a primitive camping trip. These pieces of gear are certainly a bit bulkier than headlamps, but they can add some nice ambiance to your campsite at night.
Most primitive camping areas don't have running water, so you'll be on your own when it comes to staying hydrated on the trail. The good news is that packing an assortment of water bottles can help you hydrate with ease.
With a few water bottles in tow, you can easily collect water from a local river or stream. Of course, you should still use a filter or a chemical treatment to purify water while camping, but having water bottles at the ready will make collecting water a straightforward task.
Read More : How Much Water Should You Bring to Camping?
Primitive camping often involves venturing into remote destinations that are far from the nearest hospital. While we hope that things always go according to plan on your adventures, it's important to be prepared for any eventuality by packing your own first aid kit.
There's a popular hiker adage that says that the best first aid kit in an emergency is the one that you have with you at the time.
So, come prepared on all your primitive camping trips with the first aid supplies you need to handle injuries and illnesses. If the time comes when you need to use your supplies, you'll be happy you packed them, even if it meant a bit of extra weight in your pack.
Rain jackets are a mainstay of any camping checklist and for good reason. Getting wet and cold while hiking can lead to a whole host of problems, like hypothermia.
So, avoiding those situations in the first place by packing a hiking rain jacket while primitive camping is a must.
In fact, it's still worth packing a rain jacket even if you're going somewhere like Bryce Canyon National Park where rain isn't very common. Since rain jackets can also protect you from the wind, they're the perfect multi-purpose outer layer for any adventure pursuit.
In addition to your tent, which will serve as your primary shelter during your trip, you'll also want to have a camp tarp while at a primitive campsite.
Camp tarps can serve a number of important functions for primitive campers. At their most basic, camp tarps are a great way to provide some shelter for your cooking and relaxation area during periods of inclement weather.
At the same time, they're a nice way to get a bit of shade from the sun when adventuring in hot locales like Canyonlands National Park.
Finally, a camp tarp can be a great back-up shelter if your tent were to get damaged during your travels. Since you might be far away from the nearest trailhead, a camp tarp is a great secondary shelter for when things go awry on a primitive camping trip.
Although primitive camping is more about enjoying yourself in the great outdoors than fighting for survival, it's important that you always have backup survival gear in your pack for emergencies.
Since accidents and mishaps can and do happen while you're outside, tossing some survival gear in your pack can give you the peace of mind you need on your adventures.
This is particularly true if you're planning on base camping at a single primitive campsite and doing day hikes on each day of your trip.
Since you'll leave the bulk of your gear at camp, having a small set of survival gear that you can easily take on a day hike is super helpful.
Gaby Pilson
Gaby is a professional mountain guide with a master's degree in outdoor education. She works primarily in the polar regions as an expedition guide, though she can be found hiking, climbing, skiing, sailing, or paddling in some of the world's most amazing places when not at work.