A trip to Sequoia and Kings Canyon National Parks is sure to be an adventure. Figuring out precisely what you'll do during your trip, however, can be challenging due to the sheer number of options you have to choose from.
So, here's your ultimate guide to the best things to do in Sequoia and Kings Canyon National Parks to get you started.
Visit Hume Lake
Hume Lake is located in the central part of Sequoia and Kings Canyon National Parks. It offers an excellent recreational area for watersports, fishing, and general outdoor adventure, particularly during the summer months.
Although the lake itself is technically located on Forest Service land, it is accessible by road only through Sequoia and Kings Canyon National Parks along Highway 180 or the Generals Highway. So, it's worth a visit on a hot summer's day if you're already in the national parks, especially if you like to swim or paddle.
Hike in the alpine
Summer is the best time to visit the higher elevation parts of the Sierra Nevada. Trails that take you high into the alpine, like the Alta Peak Trail and the Monarch Lakes Trail, are best hiked between July and August when the paths are mostly snow free and the weather is at its finest.
Keep in mind that these alpine trails are located at very high elevations. So, it's a good idea to spend a few days exploring the lower elevations of Sequoia and Kings Canyon first before heading into the mountains. That way, you can start to acclimatize to the high elevation for a more enjoyable hiking experience.
Read More : What Should I Bring for A Day Hike?
Try horseback riding
Summer is the best time of the year to try your hand at horseback riding in Sequoia and Kings Canyon. From June to around mid-October, the 2 commercially-operated stables within the park both offer short trail rides throughout the Sierra Nevada.
Alternatively, there are plenty of local outfitters who are happy to take you on a horsepacking trip through the parks if you don't have your own horses. Both day and overnight horse trips offer an excellent way to see Sequoia and Kings Canyon National Parks from a new perspective and to learn some nifty horse skills along the way.
Go backpacking
If you want to dive deeper into the Sequoia and Kings Canyon backcountry, summer is the time to do it. Once the snow melts off of most of the trails in the High Sierra by July, backpacking through the region is a truly fantastic experience.
The Rae Lakes Loop is by far the most popular backpacking option in the park, but be sure to apply for your permit as soon as possible if you want to camp between May 20 and September 20 each year.
The earliest you can apply for a permit is March 1st, and it's highly recommended that you apply on this date if you're looking to backpack in the park. This is also true if you want to climb Mount Whitney, which lies on the border between the parks and Inyo National Forest.
Keep in mind that permits for the John Muir Trail, which passes through Sequoia and Kings Canyon, are issued by either Yosemite National Park or Inyo National Forest.
Go rock climbing
Rock climbing in Sequoia and Kings Canyon is at its best during the cooler months of the early fall. At this point, all of the access trails to the base of the most popular climbs should be snow-free and river crossings should be mild.
The cooler temperatures also make for better friction and an overall quality climbing experience. Plus, by mid-August, most of the peregrine falcon cliff closures in the park are lifted, providing you with endless opportunity for climbing in the Sierra Nevada.
Stroll through giant sequoia groves
No visit to Sequoia and Kings Canyon is complete without a stroll through the parks' namesake groves of giant sequoias.
Although many of the groves are open year-round to visitors, the cool temperatures of fall and smaller crowds make it an ideal time to go on a walk along the Grant Tree Trail or the Big Trees Trail.
When you're done walking through the Giant Forest, the more adventurous among us can also take a short hike up to the top of Moro Rock, which is substantially less crowded during the early fall than it is during the summer.
Take a scenic drive
There are hundreds of miles of scenic roads throughout Sequoia and Kings Canyon, all of which are fantastic to drive in the early fall.
While you certainly can drive most of these roads throughout the summer, fall is generally less busy, so you can spend more time enjoying the drive and less time worrying about the traffic.
Additionally, even though the giant sequoias don't change color in the fall, the surrounding deciduous trees do, providing a colorful backdrop for your scenic drive.
Play in the snow
Who doesn't love sledding? Sequoia and Kings Canyon National Parks have some excellent sledding locations for you to check out during the winter months.
Both the Wolverton area and the Grant Grove regions are designated snow play areas, so they're the perfect locations for sledding, building snowmen, and having snowball fights.
When you're done tromping around in the snow, you can warm up and grab a bite to eat at the restaurant in Wuksachi Lodge.
Join a ranger-led snowshoe
During the winter months, the Sequoia and King Canyon park rangers offer free guided snowshoe walks on a regular basis. These trips are all first-come, first-served, and are open to anyone over the age of 10.
The calendar of events is a great place to find out about upcoming ranger-led snowshoe trips, or you can stop in and inquire at one of the visitor's centers. All ranger-led snowshoe trips come with free snowshoe rentals and last for about 1 to 2 hours, so they're a perfect way to spend your time in the park during the winter.
Go cross country skiing
The Giant Forest and Grant Grove turn into a cross country skier's paradise during the winter months. Once there's enough snow on the ground, these groves offer a great network of cross country ski trails, giving you the unique opportunity to glide through a forest of giant sequoias.
If you don't own them already, you can rent skis from the Grant Grove Market in Kings Canyon and you can get trail maps from the visitor's center to help you find your way.
Stay at the Pear Lake Winter Hut
The Pear Lake Winter Hut is located some 6 miles away from the Wolverton Meadow parking area. It is accessible by ski or snowshoe only along a steep trail that's best for experienced backcountry travelers who have solid avalanche rescue skills.
This hut serves as an excellent basecamp for a winter adventure in Sequoia National Park's alpine regions. The Pear Lake Winter Hut can accommodate up to 10 people and advanced reservations are a must for anyone looking to enjoy the beauty of the Sierra in the winter.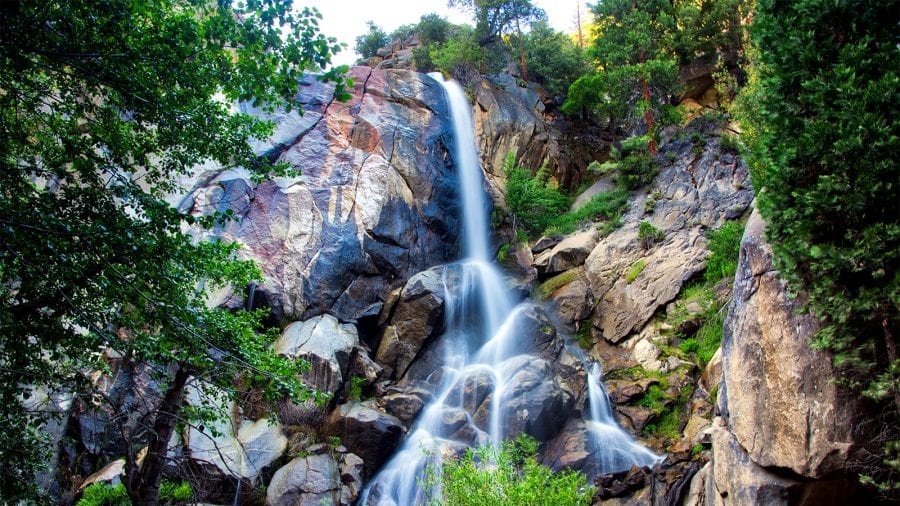 Chase waterfalls
Rivers and streams in Sequoia and Kings Canyon are highly dependent on seasonal snowmelt. So, they're at their highest flow during the spring months as temperatures start to warm.
If you're visiting the park in the spring, don't miss your chance to see Mist Falls and Tokopah Falls first-hand. These two falls are at their peak during May and June, so be prepared to get a little wet during your hike!
While you can certainly still visit these falls during the later days of the summer, it's hard to beat the splendor of a raging waterfall during early spring in Sequoia and Kings Canyon.
Go fly fishing
Sequoia and Kings Canyon National Parks are home to countless rivers and lakes, which are perfect for fly fishing. Hume Lake is stocked with trout each year, but there are plenty of other places, such as Bubbs Creek and Lewis Creek, to check out if you want a more serene experience.
Keep in mind that anyone over the age of 16 needs a license to fish in California, which you can get at Hume Lake and occasionally at some markets within the parks. Many species are catch-and-release only within the parks boundaries, so know the regulations before you head out.
Visit the Giant Forest Museum
The Giant Forest Museum offers a fun, interactive way for people of all ages to learn about the wonders of giant sequoias. It is located in the parking lot area of the Giant Forest and it is a good place to start before you head off on a hike of the Big Trees Trail.
During the summer, the Sequoia Parks Conservancy also offers educational programming at the Beetle Rock Educational Center next door, which is a perfect place to check out to keep your kids entertained.
Tour Crystal Cave
Crystal Cave is a marble cavern located near the Giant Forest. The 0.5 mile loop through the cave is an excellent family-friendly option if you have limited time in the park, though access is allowed only if you're on a guided tour.
From the spring through the fall, the Sequoia Parks Conservancy offers guided tours of the cave, which is good fun for more inquisitive youngsters. Be sure to get tickets ahead of time to avoid disappointment.
Gaby Pilson
Gaby is a professional mountain guide with a master's degree in outdoor education. She works primarily in the polar regions as an expedition guide, though she can be found hiking, climbing, skiing, sailing, or paddling in some of the world's most amazing places when not at work.