Getting excited about your upcoming summer camping trip but wondering what you need to bring?
We understand.
Packing for a camping adventure isn't always as straightforward as it might seem. With so many different pieces of gear to pack, it can be hard to know what's essential and what you'd be better off leaving at home.
We know first-hand how tricky it can be to craft the perfect gear list for summer camping trips. So, we've put together this complete summer camp checklist to help you out.
In this article, we'll discuss the most important pieces of gear that any summertime camper ought to pack for their travels. By the end, you'll have all the know-how you need to enjoy every moment of your trip.
Let's get to it.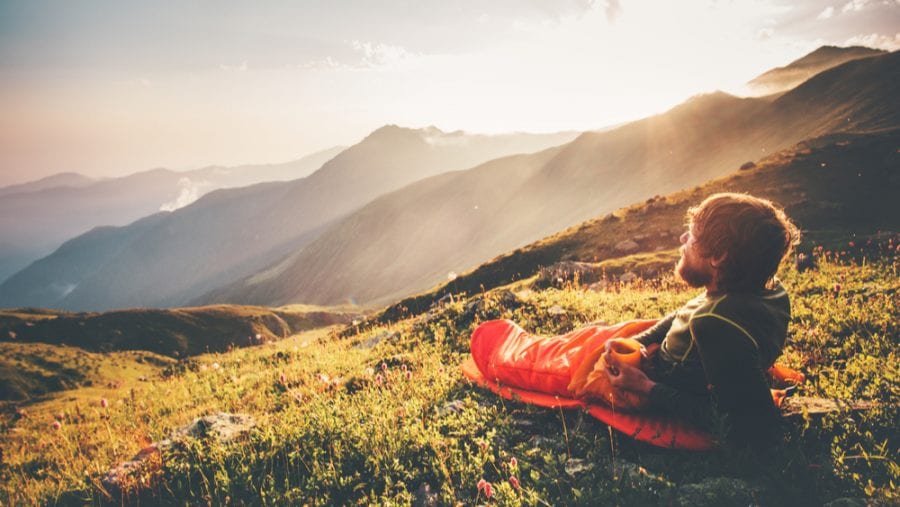 While daytime temperatures in the summer months are often fairly warm, it can actually get surprisingly chilly at night in the summer.
In fact, in some places, like Death Valley National Park, the nighttime low temperatures can be up to 40ºF (22ºC) colder than the daytime highs. As a result, having the right summer sleeping bag for the conditions you'll face is of the utmost importance.
Generally speaking, campers should opt for a sleeping bag that's rated to about 10ºF (6ºC) to 15ºF (8ºC) below the coldest temperatures you expect to face on your trip for maximum comfort. Adding a sleeping bag liner to your gear list can also help you stay cozy while camping during the summer months.
Read More : What is A Sleeping Bag Temperature Rating?
Although camping might be about roughin' it, there's no reason to be uncomfortable when you're tucked into your sleeping bag at night.
Indeed, being comfortable while summer camping boils down to having the right sleeping pad with you at night. Sure, you could just sleep on the hard ground, instead, but doing so isn't going to be very comfortable or very warm.
Alternatively, if you want even more comfort while car camping, you could consider using a cot or an air mattress, instead. Both of those pieces of gear are great for folks that prioritize their sleep comfort above all else while outside.
Read More : What is A Sleeping Pad R-value?
While many summer camping destinations, like the campgrounds in Acadia National Park, will often have picnic tables available for you to use, there's no substitute for a quality camp chair.
In reality, picnic tables, while convenient, aren't very comfortable. They offer minimal lumbar support and they tend to be quite dirty. So, packing your own camping chair that you can use for relaxation at the end of a long hiking day is key.
Plus, if you have kids, you can also bring some dedicated kids camping chairs for them, too. That way, there aren't any fights or disagreements over who gets the best seat by the fire at night.
Keeping your food properly chilled while at your summer campsite isn't easy. Therefore, having a reliable cooler in your gear list is essential, especially when camping in hot locales like Joshua Tree National Park.
For many campers, having two coolers is actually the gold standard for outdoor adventure.
That's because having two coolers lets you dedicate one for food and one for beverages during your trip. Since we tend to open and close a drinks-filled cooler more frequently throughout the day, keeping your food in a separate cooler helps to keep it as cold as possible.
But, don't forget that a cooler is only as good as the ice that's used to chill it. So, be sure to invest in some quality ice packs for all your summer camp needs.
Although we hope it doesn't rain on your camping trip, it's always important to have a camp tarp available for use in your camping area.
In reality, camp tarps are the ideal way to shelter your cooking and eating area in rainy situations. So, they're one of those things that you just shouldn't leave home without.
Plus, camp tarps also provide lots of shade from the sun, which is ideal if you're camping in a hot environment like Zion National Park.
Read More : How to Camp in the Rain
The summer months are the perfect time of year to go for a swim in a lake or in the ocean. So, if you're going summer camping, you'll certainly want to have a towel on hand to dry off after you take a dip in the water.
Although you could just bring a large cotton towel from home, it's usually better to pack a lightweight microfiber model, instead. That's because cotton towels take a very long time to dry, which isn't ideal when you're out and about in the woods.
Even if you plan on sleeping in a tent during your summer camping trip, it's worth bringing a hammock for hanging out in the evenings. For many folks, relaxing in a hammock is the perfect way to unwind at the end of a long day of adventure.
Depending on who you're camping with, you can sometimes get double hammocks, too. That way, everyone can join in on the fun.
It is worth noting, however, that not all campgrounds allow hammocks. So, be sure to check local regulations before packing one on your trip.
Read More : 15 Hammock Camping Tips and Tricks
Campfires are often the most memorable part of any camping trip. But, spending hours trying to build the perfect fire isn't ideal.
Therefore, you'll want to pack plenty of firestarters on all your summer camp adventures. Firestarters, in combination with other pieces of gear, like lighters and tinders, can make your fire-starting experience as simple as can be.
Oh, and if you think you'll need to collect firewood at your campsite, don't forget to bring a saw or an axe with you too. Doing so will help ensure that your fire-building goes off without a hitch.
First aid kits are one of those things that no one wants to use but that you're certainly glad to have in an emergency.
Thus, having a first aid kit of some sort on all your summer camp trips is non-negotiable. Even if you know that you'll be pretty close to the road during your trip, there's no substitute for a quality first aid kit when someone gets a cut or a scrape.
Plus, in an emergency, having a well-stocked first aid kit could make all the difference.
Summer camping is all about enjoying the wonders of the great outdoors. To do so, many of us take to the trails for day hikes and other short outings during our camping trips.
However, any time you leave camp, even for a brief period of time, there are certain pieces of gear that you'll need to carry with you. For example, items like your first aid kit, rain jacket, and the like are must-haves whenever you go for a wander on the trail.
So, it's important to have a trusty hiking backpack on all your summer camp trips so that you can carry your gear with you on your travels.
Ideally, you would want to pack one backpack per person in your group. But, for short day hikes, you can usually make do with fewer packs, so long as they have enough carrying capacity for all your gear.
Read More : How to Pack Light for Your Next Camping Trip
Dehydration is one of the biggest problems that campers face while adventuring during the summer months.
Of course, when you're out and about all day in the heat, staying fully hydrated can be a challenge. But with the right selection of water bottles by your side, you'll always have the supplies you need to stay hydrated while you adventure.
As a general rule, it's best if each person in your camping group has at least one water bottle, though having two water bottles each is ideal. That way, everyone can hydrate throughout the day, regardless of the conditions on the trail.
Read More : How Much Water Should You Bring to Camping?
If you're expecting hot daytime temperatures during your summer camp adventure, there's no substitute for a fan when it comes to staying cool in the heat.
Since the heat can be particularly oppressive in places like Grand Canyon National Park during the summer months, having a fan on hand can help ensure that your camping trip is as comfortable as can be. Just don't forget to pack plenty of extra batteries to power your fan throughout your trip.
Gaby Pilson
Gaby is a professional mountain guide with a master's degree in outdoor education. She works primarily in the polar regions as an expedition guide, though she can be found hiking, climbing, skiing, sailing, or paddling in some of the world's most amazing places when not at work.