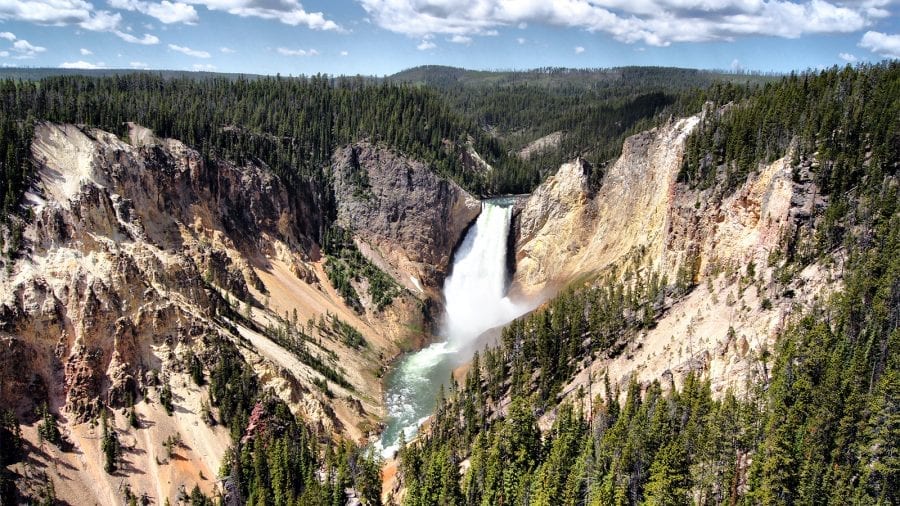 With more than 900 miles of trails, Yellowstone National Park offers an incredible amount of hiking opportunities.
Hikes in the park weave climb peaks to deliver spectacular views and wide in and around Yellowstone's popular geological features, including geysers, waterfalls, and hot springs.
Here are 10 of the best hiking trails in Yellowstone National Park.
Lamar River to Cache Creek
Length : 7 miles
Difficulty : Moderate
Estimated Time : 3 to 4 hours
Best Time : June
The scenery of the Lamar River trail is epic but the true highlight is all the wildlife you'll get to see that isn't viewable really anywhere else in the world. This trail gives you the true Western experience with grazing herds of bison and roaming wolves.
It's a wonderful opportunity to view wildlife. In addition to bison and wolves, look out for elk, pronghorns, coyotes, and even the occasional bear.
Start from the Soda Butte trailhead, where you'll pass through a meadow, where you'll find bison grazing and commiserating in a backdrop of flower-filled grasslands and the Absaroka Mountains.
After making a left to stay on the trail, you'll pass through a valley before walking around the base of Mount Norris, through woodlands, and across several streams. Once reaching the junction with Cache Creek Trail continue on Lamar River trail to reach the banks of this beautiful creek.
Length : 19 miles
Difficulty : Hard
Estimated Time : 10 to 12 hours
Best Time : July
There aren't many day hikes that allow you to travel through two states. Electric Peak, a classic hike in Yellowstone, is one of them. Begin this hike in Wyoming on the southside of Kingman Pass. After following along Glen Creek, you'll begin the ascent to the top of Electric Peak.
Continue on Sportsman Lake Trail before hitting a spur trail that takes you to the peak. After ascending above the tree line and scrambling over some loose rocks, you'll reach the peak at more than 11,000 feet above sea level.
The payoff is impressive with 360º views in every direction. If you plan to do this hike, keep in mind the peak is exposed and weather can change rapidly, even in the summer as afternoon thunderstorms are common.
Make sure to come prepared by dressing in layers and make sure to bring along rain gear.
Length : 7.5 miles
Difficulty : Moderate
Estimated Time : 3 to 4 hours
Best Time : July
This family-friendly hike offers spectacular views of one of Yellowstone's most famous attractions: the Grand Canyon of Yellowstone. It's a moderate hike with some steep inclines but on a smooth paved surface.
Begin by taking in the view from Inspiration Point, then start your trek on the North Rim Trail along the canyon rim for about a mile until you reach Grandview. A little over a mile in you'll reach Lookout Point, which puts your right above lower falls. Take a short walkway to a point where you can get a great view of the falls' 300-plus foot drop to the canyon floor below.
Follow the Red Rock trail for another view of the lower falls. Continue on until you reach Upper Falls.
Length : 3 miles
Difficulty : Easy
Estimated Time : 2 to 3 hours
Best Time : July
This easy 2.4-mile out and the back trail takes you to the beautiful Mystic Falls, located in the Upper Geyser Basin area. This loop is relatively easy with moderate ascents and descents.
Shortly after starting from the trailhead, the trail enters Little Firehole River canyon and begins a slow climb up the slopes, rising up above the fast-moving river below. After hiking a short distance, these magnificent 70-foot falls come into view. The falls form in a narrow part of a canyon of the Little Firehole River.
Continue your climb until you reach the top of the cliffs directly above the falls. Continue on to a plateau at the top of the canyon before taking the loop turns east and begins its descent to the back to the trailhead.
Length : 6 miles
Difficulty : Hard
Estimated Time : 4 to 5 hours
Best Time : August
This challenging hike takes you to the summit of Avalanche Peak and features amazing panoramic views of the surrounding mountains. Be prepared for a challenge, as this hike is steep from start to finish.
The trail begins by following a stream through wooded areas before giving way to burned-out sections of forest. As you rise above the treeline you'll enter a rocky area just below the peak. The remaining ascent to the summit is treeless, providing clear views of the surrounding Absaroka Range of mountains and Yellowstone Lake.
Keep your eyes peeled for wildlife common to the area including bighorn sheep, marmots, and several species of alpine birds. Once you reach the summit of this strenuous climb, you'll be rewarded with spectacular views.
Plan ahead, as this peak is often snow-covered until July.
Length : 2.8 miles
Difficulty : Easy
Estimated Time : 2 hours
Best Time : July
This trail features a paved trail for easy hiking and the payoff of a geyser at the end. This easy hike can be completed in an hour or two, though some patience may be required once you reach the geyser in order for the payoff to happen.
The trail follows the Firehole River through the forest as it heads toward the Upper Geyser BasinAfter crossing the river via a bridge the trail continues along the river before racing Lone Star Geyser at the 2.5-mile mark. The geyser is one of the older ones in the steak, featuring 45-foot tall eruptions and a 10-foot in diameter geyser cone.
You'll have to be patient though, as the geyser erupts about every three hours. Check the geyser's logbook to see when it last erupted. Eruptions last about five minutes.
Length : 5 miles
Difficulty : Easy
Estimated Time: 3 to 4 hours
Best Time : July
Although Old Faithful gets most of the attention, Grand Prismatic Spring is perhaps the most breathtaking geothermal attraction in the park. And the Fairy Falls Trail gives arguably the best view of Grand Prismatic.
This trail also gives you access to a waterfall and two geysers This easy out and back trail stays flat for the most part. After a half-mile take a short side spur to the overlook of Grand Prismatic Spring.
Continue on through a pine forest to Fairy Falls, which is about 2.5 miles in. Enjoy the falls before continuing another half mile to two geysers; Spray and Imperial. Imperial Geyser will erupt up to 35 feet but doesn't erupt very often.
A little further on you'll encounter Spray Geyser, which features smaller but more frequent eruptions.
Length : 4.3 miles
Difficulty : Moderate
Estimated Time : 2 to 4 hours
Best Time : August
This popular hike is a short but steep climb to the top of Bunsen Peak, where you'll be treated to views of some of the park's best-known sites including Swan Lake Flats, Mammoth Hot Springs, Gardeners Hole, Golden State Canyon. and the Gallatin and Washburn mountain ranges.
Begin with a hike through wide-open hillsides filled with sagebrush. As you begin your ascent, you'll be treated to unobstructed views of Electric Peak, Swan Lake Flats, and the Gallatins. You'll be heading up for a while, through dead trees before turning right at Cathedral Rock and beginning a climb up a series of steep switchbacks.
After another half mile, you'll reach the bare peak, where you'll have amazing views of Swan Lake Flat and the Gallatins.
Mt. Washburn - Dunraven Pass
Length : 7 miles
Difficulty : Moderate to Hard
Estimated Time : 4 to 5 hours
Best Time : August
There are hundreds of miles of hiking trails in Yellowstone National Park. Of all those paths, perhaps none is more popular than Mt. Washburn, which offers a peak elevation of more than 10,000 feet and unparalleled views of the surrounding mountains.
The Dunraven Pass trek to the top follows an old stagecoach road that's more than 100 years old. This makes the trip to the top a bit easier than other summit trails. The amazing views begin just a half-mile in with an amazing overlook from the first of many switchbacks as you make your way to the summit.
This trail is at a higher elevation, it remains snow-covered into the summer. Come prepared as the temperatures can be cold at the top even in mid-summer.
Length : 3 miles
Difficulty : Hard
Estimated Time : 2 to 3 hours
Best Time : June
This short, but strenuous day hike offers a different view of the Lamar Valley that makes it a popular hike for those who know about it. Make this hike in late June to see the bitterroot flowers in full bloom at the top of Specimen Ridge.
The hike starts on an abandoned service road for about 100 yards before veering right onto a path, beginning its steep climb toward the ridge. Ascend up the ridge, climbing more than 3,000 feet to Amethyst Mountain then continue following the ridgeline.
Once at the top of the ridge, take in views of the Slough Creek Valley and the Abaroska Mountain Range before reversing your route and heading back down into the Lamar Valley. It's also a great vantage point from which to spot elk, antelope, and bear.
Amanda Williams
Amanda Williams is a writer, plant-nerd, and outdoor enthusiast. She has traveled extensively, around the U.S., throughout Asia, Europe, and Latin America. Everywhere she treks, she takes time to enjoy the outdoors. John Muir is her hero. She aspires to inspire people to live better as he did.