The climate at Yellowstone National Park greatly depends on its altitude. At the lower elevation where the majority of the attractions are, it's usually warmer.
According to the Köppen-Geiger climate classification, the climate at the park's headquarters is classified as humid continental (Dfb) and Yellowstone Lake as subarctic (Dfc).
In the summer months from June to September, the daytime highs are usually between 70 to 80°F (21 to 27 °C). At night, the temperature can, while night time lows can go to just below freezing 32ºF (0 °C), especially during early and late summer.
Average monthly temperature and precipitation​
Seasons in Yellowstone National Park
Summer (21 June to 22 September)
Average Highs : 70 to 80ºF / 22 to 27ºC
Average Lows : 42 to 47ºF / 6 to 9ºC
With average highs in the 60s and 70s, the summer months are the best times for outdoor activities such as hiking and visiting popular locations such as The Grand Canyon of Yellowstone or Old Faithful.
It also happens to be the busiest time of year at the park with more than two million visitors annually.
Summer is the park's high season. This means that the park's many campgrounds and other accommodations will fill up quickly, so make reservations well in advance. Also, plan to visit the park's most popular attractions at off times, such as early in the morning, to avoid crowds.
Read More : What Should I Pack for Summer Camping?
Fall (23 September to 20 December)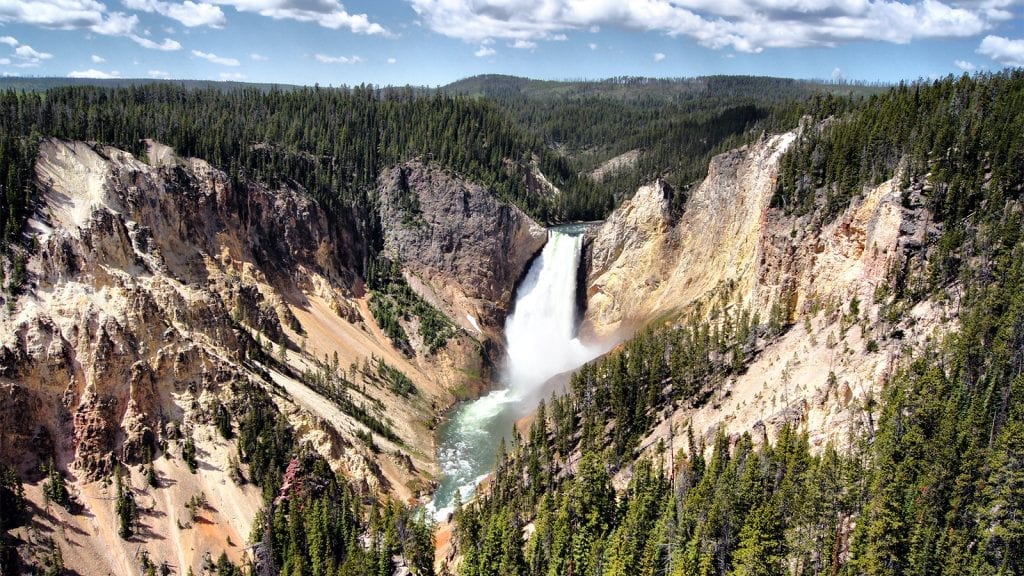 Average Highs : 39 to 68ºF / 4 to 20ºC
Average Lows : 20 to 30ºF / -8 to 3ºC
Fall is the ideal time of the year to visit Yellowstone. Crowds at the park thin significantly after Labor Day; however, the weather is still warm enough to still comfortably enjoy the park.
Temperatures range from 30ºF to 60ºF in the daytime with nighttime temperatures running from the teens to single digits, or lower at times. It's also a more affordable time to visit the park as you can enjoy reduced rates at the park's campgrounds and other accommodations.
Fall is also a great time to see certain wildlife in action, including bears, elk, and bison, as they prepare for the coming winter. Fall does mean unpredictable weather as temperatures can drop below freezing, so prepare accordingly.
Winter (21 December to 19 March)
Average Highs : 29 to 34ºF / -2 to 2ºC
Average Lows : 10 to 13ºF / -13 to 11ºC
Winters in Yellowstone can be quite harsh with daytime temperatures ranging from zero to 20ºC and nighttime temperatures routinely dropping below zero.
The park receives tremendous amounts of snowfall and temperatures routinely drop well below freezing.
If you plan to visit Yellowstone during winter, make sure to be well-stocked with emergency equipment in case you become stranded. Despite the hazards of winter weather, there are plenty of good reasons to visit the park in winter.
Some wildlife is easier to spot during the colder months and the park offers many opportunities to experience winter sports.
Read More : What Should I Pack for Winter Camping?
Spring (20 March to 20 June)
Average Highs : 40 to 61ºF / 5 to 16ºC
Average Lows : 26 to 42ºF / -4 to 6ºC
Weather can be wildly unpredictable with temperatures ranging between near 0 and the mid-50s. The warmer temperatures also cause snowmelt, which turns much of the park's roads and trails into mud bogs.
Still, there are plenty of reasons to visit the park in the spring. It's a great time to see baby animals as the park's animals begin to emerge from winter. It's also an off-peak season, so you can enjoy the park without the crowds.
If you plan to visit the park in the spring, make sure to prepare for a variety of weather conditions.
Andrew Dodson
Andrew Dodson is an avid camper who enjoys the great outdoors with his wife and two-year-old son. He resides in Colorado, where you can often find him enjoying hikes with a toddler strapped to his back and mini goldendoodle Percy nearby.