Zion National Park's weather is classified as cold semi-arid climate (BSk) by the Köppen climate classification. 
The summer months (June to September) in Zion National Park are very hot with daytime highs between 91 to 100ºF (33 to 38ºC), and nighttime lows of 60 to 68ºF (16 to 20ºC). 
In the winter, the nighttime lows hover just around the freezing point of 32ºF (0ºC).
Precipitation is limited throughout the whole year with the summer receiving half as much precipitation compared to the winter.
Average monthly temperature and precipitation​
Seasons in Zion National Park
Summer (21 June to 22 September)
Average Highs : 98 to 101ºF / 37 to 38ºC
Average Lows : 64 to 71ºF / 18 to 21ºC
Summer is the most popular time of year to visit Zion, with the park seeing the bulk of its annual visitors. This is when the park's shuttle system is running, making touring the park more convenient.
Summers at the park are also brutally hot with daytime temperatures reaching well into the 90s and routinely hitting triple digits. For this reason, hiking can be a challenge during the summer.
Summer does afford a good opportunity to take advantage of the park's higher elevation hikes, which do see cooler temperatures. Lower elevations hikes along the Virgin River do offer opportunities for wading, allowing visitors to cool off from the summer heat.
Read More : What Should I Pack for Summer Camping?
Fall (23 September to 20 December)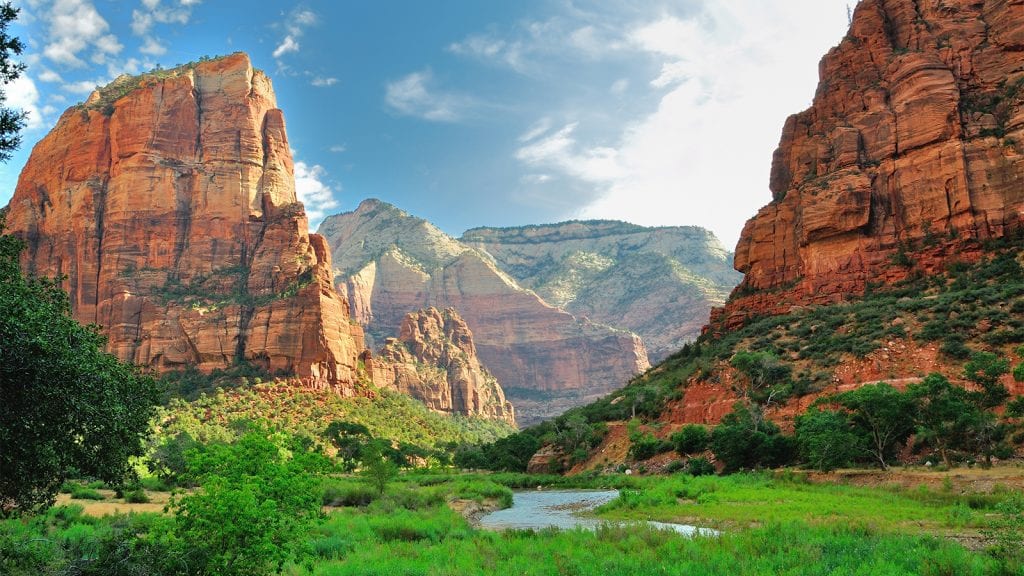 Average Highs : 65 to 92ºF / 18 to 33ºC
Average Lows : 37 to 62ºF / 3 to 17ºC
By October, daytime highs at Zion fall into the 70s with nighttime lows rarely dropping below 50.
This makes the fall a perfect time for such activities as camping and hiking. Crowds have also thinned considerably by the fall, making it easier to access the park's most popular attractions. It's also much easier to find vacancies at one of the park's campgrounds.
Fall is also a dry season for the park, dropping water levels, making exploring the park's many canyons safer. The park's fall colors are also on full display at this time, making for spectacular views.
Winter (21 December to 19 March)
Average Highs : 53 to 58ºF / 12 to 15ºC
Average Lows : 30 to 33ºF / -1 to 1ºC
The biggest benefit of visiting the park in wintertime is the lack of people. The crowds that fill the park during the summer disappear by winter.
Midwinter weather is cold and wet with daytime highs reaching into the low 50s and nighttime lows dropping below freezing. The park's roads are also open to personal vehicles, allowing you to explore the park from the comfort of your own vehicle.
Winter also transforms the park's scenery with high peaks receiving blankets of snow. You do need to prepare ahead of time if visiting the park during the winter as trails can close due to weather. 
Some of the park's most popular trails, including Observation Point and Angel's Landing can become icy, making them extremely dangerous.
Read More : What Should I Pack for Winter Camping?
Spring (20 March to 20 June)
Average Highs : 68 to 82ºF / 20 to 28ºC
Average Lows : 39 to 51ºF / 4 to 11ºC
With the arrival of spring, temperatures begin to warm, with daytime temperatures reaching into the 60s and 70s.
Nighttime lows are still cold, falling as much as 30 degrees or more. Depending on how early in the spring, higher elevation hikes may still be treacherous due to lingering snow and ice.
As snows melt and rainy weather arrives, the slot canyons become hazardous with the threat of flash flooding. Expect the Narrows to be closed for at least part of the spring season.
Spring is a great time to experience Zion's lower elevation hikes as the park's colorful wildflowers bloom, creating a beautiful contrast with the red, orange and cream colored rock.
Amanda Williams
Amanda Williams is a writer, plant-nerd, and outdoor enthusiast. She has traveled extensively, around the U.S., throughout Asia, Europe, and Latin America. Everywhere she treks, she takes time to enjoy the outdoors. John Muir is her hero. She aspires to inspire people to live better as he did.